It's not robbery if someone wants you to take it.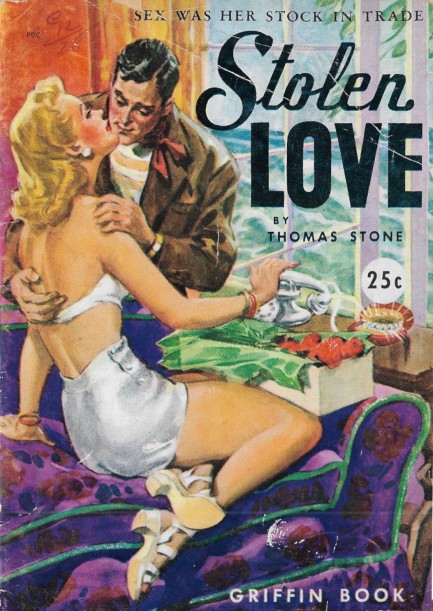 Above is another digest novel from Florence Stonebraker, this time writing as Tom Stone to produce Stolen Love. It was originally published in 1937 as Too Much Love, with this Griffin Books re-issue arriving in 1946 fronted by a cover painted by Glenn Cravath. The book deals with popular New York City radio personality Kay Brinkley—better known as the Voice of Roma
nce—who hosts a lonely hearts call-in show, but is actually cynical about love and thinks her job is a high paying joke.
Her boyfriend asks her to head out to San Francisco to close a business deal for him, and she develops a case of wandering eye before the train even reaches the Rocky Mountains. Once out west she's smitten with the man who's supposed to provide her with important papers, while a couple of other guys, in turn, are seriously smitten by her. Complications arise when her NYC boyfriend unexpectedly flies to San Fran, putting him in direct romantic competition with his business acquaintance.
Kay gets l

aid with a total of three men as required by most of these digests, and attacked by one, definitely not a requirement, before finally retu

rning to her original boyfriend, a forbearing sort who doesn't begrudge Kay her carnal explorations.
The story is a tangled web, written in the usual Stonebraker style, already well in evidence though this was one of her first books.
It's no wonder she became such a popular author. She's no Jane Austen, but in the realm of sleazy romance she's about as good as it gets.
---