You wouldn't mind terribly if we steal your nickname?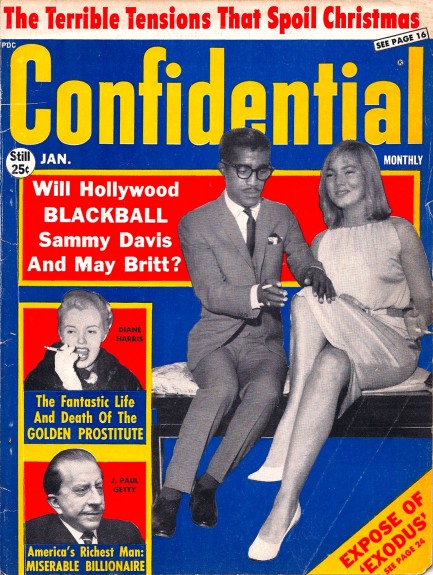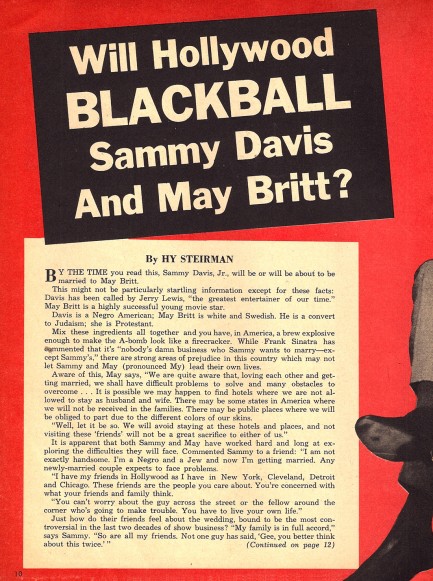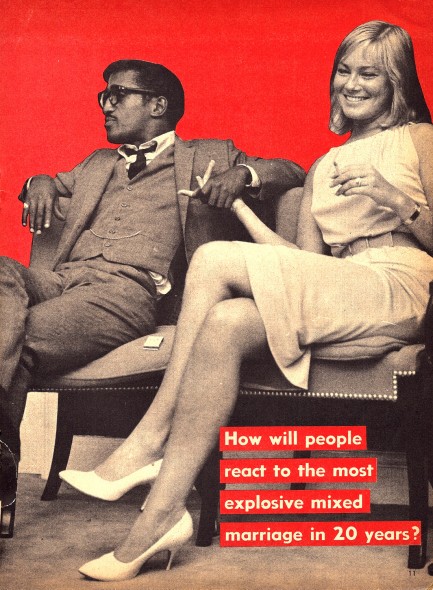 Today we have a January 1961 issue of Confidential for you, with cover stars Sammy Davis, Jr. and May Britt. Since we've already discussed Sammy and May of late, and even made her a recent femme fatale, we'll skip past them and focus on another interesting story—the tale of Diane Harris, who shot to notoriety as a witness in the infamous Minot Jelke pimping trial of 1952. We wrote about it back in 2009—Jelke was an oleomargarine heir who was cut off from his trust fund and decided to turn his girlfriend Patricia Ward into a prostitute in order to make ends meet. Ward became known as the "Golden Girl of Vice" and "The Golden Girl of Café Society," which is why it's interesting that Confidential calls Diane Harris "The Golden Prostitute." Apparently Jelke had the Midas touch.
Confidential wastes no time in its article. It begins: She gave herself a title… Lady Diana Harrington. The New York D.A. gave her another… the Golden Girl of Café Society. Houston police gave her a third, less flamboyant title… prostitute. Uh oh—the New York District Attorney's nickname for Harris is identical to Patricia Ward's nickname. After a few more paragraphs of reading, it becomes clear that Confidential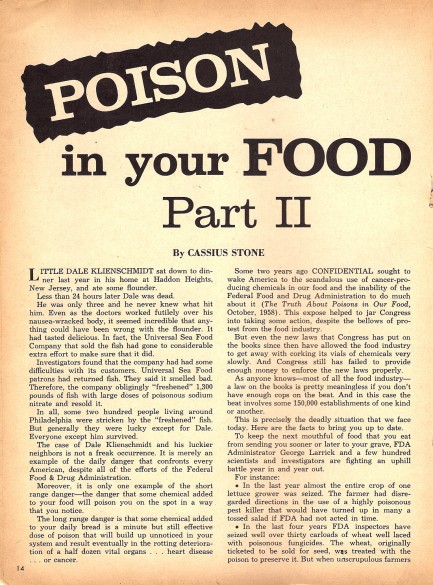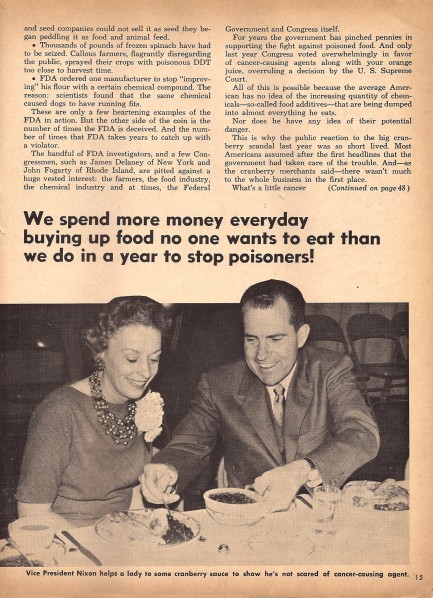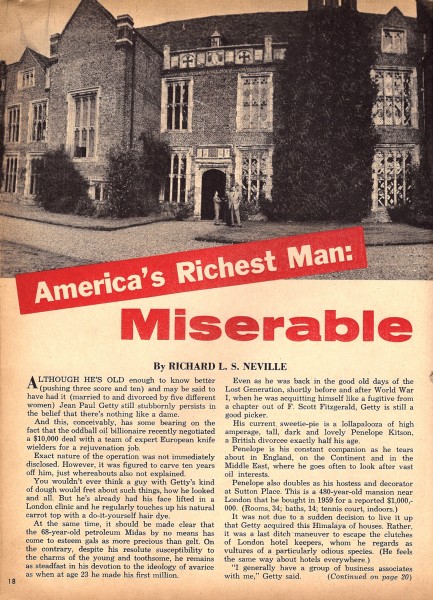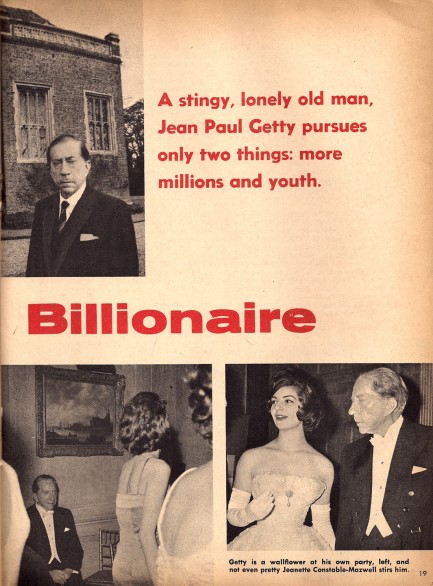 believes the Golden Girl is Diane Harris—not Patricia Ward. While it's true that Harris did use some aliases, including Lady Diana Harrington and Mary Lou Brew, nowhere is the name Ward mentioned as a pseudonym.
After searching high and low for some idea of whether we were dealing with one woman or two, we finally saw in the IMDB page on the 1995 Jelke biopic Café Society that Patricia Ward and Diana Harris were played by separate actresses—Lara Flynn Boyle and Cynthia Watrous. So was there some confusion in 1961 about who exactly the Golden Girl was? Looking back at our original post on the subject, the photo of the Golden Girl on the cover of Hush-Hush

shows a blonde.

Confidential

has numerous photos of their Golden Girl Diane Harris, and a single photo they identify as Pat Ward. Just plain Pat—no Golden, no nickname at all. And she's a brunette. So not only does

Confidential

identify the Golden Girl of Café Society as Diane Harris—turns out so did that March 1961

Hush-Hush

. We just didn't realize it at the time.
Our mistake came when we first researched the Jelke trial and found a New York Times movie review that identified Pat Ward as the Golden Girl. From that point we just ran with it and never thought to doublecheck. Until today. Now, based on available evidence, it seems that at some point over the intervening years the historical record got twisted and the label Golden Girl was applied to Patricia Ward, where it stayed even up to the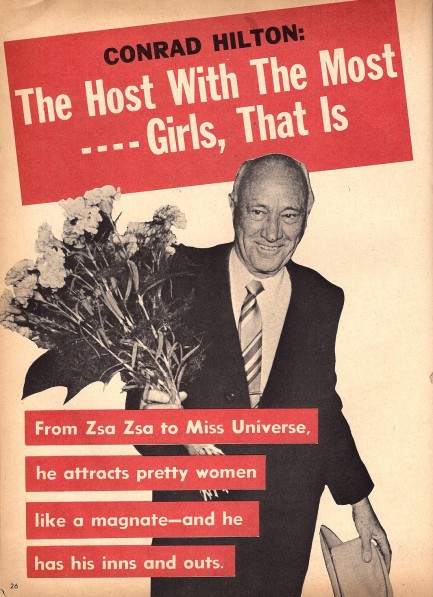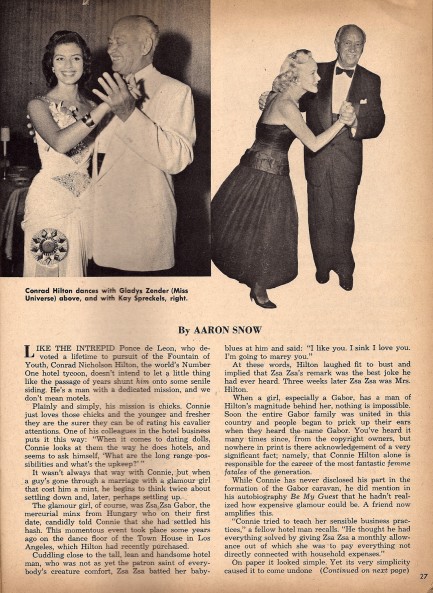 point of a Hollywood motion picture misidentifying her. She was indeed Minot Jelke's girlfriend, whereas Harris was just a fellow high dollar prostie (and corroborating witness), so perhaps some clever scribe, or even the writers of the 1995 movie, decided that such a catchy nickname would be better applied to the girlfriend. At least that's the way it looks to us.
If we're right, is any of this important? Does it matter that Harris was fleeced of her nickname, or possibly that a movie took liberties and those liberties were later assumed to be facts? Do we expect an award? No, not really, but it's interesting. Confidential barely recounts the events of the trial. The story is actually about Diane Harris being found dead in a Houston apartment eight years afterward, in September 1960. She was still a prostitute at the time. Confidential tells us: The blonde's nude body was in bed, a green sheet and a pink blanket covered her. Pictures of her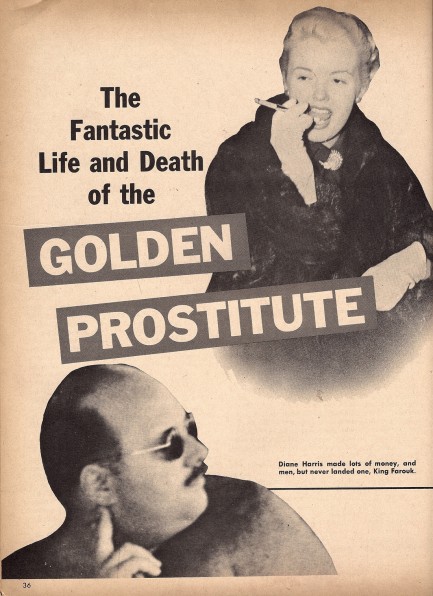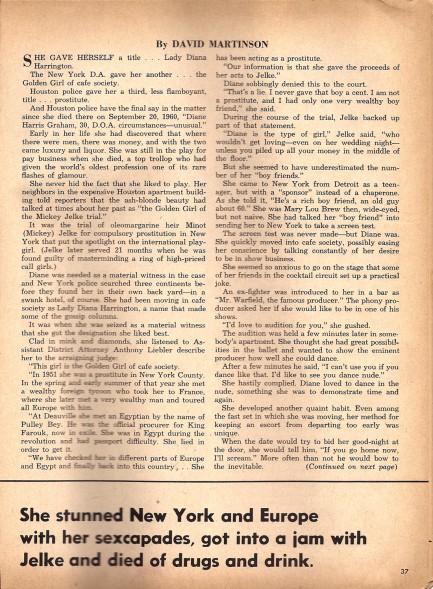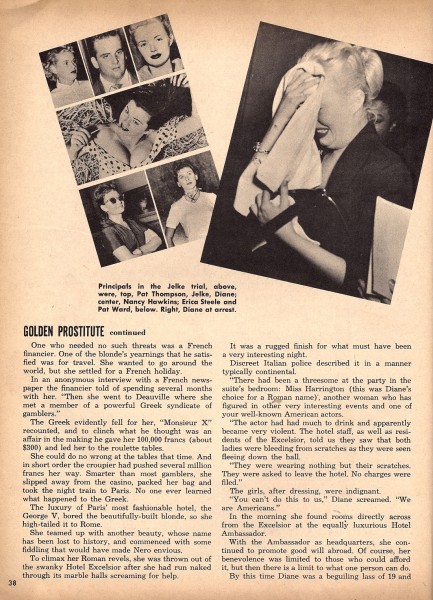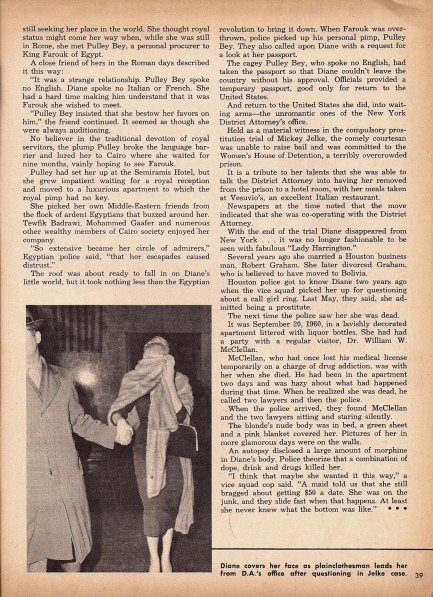 in more glamorous days were on the walls. An autopsy disclosed a large amount of morphine in her body. Police theorize that a combination of drink and drugs killed her.
Diane Harris had wanted the best life had to offer, and money meant everything. All her friends and acquaintances knew that about her. According to her maid, even at the end she still bragged about once being able to command fifty dollars per date. An obsessive desire for luxury drove her into the arms of rich, uncaring men, and eventually, in order to maintain her high flying lifestyle, into prostitution. The one piece of her that endured long after she died naked and surrounded by bottles and pills was her famous nickname—The Golden Girl of Café Society. But she eventually lost that too.
---
Confidential tries a new look on the outside, sticks with the tried and true inside.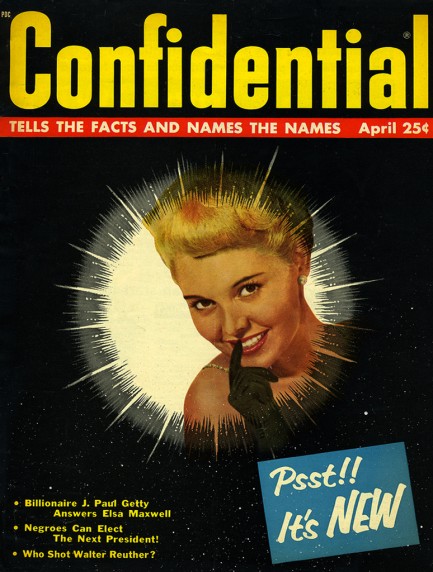 Here's an unusual black Confidential

from April 1958, which offers a mere trio of cover teasers. But the streamlined look outside doesn't change the interior formula, which means you get the usual selection of dubious journalism, including a piece on black voter turnout designed to get white people seriously worried, and a story on CIO president Walter Reuther that emphasizes the possibility that he was shot by communists. But the most interesting story—to us, at least—concerns oilman/billionaire J. Paul Getty and gossip columnist/society hostess Elsa Maxwell, because the two well-known figures present an instructive lesson in contrasts.
Getty came from a wealthy family; Maxwell's humble background made her an intruder in high society. Getty was as vicious as a mongoose, but his wealth prevented what would have been a well-deserved fall from grace; Maxwell used pure charm and intelligence to rise to a position as the most
celebrated society hostess in the world. The worst Maxwell probably ever did was dish on society types in her gossip column; Getty once allowed kidnappers to cut off his grandson's ear rather than part with a ransom, and once extended to Alfried Krupp von Bohlen—a German munitions baron who had given lavishly to the Nazi Party, used Jewish slaves in his industries during WWII, and allowed his factory yards to be used for executing POWs—an invitation to his house warming party. Advantage, Maxwell. One other thing in her favor—she's the person the phrase "the hostess with the mostest" was popularized about. We'd take that as a legacy any day.
---