Her final answer simply raised more questions.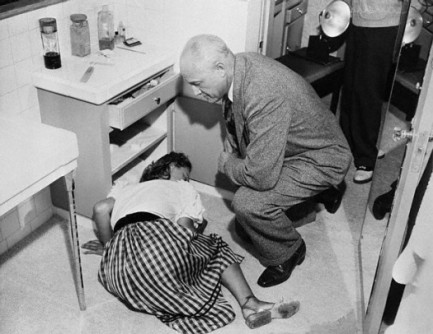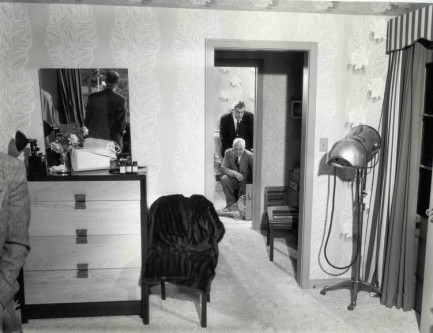 Above you see two photos of actress Carole Landis, dead on the bathroom floor of her Pacific Palisades home, where she was found today in 1948. She had been dumped by her married lover Rex Harrison the night before, and responded by killing herself with an overdose of prescription medication. She had tried suicide before but had been rescued by friends. This time she took forty Seconal tablets, which leaves little doubt as to her firm intent—one fifth the amount would have killed her. She fell into a coma early in the morning with her head resting on a jewelry box, which is the reason for its elevated position. She also left a note on her dresser for her mother:

Dearest Mommie - I'm sorry, really sorry, to put you through this but there is no way to avoid it - I love you darling you have been the most wonderful mom ever and that applies to all our family. I love each and every one of them dearly - Everything goes to you - Look in the files and there is a will which decrees everything - Good bye, my angel - Pray for me - Your baby
Hollywood suicides are part of the town's lore. Landis's is more remembered than most, not for what Landis did, but for what those around her did. Harrison had been calling her throughout the morning but her maid had told him she wasn't awake. She wasn't going to disturb her employer, so Harrison dropped by himself, entered her bedroom and found Landis non-responsive. He felt her wrist and said he felt a faint pulse, but instead of calling an ambulance rifled through her address book, hoping to call her private doctor and thus keep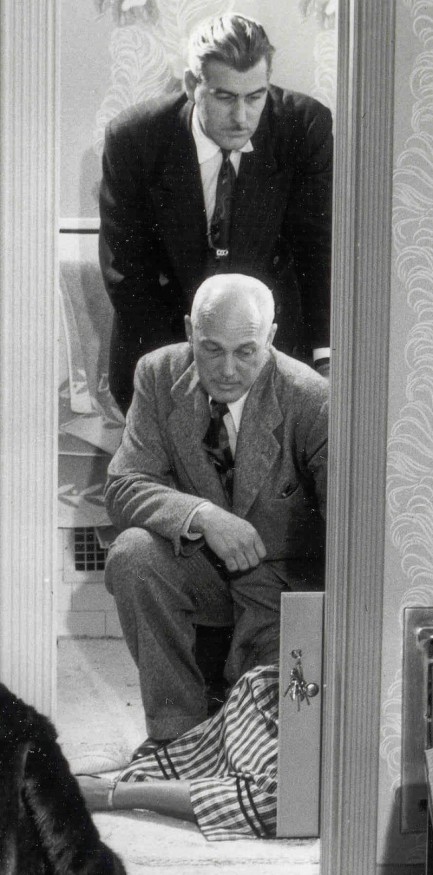 the disaster under wraps. While he did that, Landis died. After failing to find the number he sought, he went home, called studio head Darryl Zanuck, and set about damage control. The maid, left to deal with the situation, asked a neighbor to call police.


It wasn't unusual for press to have access to death scenes, as we've documented frequently in our Naked City posts. Landis's death photo appeared on the fronts of hundreds of newspapers by the next morning. By then questions had begun to arise. Some said Landis had written a second suicide note that Harrison destroyed. When asked at a coroner's inquest whether there was a note, he said no. Her friend Florence Wasson said there was a second note, but it only asked that the cat be taken to the vet because it had a sore paw. The inquest was closed with no new findings, but years later a policeman who had been at Landis's house that day said he had seen a second note addressed to Harrison, and that the cat had seemed in perfect health.

Landis's family claimed Harrison was guilty of murder—and not just for dithering about when he thought he felt a pulse. They claim he killed her outright to keep news of his affair from damaging his career. However, his relationship with Landis was a poorly kept secret, and tabloids were making sly references to it, identifying Harrison and Landis by their initials. Also, Harrison already had a terrible reputation. People behave irrationally in high stress situations, and Harrison made bad moves at every stage, especially when one considers that there was no way he could hope to hide his involvement. But that shows merely cold-hearted concern for himself, and possibly a lack of awareness how near death Landis was. Add it all up and you have one of Hollywood's most storied suicides—one where an act meant to be a final answer left endless questions.
---
In Lincoln Heights Jail, that is.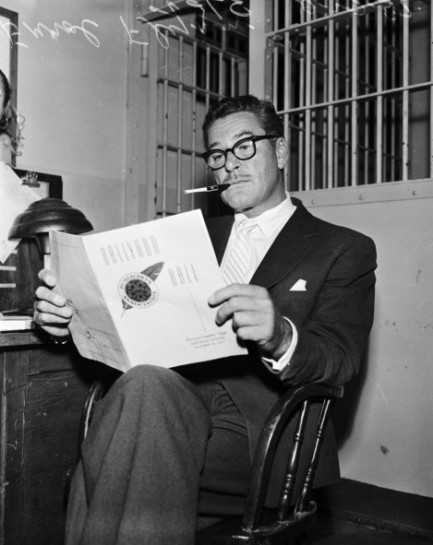 If you suspect the jailhouse photo above is associated with a good story you're correct. Hollywood party animal Errol Flynn, pictured here in L.A.'s Lincoln Heights Jail, was arrested for public intoxication along with 21-year-old Irish aspiring actress Maura Fitzgibbons. It was an unexpected end to what was supposed to have been a celebratory night. A couple of hours earlier Flynn and Fitzgibbons had been at the Riviera Country Club in Pacific Palisades where the Publicists' Association was staging an annual costume party called The Ballyhoo Ball. When Flynn and Fitzgibbons made their entrance a man approached for an autograph. Flynn explained, politely according to witnesses, that he would comply but never socialized or signed autographs until he had a drink in his hand. But the man insisted on an immediate autograph—he said the hatcheck girl was his wife and a big Flynn fan.
Flynn reluctantly let himself be led by this insistent man to the hatcheck stand, whereupon he saw that the man's wife, who appears in the photo at right, was attractive. Since Flynn was a consummate horndog, he suddenly became eager to comply and not only signed an autograph, but even managed to steal a kiss on the cheek. Making polite chit-chat afterward, Flynn asked the man what he did for a living and learned that he was a cop. Or at least said he was. But since the man was in civilian clothes, Flynn said, "If you're a cop where's your badge?" Or something to that effect. When the man produced a badge Flynn grabbed it and tossed it to his date Fitzgibbons. This was a costume party, remember, so it's quite possible Flynn never believed him. And it's virtually certain the cop never considered that the situation might make any claim to be a cop appear to be a prank. In any case he got upset and arrested Flynn and Fitzgibbons.
Once at the Lincoln Heights Jail the police either decided the arresting officer—whose story was markedly different from Flynn's, Fitzgibbons' and several other witnesses—had been overzealous. Or perhaps they simply decided to show a little preferential treatment to a movie star. In any case, they offered to let Flynn go with a warning. But the actor was indignant: "I want to be arrested. I want the whole world to know of the injustice of this deed." So the cops tossed Flynn in a cell with a group of Mexican drunk and disorderlies who were still singing tequila-fueled ranchero songs. Even as late as 1957 Flynn was one of the most recognizable men in the world, so when the realization struck the detainees that the newly arrived drunk and disorderly was Errol Flynn everyone stared in stunned amazement. Then they began shouting, "Viva El Capitán Blood! Viva El Capitán Blood!" They started up the ranchero songs with renewed vigor, and Flynn sang along in the choruses. As for Fitzgibbons, below, she never earned a single credited role in Hollywood, which makes her Ballyhoo Ball arrest the height of her fame. That all happened in the wee hours today in 1957.

---