It's you and me, baby, 'til death do us part. What's your name again?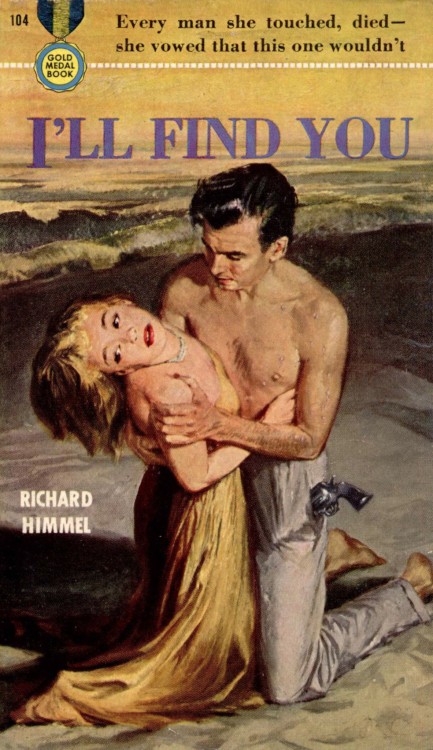 Here's a quick quiz for you. Is the following passage from a crime novel or a romance? There was one truth between us, one truth that would never be untrue. Whatever this animal thing inside me was, there was something inside her that was a mate for it. I felt that nothing could ever change that. It had to be brought alive again. It had to live and burn its own fire and be electric with its own voltage.
Those lines are from Richard Himmel's 1950 thriller I'll Find You, aka It's Murder, Maguire, first in a series of books starring mobbed up Chicago lawyer Johnny Maguire. The passage illustrates something we've noted before—that crime novels and romance novels sometimes intersect. Fictional tough guys occasionally fall head over heels in love, and when they do, the prose describing that love—in some author's hands—can be as overwrought as what you'd find in any romance novel.
In this story, Maguire, who must be one of the dumbest smart characters in crime fiction, falls for a deceased friend's wife who later fakes her own suicide. While the police believe she's dead, he never buys it, and risks his career and safety to locate her. He finds her living under a new identity and refuses to let her get away from him again—which is exactly as stalkerish as it sounds, considering he barely knew her before she vanished. She eventually submits to his overbearing attentions, but sadly, malign actors may ruin their love story.
It's surprising to us that there was a sequel, but Himmel's crime-romance must have struck a nerve with the reading public. It didn't strike one with us, but we didn't dislike it. We felt that it was eye-rollingly saccharine, and we found Himmel's dialogue a bit stilted. On the plus side, Maguire is funny at times, and his friend-with-benefits relationship with a supporting character named Tina has the potential to be engaging, assuming she hangs around. We'll see what develops in book two.
---