From behind the microscope to in front of the camera.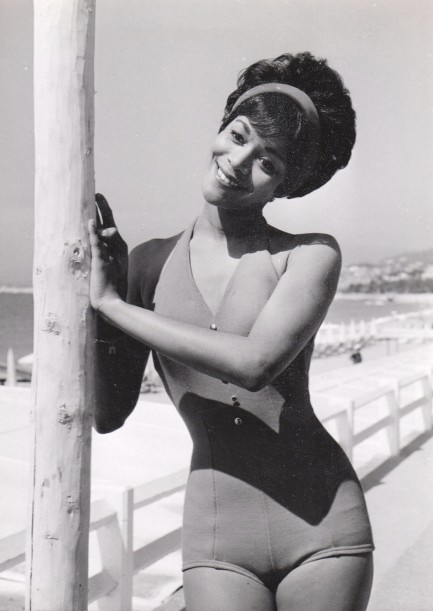 You don't know U.S. actress Emily Yancy but she's been around for a long time. She started performing on television in 1963 and is still going strong as of 2018. Of her few cinematic efforts two were notable—the blaxploitation classics Cotton Comes to Harlem and Blacula. Her small screen appearances include Starsky & Hutch, The Mod Squad, and MacGyver.
The above photo is from 1961, and it was made when she was eighteen years old and competing in the Miss American Beauty Pageant, not be confused with the Miss America Pageant. Interesting story, she was a biology major and was working at NYU Medical Center operating an electron microscope when her coworkers persuaded her to give parading up and down a stage in a swimsuit a shot. She won Miss American Beauty, which gave her a chance to compete again in France.

She was sent to Cannes and finished second in the Miss Cannes Film Festival competition. After that Hollywood called and those boring old electrons were forgotten. Television, film, nightclub performing, modeling and a lot of travel followed. There's a lesson in this story, and maybe not one that should be taught to little girls—Forget science! Give us a little leg!—but you don't need a microscope to see that Yancy takes a great picture, and her career longevity suggests she made a good choice.


---