Maybe they're angry they weren't invited to the slumber party.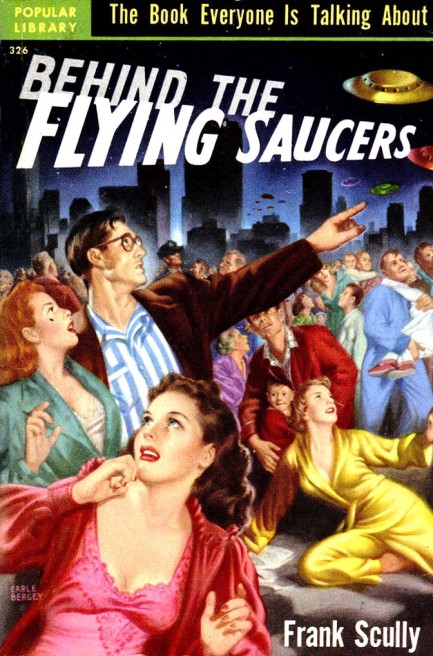 This chaotic scene of terrified earthlings in their pajamas being swarmed by UFOs is one of the cooler vintage book covers you'll see. Behind the Flying Saucers

was Frank Scully's discussion of the origin of extraterrestrials, with a finger pointed squarely at the U.S. government for covering up evidence of their existence. He first aired his views in 1949 in his column in the publication

Variety,

and the next year expanded upon them in

book form

. The art, which was painted by Earle Bergey, is from the 1951 paperback edition.

Behind the Flying Saucers

was one of the first UFO books and its influence has been enduring. Scully inspired the name of Gillian Anderson's immortal character on

The X-Files, and we've seen the book online going for as much as $150. Thanks to the wonders of modern technology you don't have to pay that much, or anything, for that matter, because you can read the entire text online here, or download it just about anywhere. As to whether any of what Scully wrote was true, like we've said before, if aliens could fly here from millions of light years away we're pretty sure they'd have mastered the ability to go unobserved. We also think that an advanced race—after seeing how we kill each other by the millions, destroy our habitat, tolerate mass starvation, and are locked in a bizarre system of debt peonage designed to enrich an entrenched few—would not only do a screeching U-turn back to the far reaches of the cosmos, but would put up a giant intergalactic advisory sign telling travelers to steer clear of Earth at all costs. But we digress. Since the universe is too vast not to contain extraterrestrial life of some sort, maybe visitors have been here. You never know.


---
The Night Stalker may be the most fondly remembered failure in the history of television.
Above is a publicity still of Darren McGavin, star of the short-lived American television show The Night Stalker. The series ran in 1974, and featured the character of Carl Kolchak as a world weary newspaperman investigating macabre and supernatural doings in Chicago. Over the course of twenty episodes Kolchak tangled with a vampire, a mummy, a werewolf, and even a killer android. It comes across a bit clunky now, but at the time the series was acclaimed for its deft writing and humor. Despite the good reviews, the American public didn't get it, and the show suffered from poor ratings that only got worse with each week. McGavin, feeling constrained by the character and format of the series, eventually asked to be released from his contract and the network granted his wish. But some creations are simply ahead of their time and The Night Stalker, which should have been forgotten forever, continued to attract fans and today has a fierce cult. Even X-Files creator Chris Carter admits the show was a direct influence. He asked McGavin to reprise Kolchak on The X-Files as a running character—a turn that would have been momentous for fans of the macabre—but McGavin declined and the dream team of Kolchak and Mulder never materialized. Darren McGavin, forever to be remembered as Carl Kolchak, died today in 2006.
---
We wanted to believe, but finally we just took matters into our own hands.
We never saw The X-Files when it was on television, so recently we began downloading and watching this historic show from the beginning. Right now we're halfway through season four, and that cancer in Scully's head looks like it's going to be a real bitch. Anyway, we got to thinking how cool an I Want To Believe poster would look on Pulp Intl., but when we scoured the Internet for one we came up empty. There were plenty of posters for sale, of course—on Ebay alone there were at least a dozen sellers offering them—but most of them were wrong. Wrong UFO, wrong sky, wrong trees. So we built our own from a hi-rez screenshot and you see the result. We hear that there were several versions on the show, but the one we've seen through season four looks like the one above, and now it's yours, just because you were smart enough to visit this website. If you're a fan of the show, feel free to add the image to your blog, and—because we're way too purist to ruin our pretty work with a Pulp watermark or some other ridiculousness—don't forget to tell everyone where you got it.
---