Well, I don't care who told you the pond is safe. I'm telling you it's toxic and you better climb out right now.
Above: a nice cover by Bernard Safran for the Croyden Books sleazer Mountain Sinner, written by Delmar Kingsland and published in 1953. We borrowed this from Sleazy Digest Books, a fun blogspot that has fueled some of our favorite purchases. Kingsland was actually James W. Lampp, who was also Amos Hatter, Ben West, Frederic Spencer, Homer Hatten, Anne Farrington, and William Vaneer, so add another pseudonym to his ledger—possibly his best. Even Lampp was a fake name. His real name, according to his 1994 obituary, was Lumpp. No wonder he hoarded pen names. We've featured him a lot, and the best way see those entries is to click here and scroll. Also, women surprised while skinny dipping is yet another common motif in mid-century paperback art. See more examples here, here, and here.
---
Is this a subsidiary of the love cult I was in back in '53? If it is, then I've already had my whipping.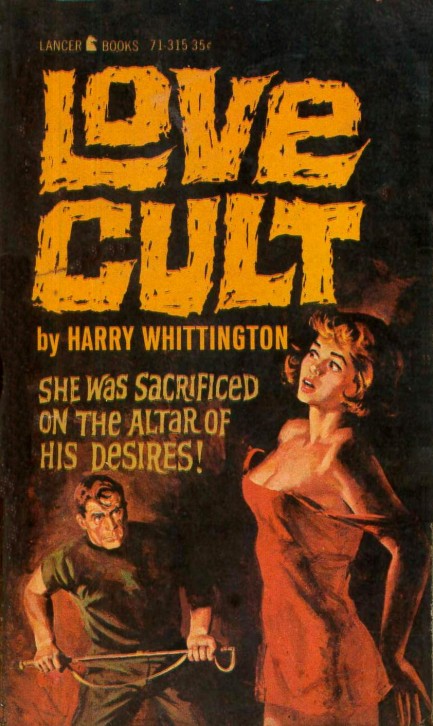 Above: a cover for Harry Whittington's Love Cult, published in 1962 by Lancer Books. This is an unusual case in mid-century fiction. The book is a reprint of the 1953 novel of the same name by William Vaneer, which was written under a pseudonym by James W. Lampp. Somehow the folks at Lancer got mixed up about that and attributed the book to Whittington. Embarrassing. We wonder if Lancer had to compensate Whittington in any way. You might assume the compensation would be to remove his name from this piece of low rent sleaze, but Whittington wrote plenty of books of this type this himself, so Love Cult definitely didn't hurt his reputation. Interested in what it's about? We tell you here.


---
Just ignore my daughter. She gets bitchy whenever she thinks I don't spend enough time with our son.
Bernard Safran is an artist we don't see nearly enough of, considering how much we like his work. He's responsible for the above cover of Love Cult, by William Vaneer for Croyden Books, 1953. The art tells all. A naive young woman rushes into marriage and finds herself trapped in a polygamous commune in the isolated Ozarks. In short order she loses her bodily autonomy, her virginity, and her dignity—but not her desire to escape. An unlikely alliance gives her a chance, but she still needs to outwit her husband somehow, and he's clever, mean, sneaky, and violent. Giving him the slip will take some work. We won't reveal more, except to mention that author William Vaneer is really James W. Lampp under a pseudonym.
Did we ever mention that there's a commune in our town? Actually, its residents live not in town, but on a hill a half mile to the east. They grow stuff up there and sell it in a local shop they own down in the main tourist area. They also run a restaurant. When you go in they try to interest you in their various communities in different countries, and are inordinately smiley and nice. Like in-your-personal-space nice. One time a waitress squeezed into a booth with us to take our lunch order, which was creepy enough that we never went back. But after reading Vaneer's potboiler maybe we'll visit again just to find out what they're smiling about. If you never hear from us again it's because we're having culty sex up on the hill.


---