Calm down. Saying I could really nibble on a bush right now is just my way of saying I'm hungry. I swear.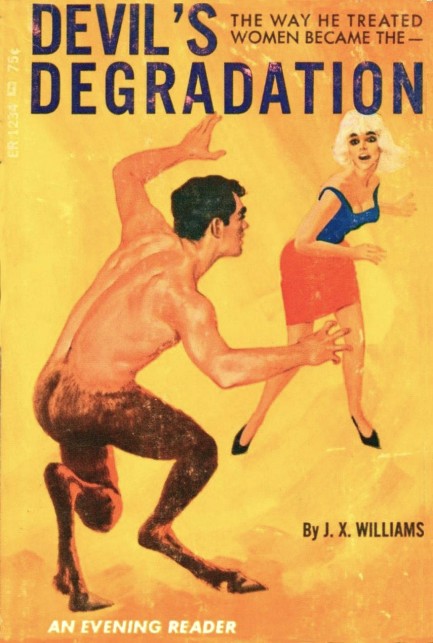 Above, another highly amusing cover from Greenleaf Classics, Devil's Degradation, 1966, by pseudonymous author J.X. Williams. Satanism and sex combine as people have a Devil of a time in this one. Once you go goat you never go back. Art is by Tomas Cannizarro.
---
Frosty the Snowman was a jolly happy soul, with a corncob pipe and a button nose and a nympho on his pole…
Those are the lyrics, right? We can't remember. You know, maybe humping a snowman is more fun than it looks, but even so, it seems like a good way to find yourself explaining to a doctor—or a gynecologist—how you got the weirdest case of frostbite ever. Don Elliott was a pseudonym used by science fiction author Robert Silverberg, and we can only guess he's cringed over this one at least once a day ever since he wrote it in 1967. The art is by Tomas Cannizarro.
---
I haven't laughed like this since I was the Duchess of Discomfort. Life was so much simpler back then.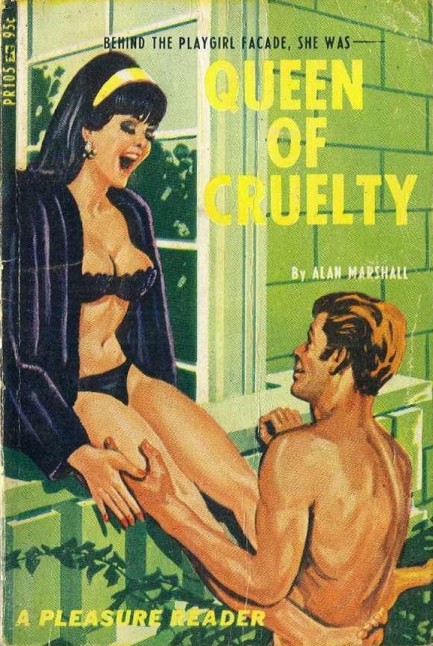 We love the outrageous art from Greenleaf Classics, which means we always have to circle back to it, this time to the above Pleasure Reader entry Queen of Cruelty, by Donald Westlake writing as Alan Marshall. This appeared in 1967 with Tomas Cannizarro assuming the cover duties. You can see a few of our favorite Greenleaf covers here, here, and here.
---