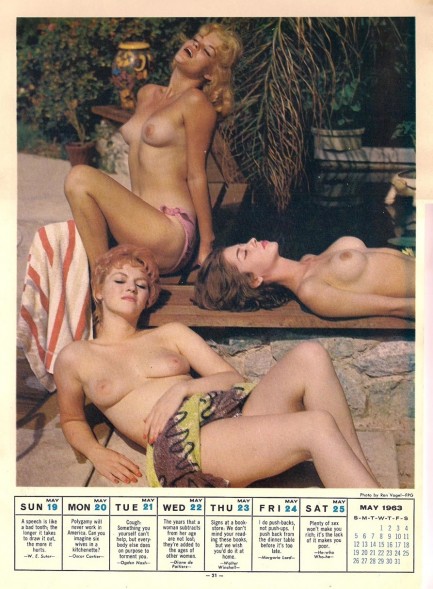 Owing to the delicate nature of their jobs, glamour photographers are supposed to be completely professional at all times, but you have to think that at some point during this shoot, Ron Vogel broke down and cried tears of joy. Just saying. This week's quips include a couple of unlikely entries from sixteenth century noblewoman Diane de Portiers and newsman Walter Winchell, and you can read those below and visit our entire collection of Goodtime Weekly Calendar pages, including others from Vogel, here.
May 19: "A speech is like a bad tooth; the longer it takes to draw out, the more it hurts."—W.E. Suter
May 20: "Polygamy will never work in America. Can you imagine six wives in a kitchenette?—Oscar Cartier
May 21: "Cough: Something you can't help, but everybody else does on purpose to torment you."—Ogden Nash
May 22: "The years a woman subtracts from her age are not lost; they're added to the ages of other women."—Diane de Poitiers
May 23: "Signs at a bookstore: We don't mind your reading these books, but we wish you'd do it at home."—Walter Winchell
May 24: "I do push-backs, not push-ups. I push back the dinner table before it's too late."—Marjorie Lord
May 25: "Plenty of sex won't make you rich; it's the lack of it makes you poor."—He-who Who-he

---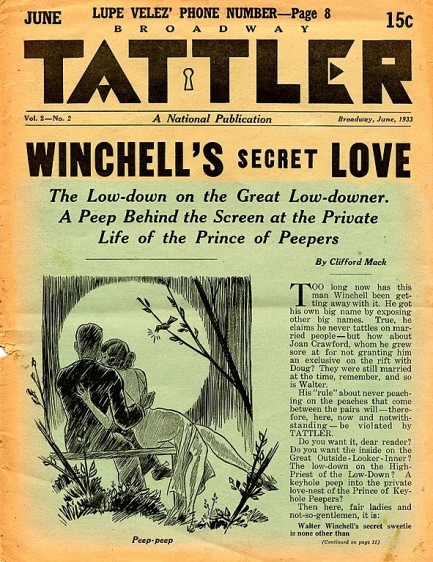 June 1933 issue of Broadway Tattler, a sixteen page monthly tabloid published in New York City, with a reference to Walter Winchell's long time live-in lover June Magee.
---