Bermuda, Barbuda, anyplace will do, as long as there's plenty of pizza.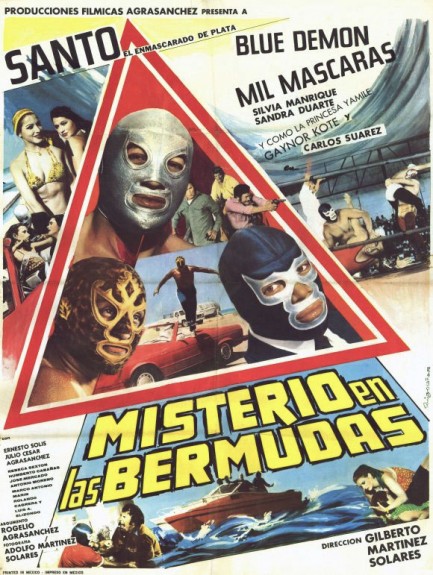 Over the years of watching Santo movies we've made numerous jokes about the legendary El enmascarado de plata—who was played by Rodolfo Guzmán Huerta—being in less than ideal shape. We've even made a few heart attack jokes. Today, for reasons having to do with nothing, we actually sought Huerta's bio and learned that he did in fact die of a heart attack in 1984. We don't feel bad about the fat jokes, cholesterol jokes, and pizza jokes. And in truth Huerta was in decent shape. A bit high in body fat, but with a thick layer of muscle underneath. Wrestling, while fake, takes athleticism, and Huerta had it. The only reason we make fun of him is because we consider him fat for a movie superhero. So the heart attack thing, in the context of all our quips, is ironic.
Misterio en las Bermudas came close to the end of Huerta's career, and finds Dr. Chunkenstein™ dealing with yet another MacGyverish mad villain. This one, who's named Dr. Gro, has a device that allows him to abduct people, objects, or even entire aircraft while producing storm effects, causing authorities to blame the disappearances on the Bermuda Triangle. Initially, Santo and sidekicks Blue Demon and Mil Mascaras know nothing about this and are on protection detail, watching over a Middle Eastern princess played by Gaynor Kote. A trio of women are sent to honeytrap the heroes, but in the midst of this effort, one of them is kidnapped by teleporting aliens. Later there's a political assassination attempt, an underwater lair, a long lost father, and a nuclear explosion. In addition, all of this occurs within a framing device suggesting that this is Santo's—if not humanity's—final outing.
Yeah, it's as bizarre as it sounds. It's as if a card sharp shuffled the script pages then threw every fifth one into the vortex. And the low budget doesn't help the filmmakers make South Texas, where the movie was shot, look like Bermuda. In any case, the creators of the Santo series had a formula and they stick closely to it for this late entry. There's less in-the-ring wrestling action than usual, but we always considered that to be the most expendable part of the movies anyway. Bottom line: if you like Santo you'll like this. Rodolfo Huerta may have been long in the tooth at this point, but the man could still wear a gimp mask with style. Misterio en las Bermudas premiered in Mexico today in 1979.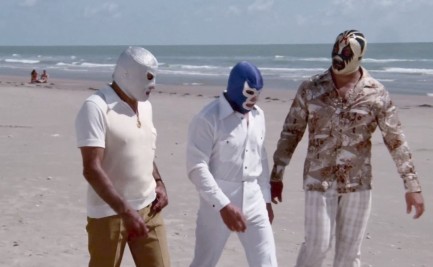 I'm skeptical about wearing masks in this heat, Santo, but maybe you're right. Maybe they'll make the chicks sit up and take notice.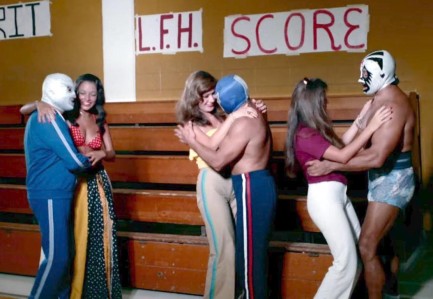 Groovy masks, guys. Those won't, uh, restrict the mobility of your tongues in any way, will they?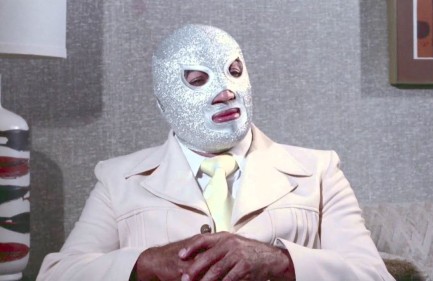 Well, boys, was I right, or was I right?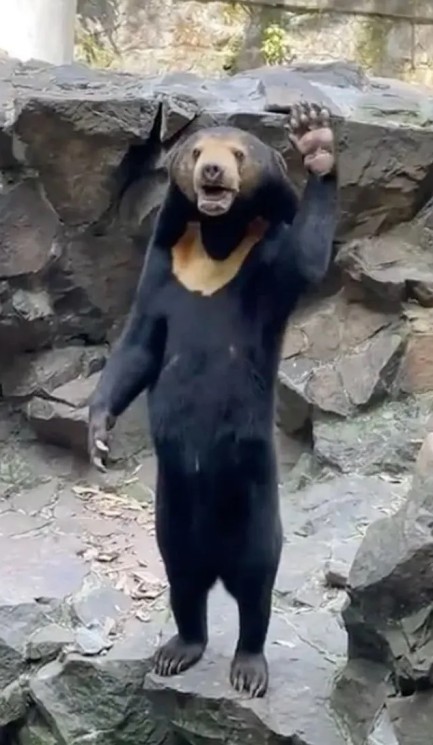 Question, plot related. So what the fuck was all that alien stuff?
---