Ann-Margret starts small before moving up to larger playmates.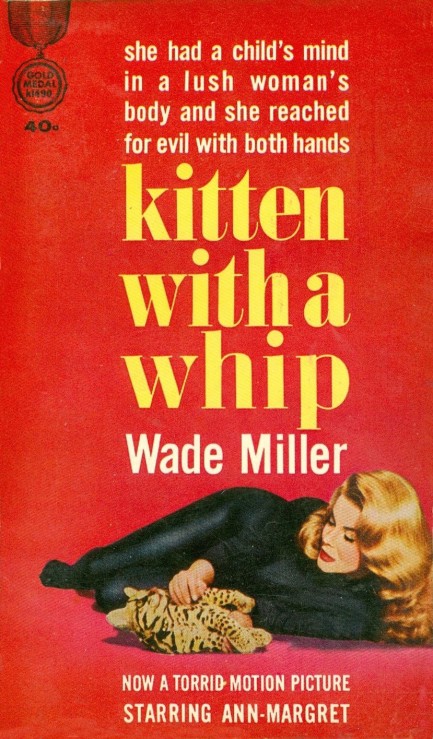 Above is a cover for Wade Miller's Kitten with a Whip, put out on Fawcett Publications' Gold Medal imprint as a tie-in with the 1964 film adaptation. That's megababe Ann-Margret on the cover, who played the novel's femme fatale Jody, a purely nuts underage sexpot who uses the threat of a statutory rape that never happened to turn a hapless everyman's life upside down. It's an unlikely tale, but certainly worth the time. At first glance the cover looks like Ann-Margret is playing with a stuffed cat, but a closer look shows it to be real—an ocelot kitten, seemingly. On that assumption we checked the internet and sure enough—the internet always provides. We have three more photos below.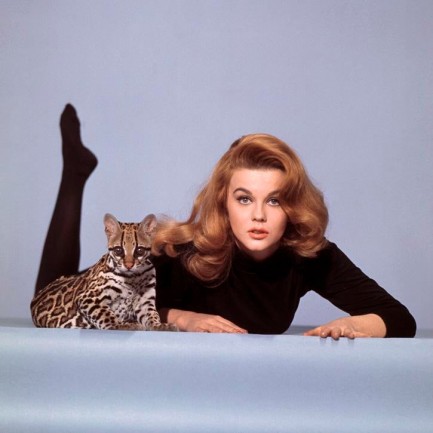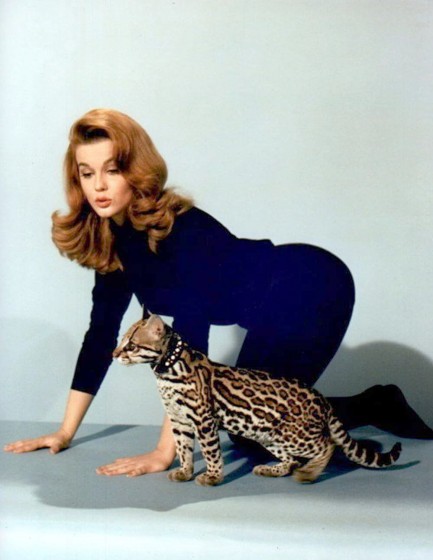 ---
She purrs but only when she's thinking about destroying you.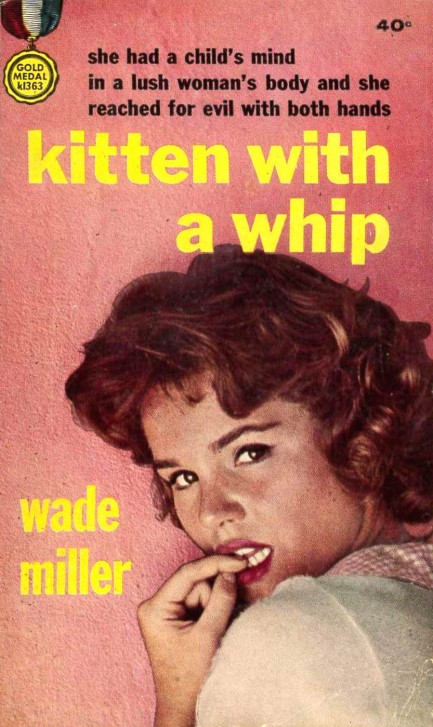 This edition of Wade Miller's iconic sleazer teaser Kitten with a Whip is a rarity and it came from Gold Medal in 1963. There's a moment early in the narrative when the hapless protagonist David turns on a news report about the seventeen-year-old sexpot invader occupying his home. Up until then the girl, whose name is Jody, has been in David's house tormenting him only a few hours, but is threatening to ruin his life with lies that they've been shacked up having a grand old time, or that he tried to rape her. David is paralyzed with fear that his wife, neighbors, and employer will believe her. But in that moment when the entire city is told the girl is a violent psycho who escaped her confinement a mere twelve hours earlier by stabbing a matron, David doesn't realize nobody will believe anything she says—not his employers, not his neighbors, and certainly not his wife—as long as he turns her in then and there. "I woke up, found her in my house, bought her some clothes because she had none, gave her money for a bus out of town—and instead of leaving she decided to stay and blackmail me." He'd be believed, beyond a doubt. But he never makes the call. So he really deserves everything that happens afterward. But the book is a classic for a reason. It's a fun, crazy read.
---
The ultimate hunt is one where the prey can shoot back.
The cover copy perhaps gives the impression Wade Miller's The Killer is about a hunter who goes after human prey for sport, but it's actually about a man who hires a professional big game hunter to track down and kill his son's murderer. While the hero uses his unique skill set to lay a trap or two and make some interesting deductions, the story is a standard thriller. But a pretty good one, set in different locales in the U.S., with a few decent twists and a nice—if somewhat overwrought—love story. Both covers from Gold Medal were compelling, with art by C.C. Beall and an unknown, 1951 and 1958.


---