She's a mean green fighting machine.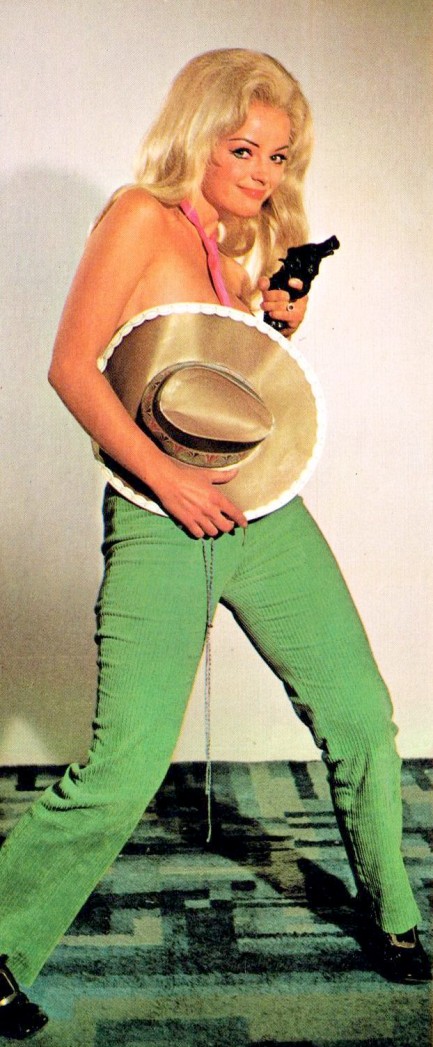 This photo shows German actress Renate von Holt, who appeared in a grand total of four films during her short cinema career, including Heißer Sand auf Sylt, which we wrote about here. The shot came from the West German magazine Caballero, and according to those folks von Holt was in reality Baroness Renate von Holzschuher. We checked it out and the gents at Cabellero are correct. She was minor royalty, a famed presence in society circles, a denizen of the hottest nightspots in Europe, fluent in six languages, and for ten years the companion of Prince Johannes von Thurn und Taxis. Even royalty can become obscure with the passage of time, though. There isn't much on von Holt even on German sites. Well, we're happy to raise her profile. The photo is from 1968.


---
The medium is the message and the message is: she can do anything.
Vittoria Solinas, who was born in Genoa, Italy as Maria Vittoria Sole, was an actress in cinema mainly during the late 1960s, but she's better known as a singer, a career she undertook using her real name. She recorded with success during the disco era before moving on to another medium and becoming the author of a half dozen books. That makes her a rare triple threat in the three most influential artistic media of our age, but one who has been inactive since the mid-1990s. The photo above appeared on the cover of the Italian magazine Caballero in February 1969.


---