The Price is wrong in these bikini themed clunkers.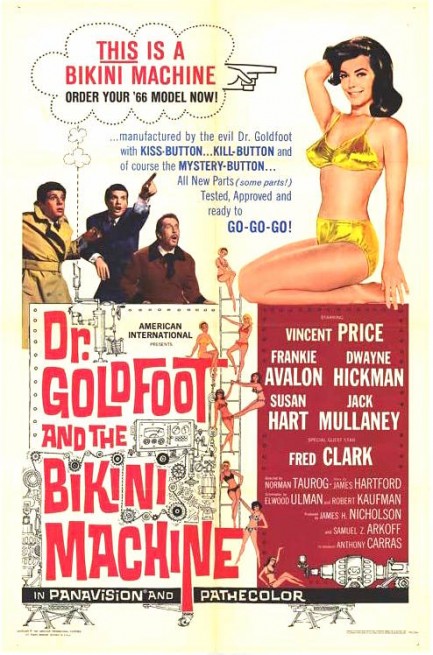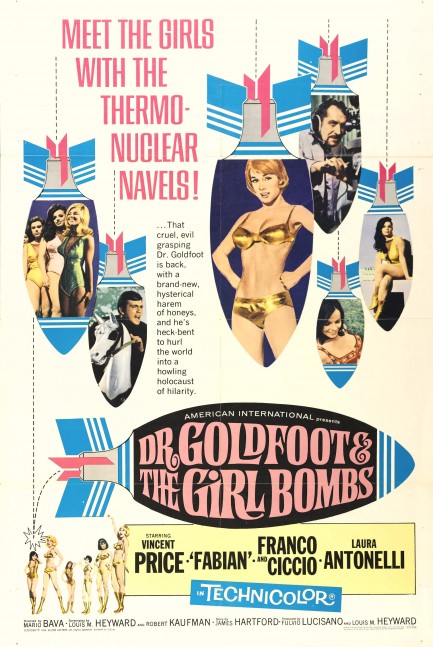 Dr. Goldfoot and the Bikini Machine and Dr. Goldfoot and the Girl Bombs, for which you see the U.S. promo posters above, are inexpressibly bad spy movie spoofs, but since they were such strong influences on the iconic Austin Power series we decided to feature them anyway. They're supposed to be absurd, of course, but does anything hurt the soul more than comedy that isn't funny? Reviews on these aren't uniformly horrible, but we think many critics give them credit for merely trying to generate laughs.

The plots are as follows: in the first movie Vincent Price as the evil Dr. Goldfoot sends an army of bikini-clad robots to charm rich men out of their assets, with the ultimate of using the capital to take over the world; in the second film Price uses a cadre of girl robot bombs—what we'd today call suicide bombers—to blow up NATO bigwigs, with the ultimate plan, again, of taking over the world. It's actually amazing that the first film spawned a sequel, but the follow-up effort was so bad it killed any potential franchise stone dead.

Are these films funny if you're expecting comedy? No. Are they funny if you're expecting idiocy? Somewhat. Are they funny if you're chemically altered to the gills? Undoubtedly. Choose your state of mind and proceed to camp Goldfoot accordingly. And like all camp trips, group participation helps. Invite your cleverest friends and you just might—might—have the time of your life. Dr. Goldfoot and the Bikini Machine premiered in the U.S. today in 1965, and Dr. Goldfoot and the Girl Bombs premiered one year and three days later, on 9 November 1966.


---