It's brain versus brawn in sunny Cuba.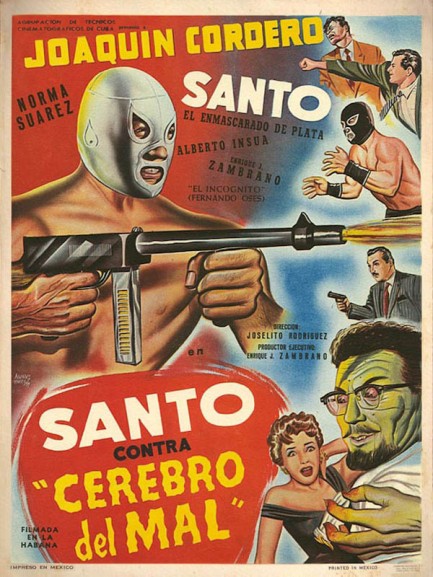 Our favorite luchador Santo el Enmascarado de Plata has taken on monsters and men and beaten them all like your grandmother beats a dusty throw rug. In Santo contra cerebro del mal, or Santo Versus the Evil Brain, he takes on a man with a monstrous plan—a villain who wants to use a thoughtsucking machine to steal worldshattering scientific secrets and sell them to international bidders.
Needing some capable brawn to pull this off, the villain kidnaps Santo, sucks him, and turns him into a dickbag. Don't worry, though—Santo is eventually located by his buddy El Incognito and, after a serious ass whipping administered with the utmost love, restored to his right mind. What a wonderful world it would be if all it took were a couple of suplexes and powerbombs to clear the evil out of people's brains. A single wrestler sent to the headquarters of every transnational bank could save the planet.
This is the first Santo film, shot in Havana in 1961, the year of the Bay of Pigs invasion, and we have to say later entries are much better. But this one does have excellent exteriors shot around town, mainly in the suburbs, which look little different from Miami. The old part, with its baroque buildings and tight streets, was a little too logistically tricky for location work, we're guessing. Havanaphiles and fans of retro thoughtsucking machines, enjoy. All others, maybe take a pass. Santo contra cerebro del mal premiered in Mexico today in 1961.

Jesus. I'm schvitzing like a pig. Shoulda packed my summer mask.
These cholesterol readings are off the charts. What the hell does this guy eat?
Santo! Do something!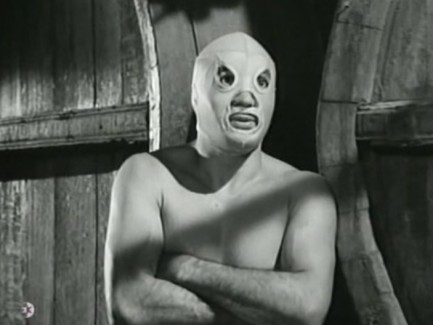 Hey, don't look at me. I'm thoughtsucked.
---