Are we safe? Beats me. I don't actually know much about wildlife. I became a great white hunter strictly for the babes.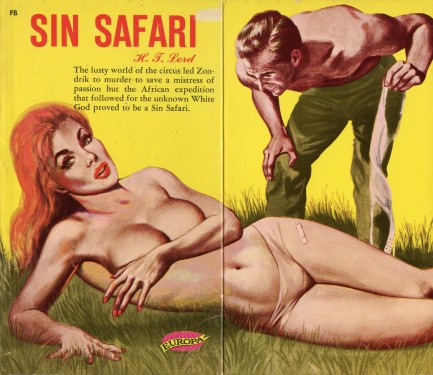 Instantly recognizable Bill Edwards art of a woman reclining in grass fronts H.T. Lord's 1963 sleaze novel Sin Safari. This was published by Europa Books with one of its rare foldout covers. You see both the folded front and the extended cover here, and you can see another example we shared several years ago at this link. We don't know how many of these fold-outs the company produced, but our guess is a mere five, because that's how many we've seen across a decade of searching.

Turning our attention back to Edwards, his style is usually distinct enough to identify at a glance, but assuming one is unsure and the piece is unsigned, it can be confirmed as his work thanks to his trademark—a mole on his women's cheeks. But he didn't do that 100% of the time, and in fact didn't do it here. Instead he's placed a Band-Aid on her thigh. We don't know what that's about, but he painted Band-Aids on his women at least a few times, giving his work another identifiable element. We'll have more from Edwards and Europa soon.
---
It's going to be a tight fit but I think I can find just enough space to squeeze you in.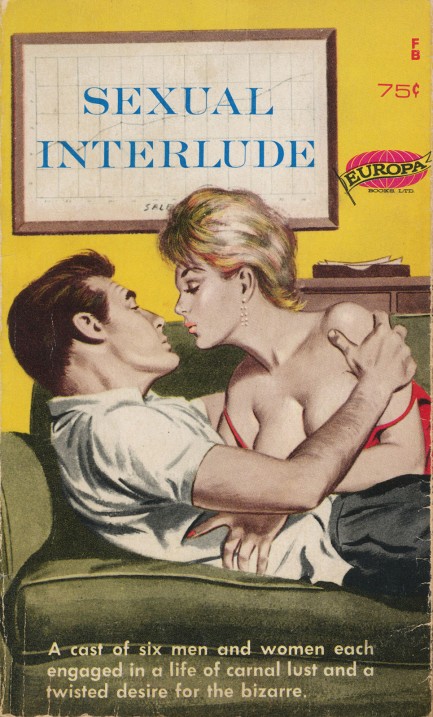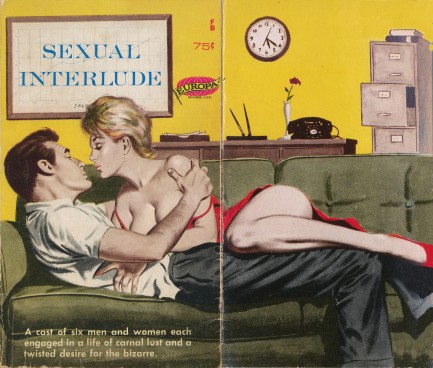 Here's a beautiful art piece we saw on an auction site a while back, 1963's Sexual Interlude from Europa Books, Ltd., which was a U.S. publisher that specialized in sleaze novels with fold-out covers. The illustrator isn't credited, but we know Bill Edwards painted some Europa fronts and in fact this looks very much like his work—so much so that we're going to say it's him and await confirmation or correction. The author likewise isn't noted on the cover but the book was written by Fred Dessiers, who doesn't appear anywhere else in the literary record that we can find. Europa fold-outs are rare because the company was short-lived, but this discovery shows that their novels are worth seeking, at least for the art.


---