Minuit puts the country's hospitable reputation to the test.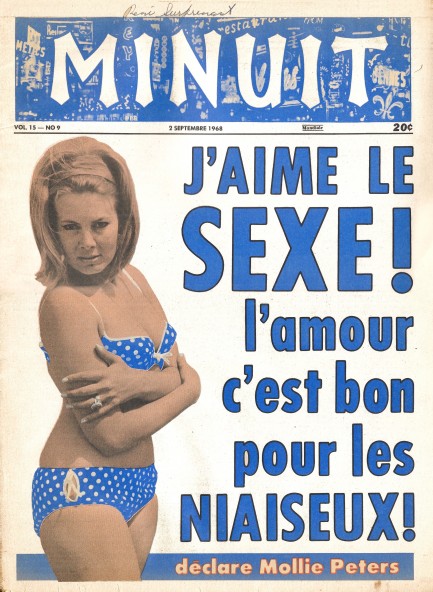 Ever since we discovered a while back that the U.S. tabloid Midnight was actually a spin-off of Montreal based Minuit we've been looking around for issues. We finally had some luck. This example hit Canadian newsstands today in 1968, and on the cover is British actress Mollie Peters, or Molly Peters. Inside, various Hollywood stars are spotlighted in unflattering ways. Edy Williams was allegedly attacked by a lesbian; Paul Newman resorted to transcendental meditation to cut down on his drinking; Jason Robards, Jr. broke everything Humphrey Bogart related in Lauren Bacall's house; Robert Vaughn paid off his extensive gambling debts and cancelled his credit cards; Janet Margolin allegedly ate a pound of ground beef every day for health reasons; and Ursula Andress attacked Anita Ekberg in a Paris restaurant for making eyes at Andress's boyfriend Jean-Paul Belmondo.
There's also a note on Babsi Zimmermann, who Minuit claims just refused a nude role in a French film. We noticed the blurb because of her name, which seems too good to be true, and familiar too. We looked her up and she did exist. It turns out she was better known as Barbara Zimmermann. She changed her stage name after the release of her first film, a counter-culture sexploitation romp called Heißer Sand auf Sylt, aka The New Life Style (Just to Be Love). Maybe she wanted a fresh start because the movie was such a stinker. We know it was bad because we wrote about it, which is why her name sounded familiar. She's naked as a donskoy cat in it, so Minuit's claim that she refused the French movie makes sense if she wanted to rebrand herself. The change still has people confused. Currently IMDB has separate entries for Babsi and Barbara.
Minuit reserves special attention for U.S. actor George Hamilton, who had been generally targeted by tabloids for avoiding military service in Vietnam. Why him? We wrote about the reason a long while back, and if you're curious you can check. Minuit wryly informs readers that, "George Hamilton somehow managed to break his toe the day after he received a notice to report to the U.S. Army recruiting center. This gives him an interesting three-month [deferral]. It's clever, isn't it?" Obviously, toes heal. Hamilton eventually received a full deferral for other reasons.
Also in this issue, Minuit editors treat readers to a story about a man cut in half by a train. We feel like it's urban folklore, but there are photos—for any who might be convinced by those—and a long story explaining how a man named Regerio Estrada caught his wife Lucia in bed with another man, beat him unconscious, and tied him to a train track to await the next express. Do we buy it? Not really. The internet contains only a fraction of all knowledge and history, but we think this tawdry tale is so bizarre that it would have found its way online. There's nothing. Or maybe we're just the first to upload it. Anything is possible. We have additional colorful Canadian tabloids we'll be sharing in the months ahead. You'll find eighteen scans below.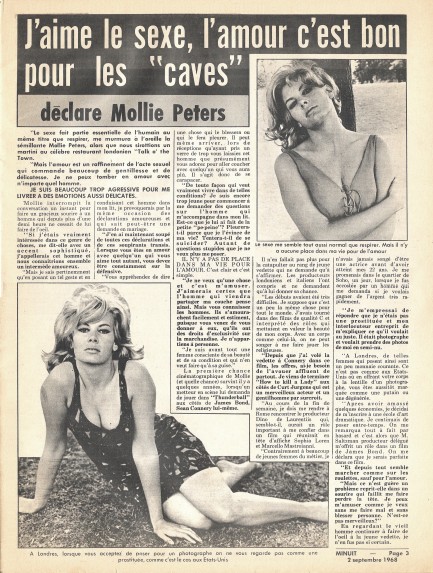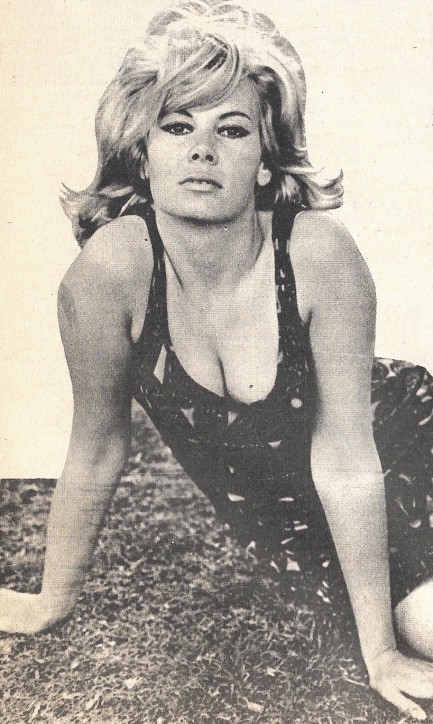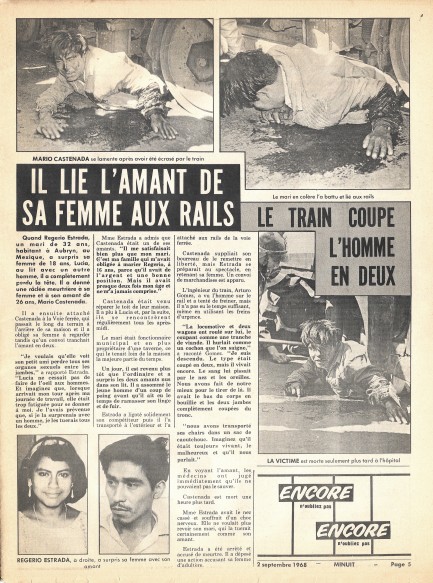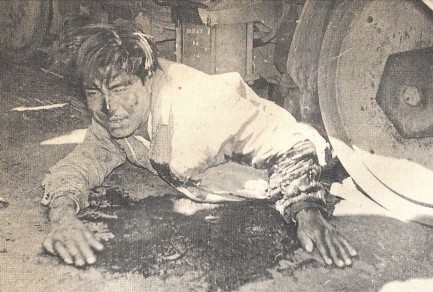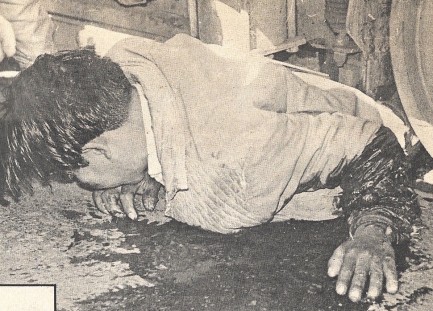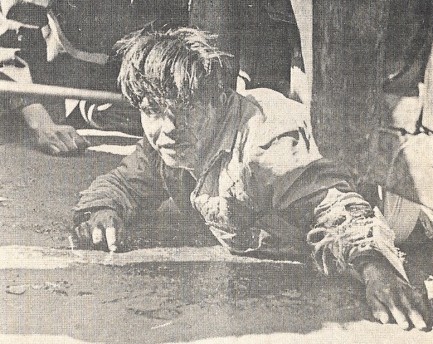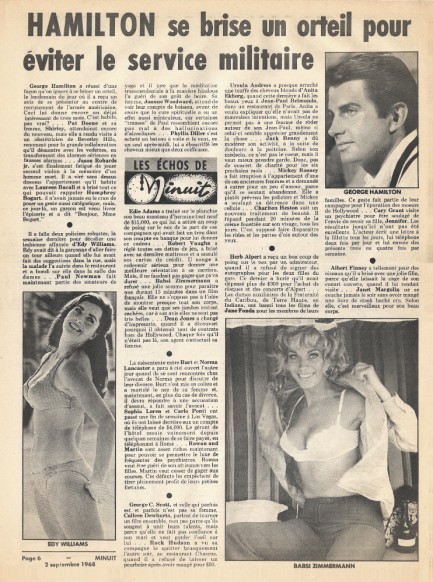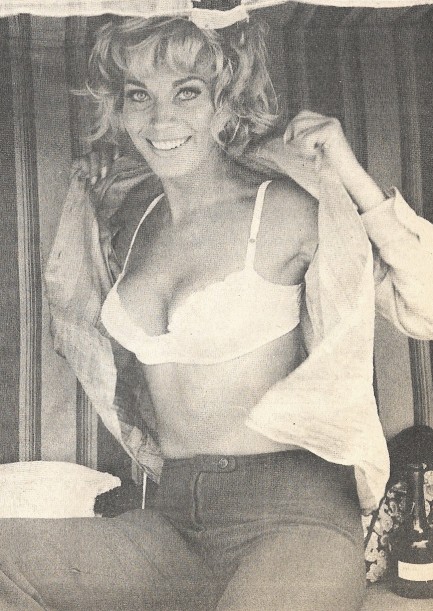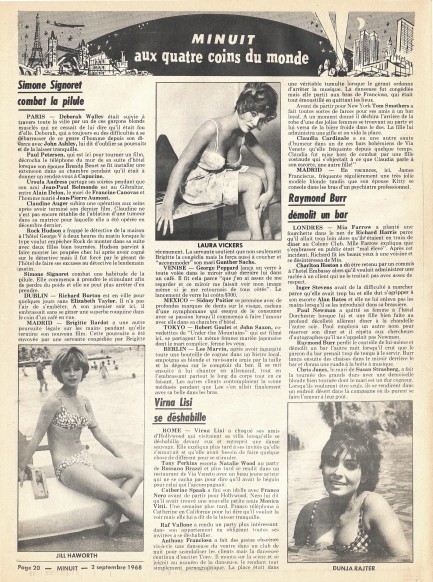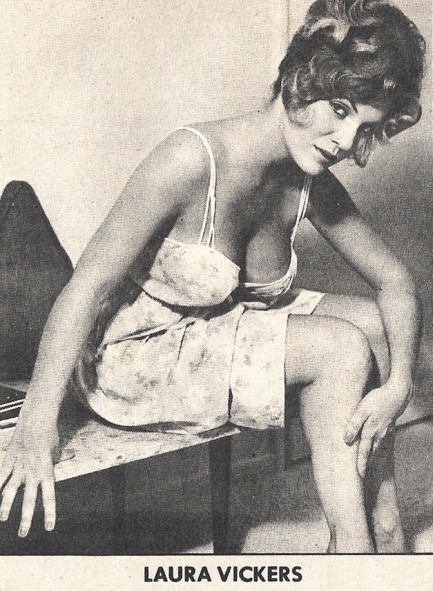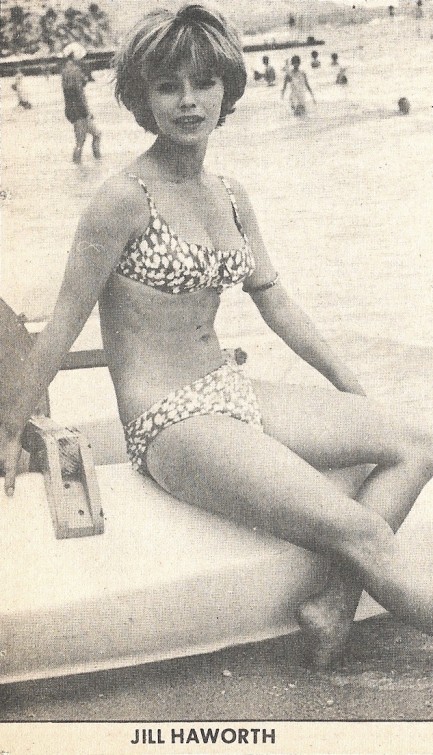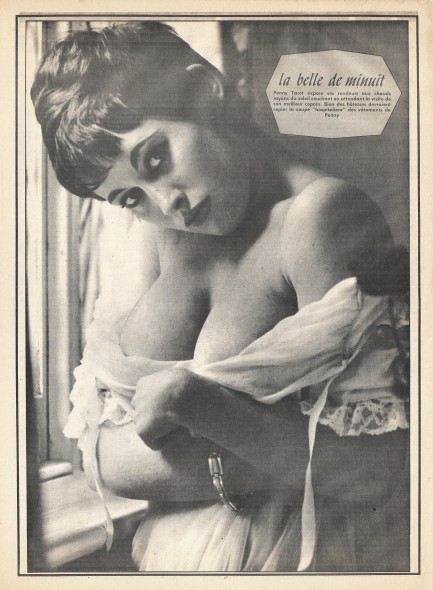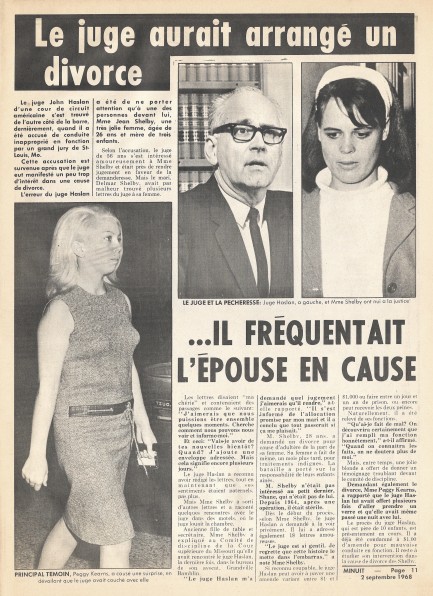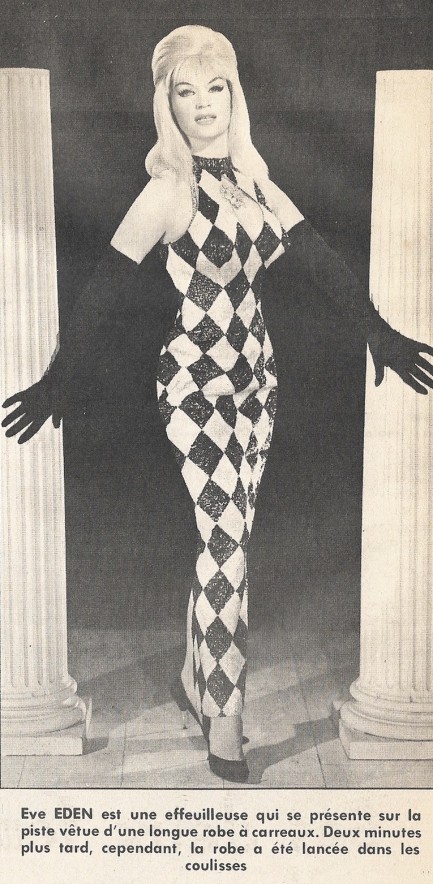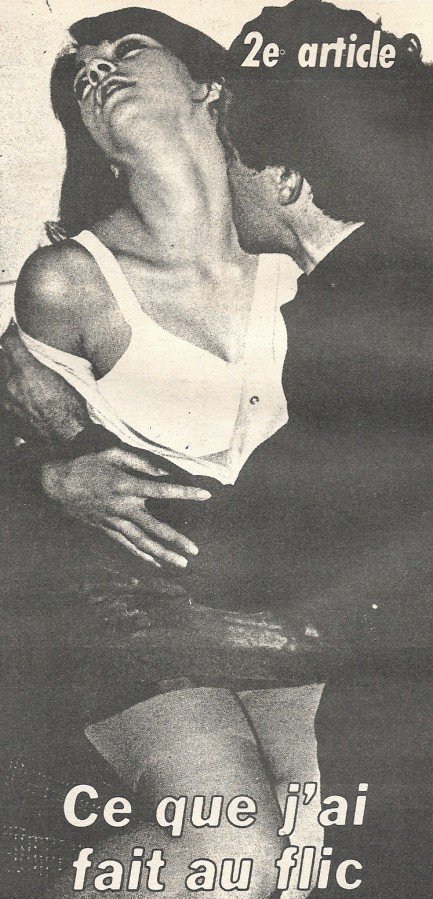 ---
All the boys loved Mandy Rice-Davies.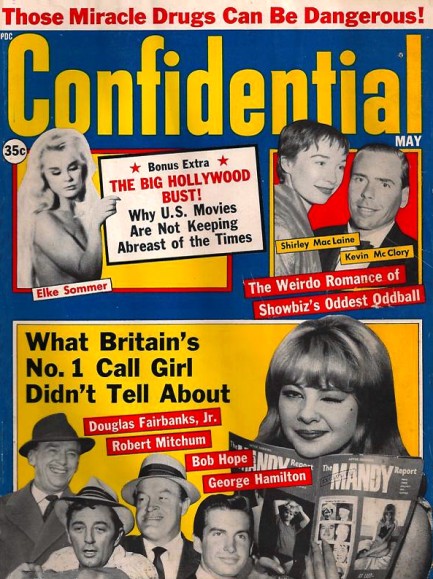 The infamous Profumo Affair exploded onto British front pages during the spring and summer of 1963, outing Secratary of State for War John Profumo's affair with the call girl Christine Keeler, and leading directly to his humiliation and resignation. More than a year later the other call girl at the center of the scandal—Mandy Rice-Davies—was promoting a tell-all book about her time in the sex trade. It was called The Mandy Report and
on the cover of Confidential from May 1964, we see Rice-Davies holding the book and looking pretty darn pleased with herself.
The Mandy Report was actually rather cleverly formatted as a tabloid-style magazine, and between the covers Rice-Davies claimed to have spent quality time between the sheets with the likes of Douglas Fairbanks, Jr., Robert Mitchum, Bob Hope, George Hamilton and many other household names. Mostly, the men denied it, of course, but to paraphrase Rice-Davies herself: "Well, they would, wouldn't they?"
Call us prejudiced, but we tend to believe women about situations like these, even when they happen to be trying to drum up sales—and especially when they aren't. In pulp novels women publicly lie about this stuff all the time, and as a fictional device it's fun, but in the real world there's a lot of potential for danger and social loss that makes us think falsehoods in this area are relatively rare. But that's just us.
We don't know how many copies The Mandy Report eventually sold, but the fact that it's still widely available online might be an indication that it did okay. Later in life, Rice-Davies stayed in the spotlight, acting in film and television. That's her below, relaxing on a beach on Majorca circa 1963, and if you're curious you can read a bit more about the Profumo Affair at an earlier post, here.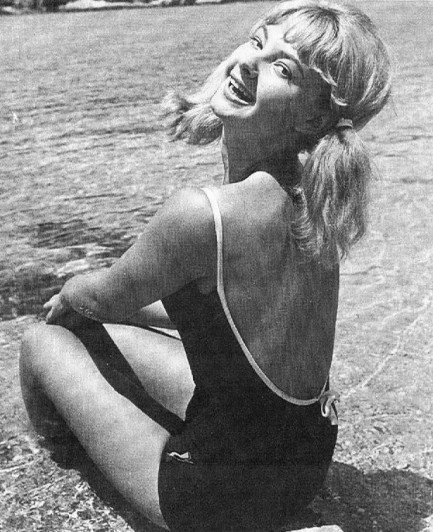 ---
All of America seemed to want George Hamilton sent to Southeast Asia.
We're doubling up on Confidential this weekend because we have so many. Here's another February issue, this one from 1967, with an unusual white cover featuring actor George Hamilton. What was the big deal about him joining the army? Well, he was dating Lynda Bird Johnson, who happened to be the daughter of Lady Bird Johnson, who happened to be the wife of president Lyndon Baines Johnson. Pro-Vietnam War Confidential is urging him to prove to America that he was not passed over in the draft because of his connection to the White House.
The idea of pressing for men such as Hamilton to be inducted also made sense to the anti-war left, which believed putting the scions of high society in jeopardy would hasten the end of the country's Asian misadventure. You see that strategy being carried out below, by three members of the Ad Hoc Committee to Draft George Hamilton. We have no data on whether pushing for more upper class draftees hastened the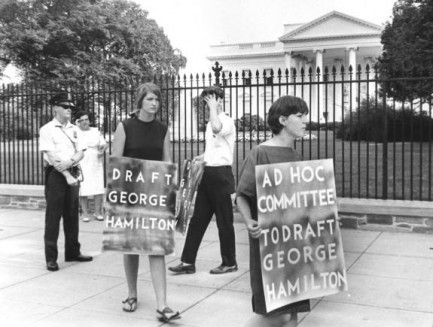 end of the war, and we doubt any exists. But it's true that minority participation and casualties fell as the conflict progressed—though the numbers didn't shift as radically as many people think.
As far as whether Hamilton's relationship with Lynda Bird Johnson actually kept him out of Southeast Asia, officially at least, he was eventually passed permanently over because he represented the sole means of support for his mother. It's a reasonable sounding excuse—far more believable than the bunions, bone spurs, and other conditions suddenly suffered by the rich—but Confidential shreds Hamilton's deferral succintly: "As sole support of your mother you escaped the draft. Now you have $1,000,000, a Rolls Royce, and a 39-room house. So what's holding you back, tiger?"
---