From moment to moment everything can change.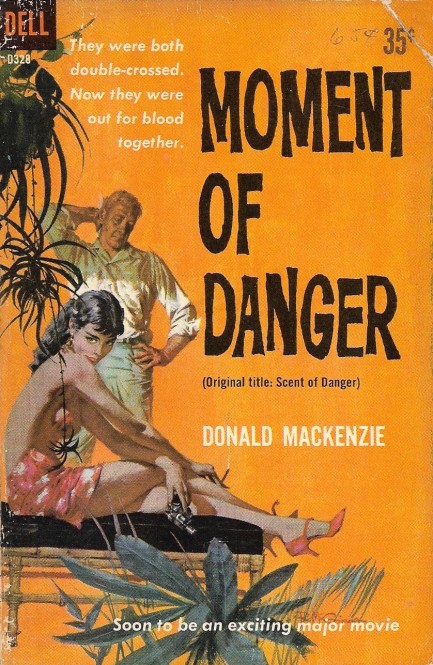 Donald MacKenzie's Moment of Danger, also known as Scent of Danger, appeared in 1959 as a Dell paperback with a front painted by the busy Robert McGinnis, always the man to employ for elevated cover art. In this case, his pistol packing, sarong clad femme fatale lounging behind a spider plant stands as a top effort. And by the way, we only know what a spider plant is because we have six large ones busily propagating around palatial Pulp Intl. HQ.
The tale follows a double-crossed jewel thief named Macbeth Bain (you gotta love that) who vows revenge on the partner who ditched him after a big heist and put the cops onto him. The double-cross is only half successful. The partner gets away with the loot, but through a stroke of luck, the evidence that was supposed to put Bain behind bars never materializes. Now he's free, furious, and tracking his missing partner from London to Gibraltar, Tangier, and Malaga, seeking to even the score. Along for the adventure is the partner's wife, also intent upon revenge after being ditched for another woman.
This is a densely written tale, heavy on narrative and light on dialogue, told from Bain's point of view as he struggles with fear of his uber-competent partner, and attraction toward his beautiful sidekick. He's a curious character, hard to like at first because his emotions range from anger at his betrayal to resentment that a woman is tugging at his heart, but you eventually root for him. The book ends almost anti-climactically, mid-scene at a crucial moment, but it remains a decent whirlwind thriller that passes through several exotic cities, and is worth the reading time, imperfections and all.
Hollywood agreed. The big brains out in Tinseltown liked Moment of Danger enough to option it and make it into a 1960 movie titled Malaga, starring Trevor Howard and Dorothy Dandridge. We'll definitely watch it because it's a noteworthy film, representing a rare leading role for an African American actress, and in fact was Dandridge's last movie. Our film watching résumé is a bit thin on the Dandridge front anyway, so we now have a good reason to address that. We'll of course report back.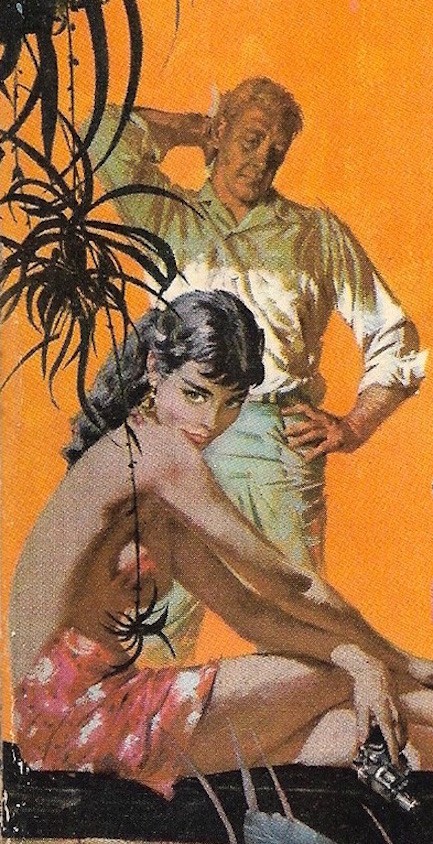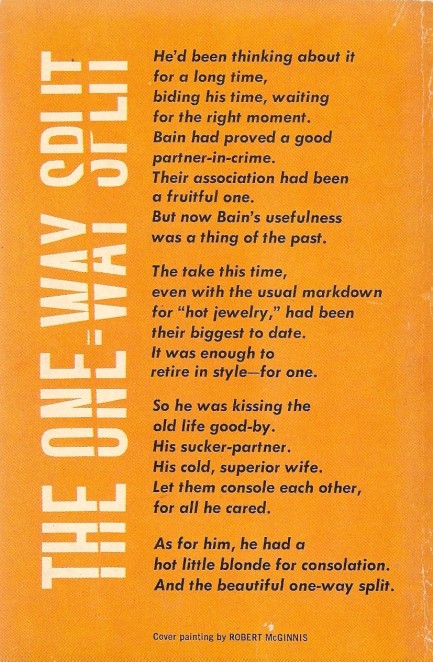 ---
North Africa provides the setting for another Hollywood overseas adventure.
We have a strong affinity for Morocco after our adventures there a few years ago, so any movie that references that strange and wonderful country is one we must seek out. The Woman from Tangier, starring Adele Jergens, is basically another attempt to catch Casablanca lightning in a bottle. The story deals with a dancer in trouble with the law trying to flee from Morocco to Gibratar, but being sidetracked when the ship she's sailing on has its safe robbed and its purser murdered. Detective work follows, conducted by insurance investigator and love interest Stephen Dunne. Together he and Jergens solve the mystery, which of course loops tidiliy right back to her original difficulties.
We're fascinated by how outward looking Hollywood was during the 1940s. Though most of the productions never left Southern California, the action was set in dozens of countries. In the thriller/film noir category alone we've seen Gilda and Cornered (Argentina), The Shanghai Gesture, Bermuda Mystery, To Have and Have Not (Martinique), Temptation (Egypt), Sundown (Sénégal), Appointment in Honduras, and The Mask of Dimitrios (Turkey), not to mentions dozens of others set wholly or partly in France, England, Spain, and Mexico. The Woman from Tangier, then, was part of a well established trend. It premiered in the U.S. today in 1948.
---