Only a king of cover art is fit for a queen of espionage.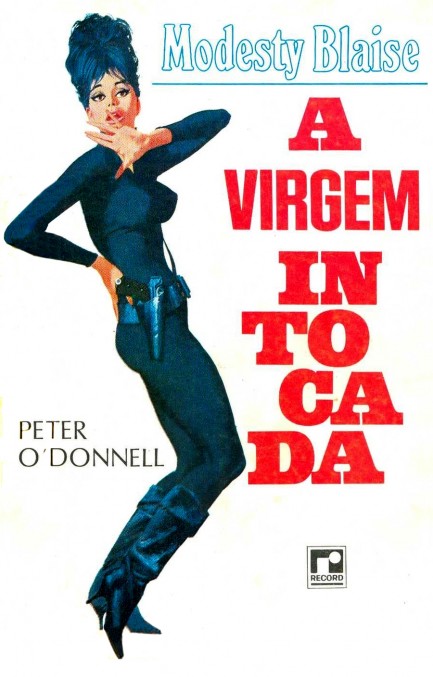 We said we'd show you a Brazilian Robert McGinnis cover for a Modesty Blaise novel, and here it is. What a nice piece of art. The English language editions lost their McGinnis fronts with book three of the Blaise series in 1969, but somehow Grupo Editorial Record managed to get his art for A virgem intocada, known in English as The Impossible Virgin, fifth in the series, 1971. Why the U.S. and British editions did not get this art is a mystery. We debated reading this tale and talking about it a bit, but by now you've gotten the gist of Modesty and Co. If not, just check here, here, here, or here.
Also, you see here a clean version of the art. We talked before about how we suspect Editorial Record sometimes used but didn't actually license art for its covers. Notice how the clean art, even at smaller size, has more detail—almost like Record had a McGinnis lithograph they photographed and reprinted? Seems to us that if the company had paid for the art they'd have ended up with a fully detailed cover. Circumstantial evidence—yes. But incriminating. Or maybe the printing process was simply not top level and detail was lost. Still, a nice cover.
---
Tall and tan and young and lovely, and when she betrays them, each one she betrays goes, "Argh..."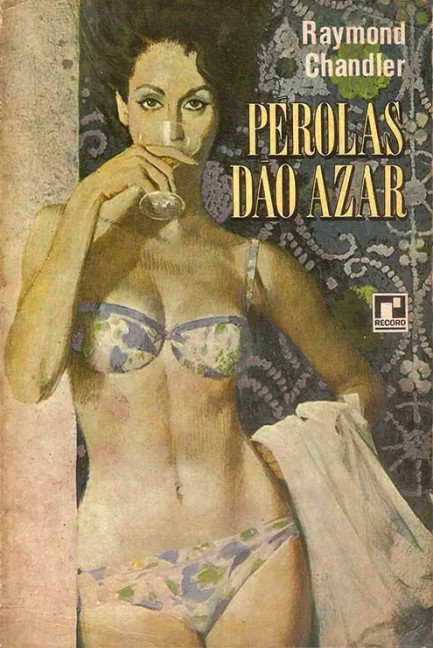 This interesting piece of art was sent to us by a friend, Leonardo, and it comes from Brazilian publisher Record for Raymond Chandler's Perolas dao azar. The book comprises three Chandler stories, "Pearls Are a Nuisance," "Finger Man," and "The King in Yellow," plus his crime essay, "The Simple Art of Murder." If you're an avid reader of old literature, "The King in Yellow," may sound familiar. It was the name of an 1895 anthology by Robert W. Chambers, the best-selling U.S. author of the latter half of the nineteenth century, and the source of certain motifs used in H.P. Lovecraft's Cthulhu Mythos. Chandler's story isn't supernatural, but it does allude to Chambers' work.

The cover art is by Robert McGinnis and was previously used on Shell Scott's 1971 novel Dig That Crazy Grave. Around then Record began spicing up some of its paperbacks with McGinnis art. We don't know if he was compensated for his work. We've talked about this issue before, but long story short, we just can't see an economic win for Record in buying McGinnis's art. In a country as big as Brazil some artist could have painted a nice cover—and cheaply. Probably more cheaply than licensing art from McGinnis. We don't know how it all worked, so we're not saying Record stole the art, but still, you have to wonder. Thanks for sending this over, Leonardo.


---