It could have been worse. They could have flown United.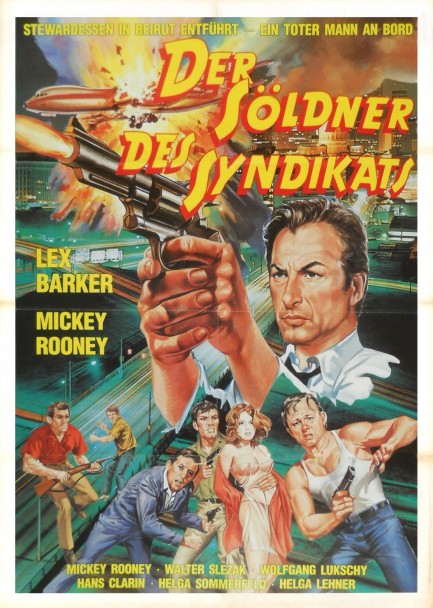 This chaotic West German poster for Der söldner des syndikats caught our eye for a couple of reasons. One was its sheer garishness, and the other was because the unknown artist depicted diminutive Mickey Rooney all swoll up like a Marvel Comics superhero. It just screams cheeseball classic, so we had to check out the film, which is known in English as 24 Hours To Kill. When a plane makes an emergency landing in Beirut the flight crew learns that one of their number (Rooney, decidedly un-swoll and unheroic) is hunted by a criminal smuggling syndicate he's double crossed. The repaired plane leaves in twenty-four hours, and the crew decide to protect Rooney until that time. Abandoning him is out, because he's a pal, and going to the police is out, because they'd be stuck in Beirut for days or weeks, thus making the syndicate's job easier.
So the plan is to protect Mickey Louse for a day and then jet—if they can manage it. What follows is a series of botched abductions worthy of Raiders of the Lost Ark, ornamented with location shooting in Byblos, Baalbeck, Casio Du Liban, and a Beirut long since reshaped by war and bulldozed for high rises and privatized resorts. Those locations possibly make the movie worthwhile all on their own, and other beautiful sights are provided by co-stars Helga Sommerfield and France Anglade. A minor '60s thriller, this one feels like a television movie, which means the level of tension is not nearly high enough. Nor the level of action—there's more on the poster than in the film. But even if the art misleads, the movie is entertaining enough. Made in English by the West German production company Grixflag Films Ltd., Der söldner des syndikats premiered in West Germany today in 1965.
Intimidating movie poster Mickey.


Not very intimidating movie Mickey.
---