Grand theft auto, first degree murder, and concealment of a corpse, eh? Well, you've paid your debt to society. Hop in!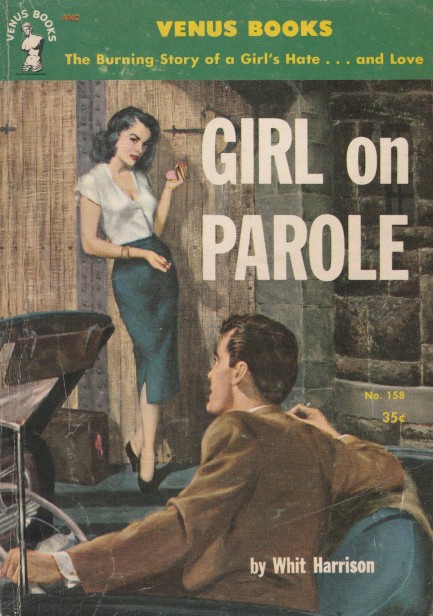 Above: the front and rear covers of Whit Harrison's Girl on Parole, for Venus Books. We would've bought this, but the seller was asking more than three... Excuse us for second—Hahahahahaha..! *wiping tears away* Sorry, he was asking more than three-hundred dollars. We buy a lot of books but you know our rule—never pay more than it costs for a train to Paris. Remember, we live in Spain, so we're talking thirty euros. We've gone as high as forty a few times, but that's our absolute ceiling for a single paperback. Nine times out of ten we pay seven or less. Anyway, Girl on Parole is from 1953 and the art is uncredited, but it's probably by Herb Tauss, who was painting for Venus during the period and whose style is a perfect match. Check what we mean here and here.


---
I've got two days. That's not much time to waste all my pay on impersonal professional sex, so let's get started.
Would the global sex-for-pay industry even survive without the military? We seriously doubt it. If you're partnered up with a military man, just know he's done the above, multiple times, no matter what he may tell you. Whit Harrison's 1952 novel Sailor's Weekend deals with three navy guys set loose in San Francisco, which was an entirely more lawless place back then as far as the sex industry goes. The art on this is by Herb Tauss, who we did a small feature on a long while back. You can check that out here.


---
Um, anytime you're finished with the pity party…
This fun cover of Kate Nickerson's 1952 novel Street of the Blues, is by Herb Tauss, who wasn't just a painter, but also a sculptor, and was inducted into the Illustrator's Hall of Fame. He was self-taught, but even without a pedigree earned assignments with magazines as diverse as National Geographic, Good Housekeeping and The Saturday Evening Post. Later in his career he moved into fine art and did some teaching. His work is hard to find, but we'll keep an eye out for more.

---