Monroe finds herself in a room with no space to maneuver.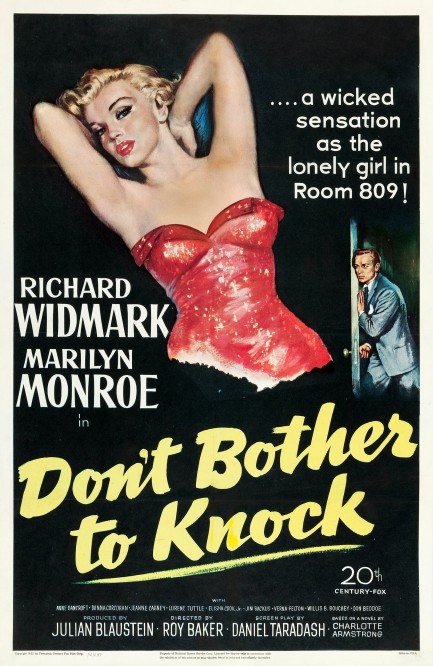 It says plenty about Don't Bother To Knock that we queued it up last night, popcorn and adult beverages in hand, having forgotten that we already watched it several years ago. That has less to do with the overall film than with Marilyn Monroe, but we'll get to that in a minute. The film was based on Charlotte Armstrong's Mischief, which was serialized in 1950 in Good Housekeeping magazine, and deals with a mentally disturbed babysitter watching over a child in a fancy New York City hotel suite. Along with Monroe it stars Richard Widmark and Anne Bancroft, with their three characters suffering respectively from derangement, detachment, and disillusionment—three ailments suggested to be caused or exacerbated by life in the big city. Widmark as a cynical single looking for easy action and Bancroft as a world weary torch singer working the hotel lounge don't have any problems a change in luck wouldn't solve, but the movie revolves around Monroe, who, thirteen credited roles into her career at this point, gets a chance to stretch her range as a nutty nanny in need of a lot more than just kind words to get back on the beam.


Monroe's performance in this heavy drama is tough to judge. To us it feels a bit flat, but contemporary reviewers generally liked it, and it's fair to say it helped her climb that last rung to the superstardom she'd reach a year later with Gentlemen Prefer Blondes. Watch that film and you'll see that, while Don't Bother To Knock asked her to stretch, it did so by requiring that she suppress her natural charisma. That's no easy trick for an actor, let alone someone as incandescent as her, and that, in short, is probably why we forgot we'd already watched the movie. Monroe was so big in her other performances that this flick went down the memory hole. Her iconic movies feel as if they could only have starred her. This one feels like it could have starred anyone. Monroe just isn't Monroe in it. But that probably means her performance is a success. Watching it afresh, we can tell you it's certainly a must for Marilyn fans, and will probably work for vintage film fans of all types. But those unschooled in the oldies might walk away from this effort thinking, Meh, I don't get all the Monroe fuss. But the fuss was appropriate and deserved. Don't Bother To Knock—not a film noir as labeled on many sites, by the way—premiered today in 1953.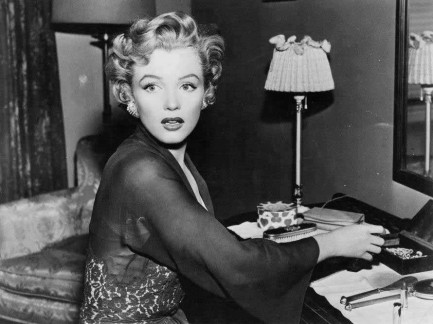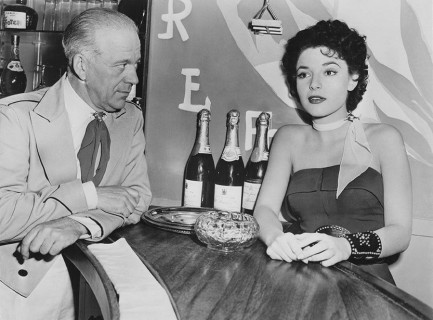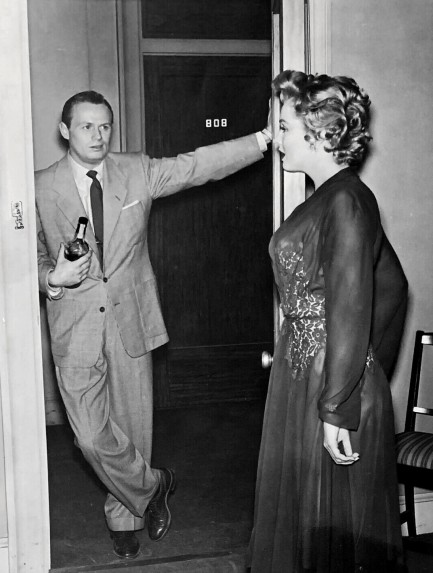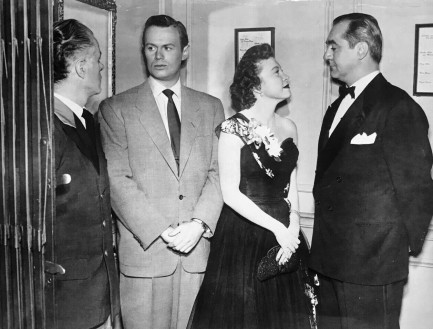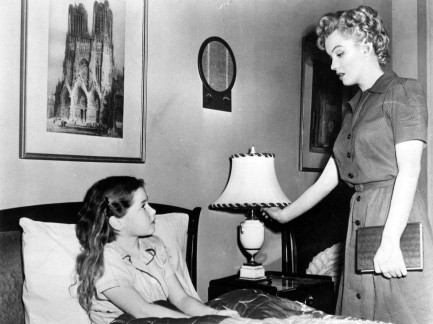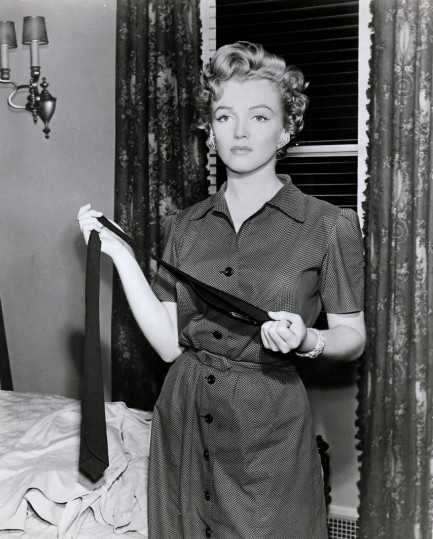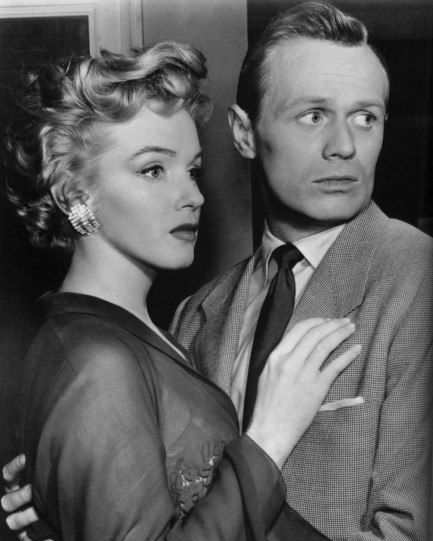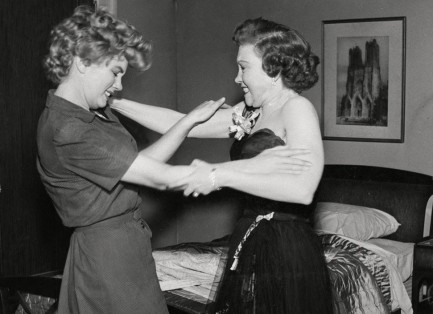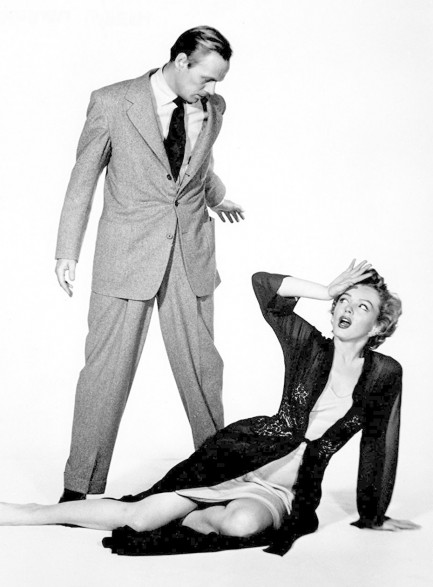 ---
Politician on the verge of a nervous breakdown.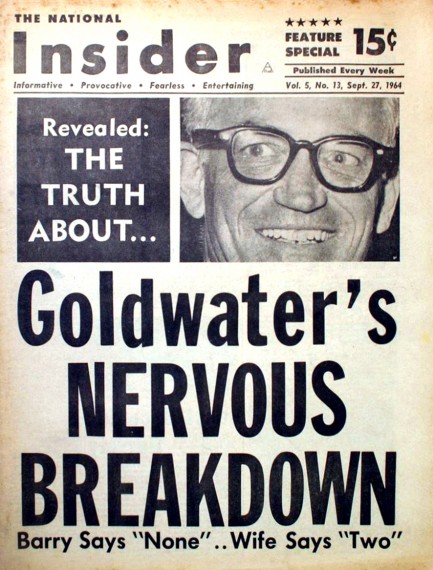 This National Insider from today in 1964 claims that American politician Barry Goldwater had "nervous breakdowns" in 1937 and 1939, but in the midst of his run for president denied they happened. Well, who wouldn't, right? There's no new reporting here—Insider is merely echoing the claims of publisher Ralph Ginzburg, who had written of the breakdowns in his magazine Fact, and as evidence had referenced an interview Goldwater's wife had given Good Housekeeping in May 1964. That's the inspiration for the line: Barry Says "None" …Wife Says "Two." Ginzburg was garnering attention for Fact by attacking people from all over the political spectrum, including Bobby Kennedy, and he eventually lost a libel suit regarding his Goldwater claims.
The Goldwater breakdowns are a matter of record today. Ginzburg's libel suit hinged not on the fact of those incidents, but on embellishments such as his convoluted assessment that Goldwater was "...a man who obviously identifies with a masculine mother rather than an effeminate father." Goldwater made Ginzburg pay for his ill-considered words, but in the end, both of their careers faltered. Goldwater was crushed in the 1964 presidential election by Lyndon Johnson, and Ginzburg went to jail—not for libel, but for obscenity related to his other magazine Eros. It's all just another interesting story conjured by another random tabloid cover. And there are still more to come—we have about a hundred full tabloids remaining, everything from Police Gazette to Midnight. We'll never be able to post them all, but you can bet we'll try our damndest.
---
Um, anytime you're finished with the pity party…
This fun cover of Kate Nickerson's 1952 novel Street of the Blues, is by Herb Tauss, who wasn't just a painter, but also a sculptor, and was inducted into the Illustrator's Hall of Fame. He was self-taught, but even without a pedigree earned assignments with magazines as diverse as National Geographic, Good Housekeeping and The Saturday Evening Post. Later in his career he moved into fine art and did some teaching. His work is hard to find, but we'll keep an eye out for more.

---