I believe in you, and I'm not alone. On the radio they said you could win if the champ slips in your blood and knocks himself out falling.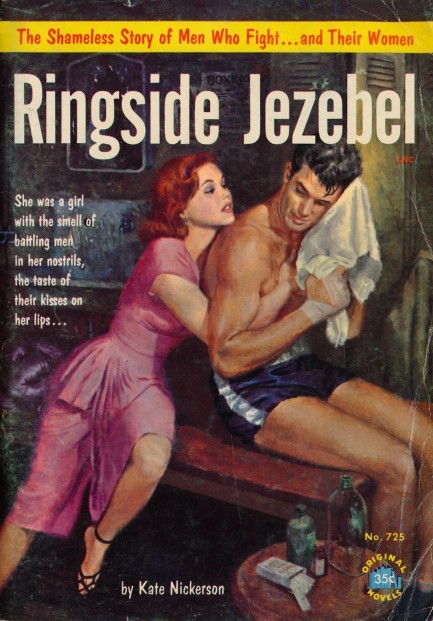 Mort Kunstler mainly painted for men's adventure magazines, but he did the occasional paperback cover and you see his work above on Kate Nickerson's 1953 boxing drama Ringside Jezebel. The title tells you everything you need to know. A femme fatale gangster's moll orbiting the professional boxing scene insinuates her way into the lives of promoters and fighters, bringing ruin to them all. But inevitably she meets a contender and plays the same game with him only to realize—after trapping him into throwing his biggest fight—that maybe she actually likes him. Having him in the first place was never an issue. It's winning him back that looks to be the problem. Classic boxing potboiler from Nickerson, née Lulla Adler, author of other memorable efforts such as Street of the Blues, Love Takes the Count, and Passion Is a Woman.


---
Hah hah, it always cracks me up when you ask me that, baby. No, you can't drive my convertible.
Passion Is a Woman is a Hollywood melodrama by Kate Nickerson, née Lulla Adler, focusing on aspiring but untalented actress Linda March, who hooks up with a series of men, including a director, an optometrist, and others. She eventually steals the actor husband of a fading but still powerful starlet, and has to contend with the spurned woman's wrath. The art is from Rudolph Belarski, and the flipside of the book, posed by two models, is rather interesting too.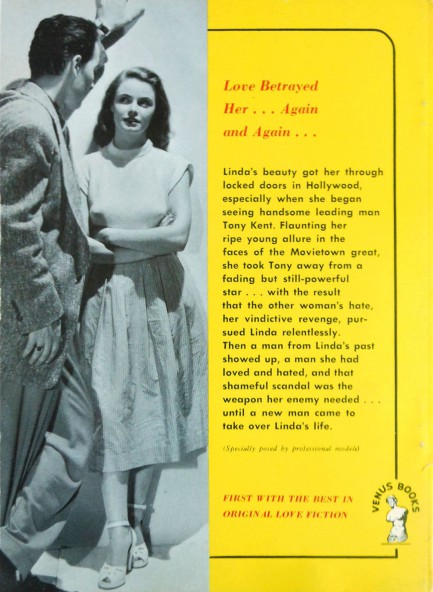 ---
Um, anytime you're finished with the pity party…
This fun cover of Kate Nickerson's 1952 novel Street of the Blues, is by Herb Tauss, who wasn't just a painter, but also a sculptor, and was inducted into the Illustrator's Hall of Fame. He was self-taught, but even without a pedigree earned assignments with magazines as diverse as National Geographic, Good Housekeeping and The Saturday Evening Post. Later in his career he moved into fine art and did some teaching. His work is hard to find, but we'll keep an eye out for more.

---