Aww, we can't believe how big she's gotten.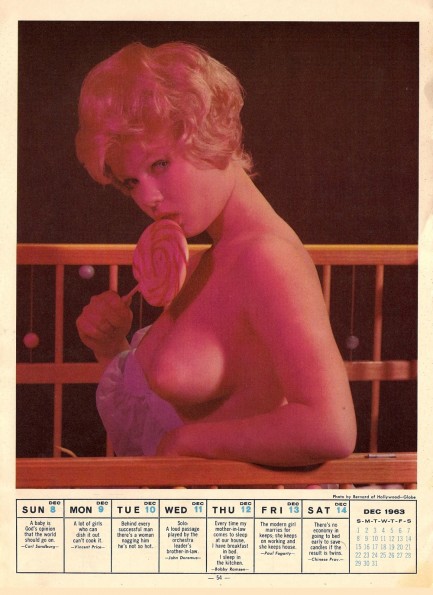 A naked woman in a baby crib? From our 2012 perspective we think the whole idea is a bit deviant, but in 1963 presumably this photo from Bruno Bernard, aka Bernard of Hollywood, was totally innocuous, right? No, we didn't think so either. Nude photography runs the gamut. Sometimes it depicts women as strong or even domineering, but more often it suggests that the perfect woman is pliant and childlike, so to us at least, going the extra step and putting the model in a crib is just a bit too overt for good taste. But we were not even zygotes in 1963 so we're not trying to judge. The photo is pretty, and that's really all we can say. The week's quips, with observations from poet Carl Sandburg and actor Vincent Price, are below.
Dec 8: "A baby is God's opinion that the world should go on."—Carl Sandburg
Dec 9: "A lot of girls who can dish it out can't cook it."—Vincent Price
Dec 10: Behind every successful man there's a woman nagging him he's not so hot.
Dec 11: "Solo: A loud passage played by the orchestra leader's brother-in-law."—John Doremus
Dec 12: "Every time my mother-in-law comes to sleep at our house, I have breakfast in bed. I sleep in the kitchen."—Bobby Ramsen
Dec 13: "The modern girl marries for keeps; she keeps on working and keeps house."—Paul Fogarty
Dec 14: There's no economy in going to bed early to save candles if the result is twins—Chinese Prov.
---
We've always preferred women who keep a little fur between their legs.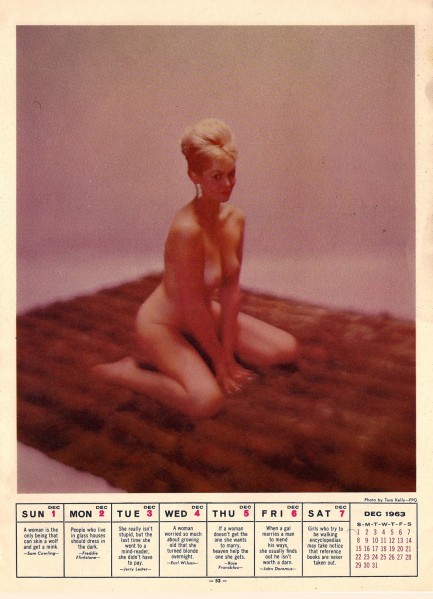 Because the end is near as regards the Goodtime Weekly Calendar (the last pages will come up in February) we've been looking high and low for another weekly calendar to post. We found only one. It was on Amazon, it was the calendar we already have, and it was priced at $75. Even though we scored ours for three bucks from the Denver Book Fair last time we were in the U.S., we probably shouldn't have been surprised someone was trying to sell it for so much. Nearly every Goodtime Weekly photo we've posted, including shots of Brigitte Bardot and Jayne Mansfield, as well as work from photographers like Russ Meyer and Ron Vogel, have been images that have never appeared online before. The same is true of this week's effort from Tom Kelley, who also shot the most famous Marilyn Monroe photo of all time. His model, whose identity is unknown to us, is rather provocatively posed. In fact the Pulp Intl. girlfriends said it was the most sexual pose of any of our calendar shots. She does look a bit as if she's sitting on a Sybian. Maybe that's why she has such a satisfied expression on her face.
Dec 1: "A woman is the only being that can skin a wolf and get a mink."—Sam Cowling
Dec 2: "People who live in glass houses should dress in the dark."—Freddie Flintstone.
Dec 3: "She isn't really stupid, but the last time she went to a mind reader she didn't have to pay."—Jerry Lester
Dec 4: "A woman worried so much about growing old that she turned blonde overnight."—Earl Wilson
Dec 5: "If a woman doesn't get the one she wants to marry, heaven help the one she gets."—Rose Franzblau
Dec 6: "When a gal marries a man to mend his ways, she usually finds out he isn't worth a darn."—John Doremus.
Dec 7: Girls who try to be walking encyclopedias may notice that reference books are never taken out.

---
She knows how to cultivate good feelings.
Above, the September 1 page from the Goodtime Weekly Calendar of 1963 with a photo by Ron Vogel of a petite model lounging in the garden in an unclothed state. She has two drinks because when you're out in the hot sun you have to stay hydrated. Either that or she's waiting for a friend. The observations this week include one from radio personality John Doremus, and another from Freddie Flintstone. We're actually starting to think the Flintstone quotes are not actually from the television cartoon. We've seen the show, and we can't imagine Fred making a quip that features the words "bonds" and "interest." And besides, why refer to him as Freddie? He was always called Fred, as far as we know. Anyone with insight on this question, drop us a line.
Sep 1: Jaywalking: A bad habit that may give you that run-down feeling.
Sep 2: "Labor Day: When cops didn't hide behind traffic signs, they took their chances like everyone else."—Pat Sheridan
Sep 3: "A wolf is a guy who picks up your chick instead of your check."—Sam Cowling
Sep 4: "A woman begins to realize her age when people comment on how young she looks."—John Doremus
Sep 5: Ballet teacher: A guy who keeps the rest on their toes.
Sep 6: "The bonds of matrimony are not very strong unless the interest is kept up."—Freddie Flintstone
Sep 7: "Some people can trace their families back for centuries but don't know where their kids were last night."—Mitch Miller.
---