She may fork around a little but she's a good girl at heart.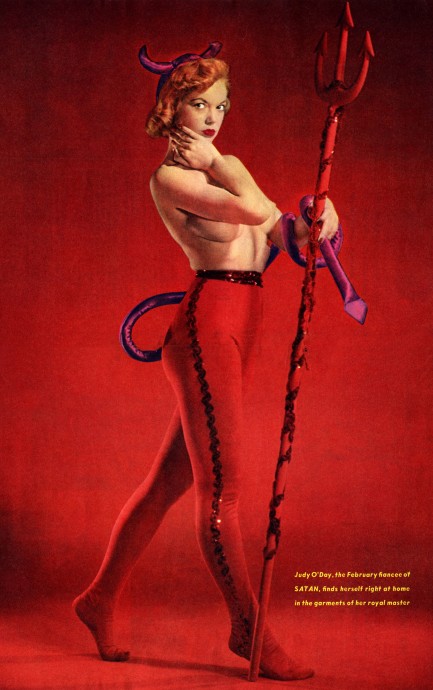 Some femmes fatales are a bit evil but devilish Judy O'Day is on a category all her own. And just to push the point further, this photo was a centerfold in a February 1957 issue of Satan magazine. It was one of her first magazine appearances, and one of her few, because she didn't model for long. However, many archival photos have appeared over the years, so there are scores of shots of her out there now, all of them nice. You can see another example here, and we may share more later.


---
Phone for you—I think it's your wife.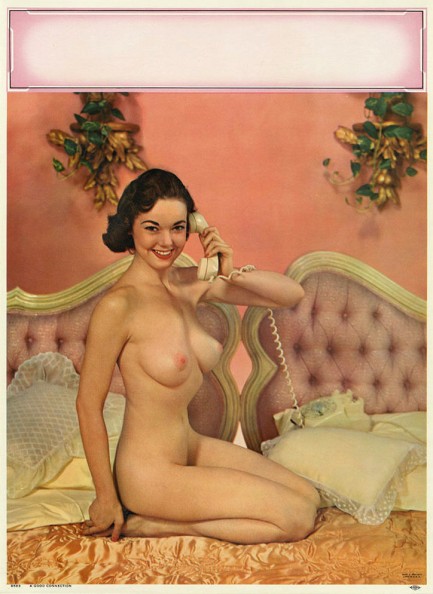 Above, popular model Judy O'Day, who appeared in dozens of magazines during her career, seen here in a Technicolor lithograph entitled "A Good Connection." O'Day, normally a flaming redhead, is said by various websites to have been a burlesque dancer. But among the scores of photos we've seen of her none have shown her onstage. We'll dig and see if we can confirm some sort of dancing career. This print is from 1957.
---