Hepburn brings a special kind of style to Hollywood.
We don't smoke, but Katherine Hepburn sure makes smoking look good in this RKO promo photo shot by Ernest Bachrach in 1935. Though she had a long and storied career, this early shot is pretty much her iconic image. Prints of it are even sold on Wal-Mart's website. Hepburn is incomparable. Her must-watch films include Bringing Up Baby, Adam's Rib, The Philadelphia Story, The African Queen, Long Day's Journey into Night, The Lion in Winter, the groundbreaking Guess Who's Coming to Dinner (which inspired an excellent reggae song by Black Uhuru), and On Golden Pond.
You can sum up Hepburn's output by saying she was nominated for a Best Actress Oscar twelve times and won a quartet, the most ever. The Oscar has failed to stay as relevant as it could have over recent decades, and the Academy has made some embarrassing Best Picture choices (Forrest Gump over Pulp Fiction—really?), but it's always been a reliable measure of acting quality, so Hepburn's four wins are meaningful. The one thing she didn't do was make a lot of pulp style movies. One that looks as if it qualifies is the 1946 drama Undercurrent. We'll circle back to that and the divine Miss H. in a bit.


---
Elizabeth Taylor has a stroll under the Spanish sun.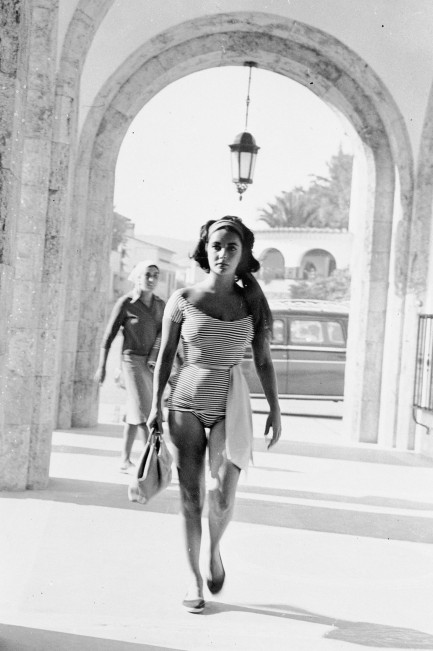 We just saw Liz Taylor a couple of weeks ago, but we're bringing her back because we liked this shot of her heading for the beach somewhere on the Costa Brava, Spain, during the production of her drama Suddenly Last Summer. We know Spain quite well, so we challenged ourselves to identify this exact location. Many sites say the photo was shot in S'Agaro, but we don't think so. There are no arches quite like this in that town, not even along the Cami de Ronda that runs along the coast. Part of the movie was also filmed in Mallorca, but we definitely can't think of anyplace on Mallorca that has old architecture of this size near a beach, so call us stumped for now. The shot was made today in 1959.


---