The Sugar high doesn't last.
This eye-catching cover for Adam Knight's 1960 mystery novel Sugar Shannon was painted by an uncredited artist. The image lured us toward a purchase, and reading the book we immediately discovered that the main character is supposed to be a sort of Honey West clone. We didn't think much of This Girl for Hire, the book that introduced West to the world, so a derivative version was probably never destined to thrill us. And indeed, the whole thing—which involves the title character and her sidekick Gwen trying to solve two murders in the New York City art underground—is pretty silly, and more than a little condescending. For instance, Knight makes constant references to Sugar's "girlish instincts," "womanly intuition," and "feminine corpuscles" (huh?), suggesting his investigative reporter heroine works less by logic than by a sort of gender-based magic. Sugar Shannon was supposed to be the first book of a series, but it turned out to be a series of one. That says it all.
---
Die young and leave a good-looking corpse.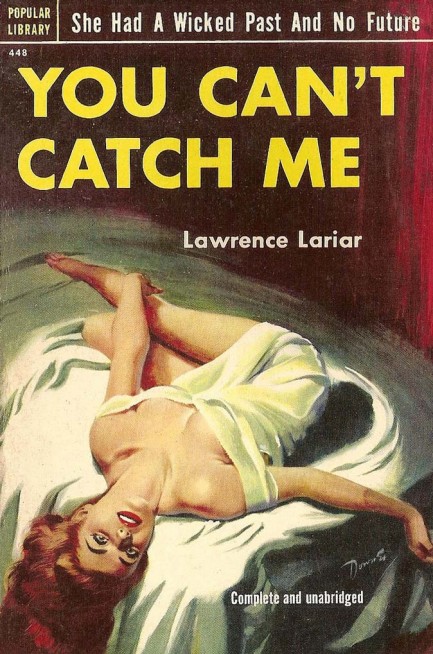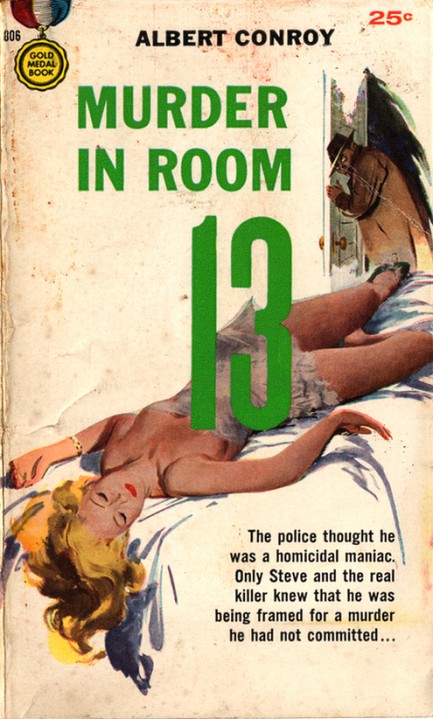 Above, seven excellent if morbid paperback covers showing a favorite pose of pulp artists—the beautiful supine dead woman with (just to make it extra creepy) nice cleavage. It's amazing how similar these covers are. Art is by Maurice Thomas, Rudolph Belarski, Willard Downes, George Geygan, Harry Schaare, and unknowns.
Update: We were also sent another example in this style by a reader. Check here.
---