Sometimes the end of the line can be a new beginning.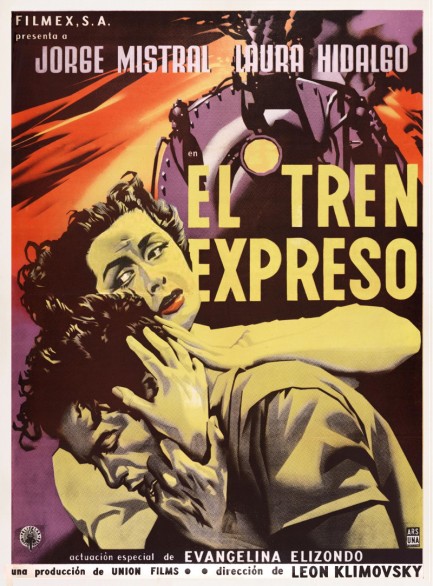 Check out this beautiful Mexican promo poster for the melodrama El tren expreso. It can be difficult sometimes to determine provenance for Spanish language items, but we know this piece is Mexican because it says Filmex, S.A. at upper left, telling us it was printed for Mexico's Cinematográfica Filmex. But the movie was originally shot in Europe with mainly Spanish participation, including from director León Klimovsky, who was Argentinian but after 1950 emigrated to and worked mostly in Spain.
We watched the movie and it deals with a burned out concert pianist who takes a sabbatical and while on a train journey stops an unhappy widow from leaping to her death. These two broken souls travel together and fall in love, but matters of the heart are never simple in cinema. If you want to see the movie you can watch it at this link, but keep in mind we described it as a melodrama advisedly. Also you'll need to understand Spanish.
Anyway we're mainly interested in the poster, which is amazing, but uncredited. We hit the internet for info and drew blanks for days. We eventually learned it's part of a collection at the Boston Museum of Fine Arts, but it was listed as by an unknown artist there too. So that settles it, pretty much, if professional art curators have no information. The world may never know who painted this masterpiece. El tren expreso premiered in Spain today in 1955.
---