Since you're supposed to be so good at reading signs, what am I asking for right now?
Val Seran's 1967 novel Grand Slam Girl took us by surprise by being a sleaze novel. The rear cover text suggested a crime thriller set in the world of baseball, and it's that, but it's also an erotic novel littered with a dozen or so semi-explicit lovemaking scenes. Such scenes are fun when they're well written. Here they aren't, and an additional problem is that there are almost as many rapes as sex scenes, as a quartet of organized crime thugs use sexual assault as their go-to weapon. The thriller aspect of the story deals with a minor league pitcher named Jack Sweet who gets involved with the fiancée of his murdered brother. Did she kill him? We didn't care, and we weren't intrigued by the book's heroin smuggling subplot either. Somehow Seran, aka Curt Allen, managed to publish at least ten books. Based on this effort we find that surprising.
Edit: We've just learned that the cover, uncredited by Bee-Line Books, is repurposed Paul Rader art from the 1962 Midwood Books sleazer The Sex Game, written by Mike Skinner.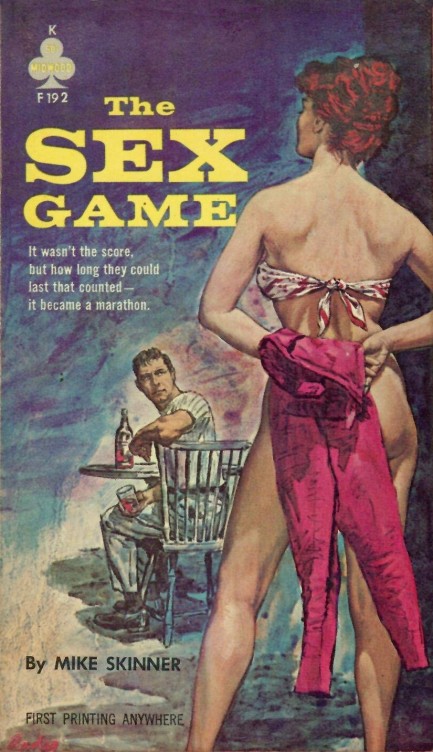 ---
Flight 69, please hold position until further advised.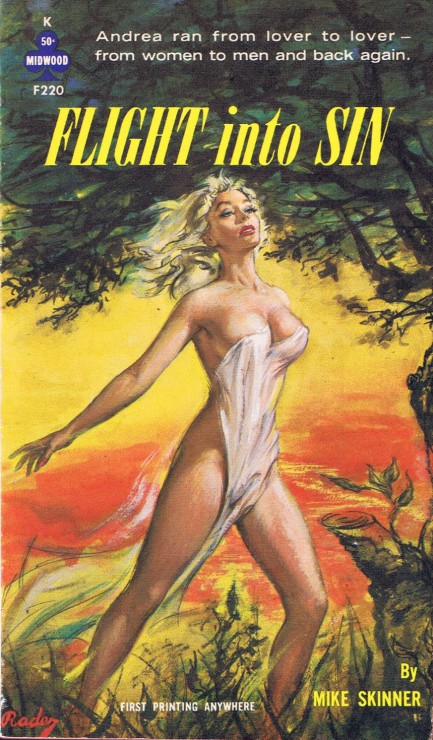 We think the fabled mile high club is like the original Woodstock—400,000 people showed up, but if you count everyone who claims to have been there attendance was actually something like 8 million. If you've never had sex in the sky, let Paul Rader's cover for Mike Skinner's 1962 sleaze novel Flight into Sin inspire you (even if the cover figure hasn't gotten airborne yet). Skinner is a bit of a mystery, but we know he was credited with other books in a similar vein for Midwood, such as So Wild, The Undoing of Jenny, and The Passionate Virgin, and he seems also to have written Blondes Don't Give a Damn as Michael Skinner for Kozy Books. As for Rader, there's little more to add—he was one of the kings of mid-century paperback art. You can read a full bio on him here.
---