Since you're supposed to be so good at reading signs, what am I asking for right now?
Val Seran's 1967 novel Grand Slam Girl took us by surprise by being a sleaze novel. The rear cover text suggested a crime thriller set in the world of baseball, and it's that, but it's also an erotic novel littered with a dozen or so semi-explicit lovemaking scenes. Such scenes are fun when they're well written. Here they aren't, and an additional problem is that there are almost as many rapes as sex scenes, as a quartet of organized crime thugs use sexual assault as their go-to weapon. The thriller aspect of the story deals with a minor league pitcher named Jack Sweet who gets involved with the fiancée of his murdered brother. Did she kill him? We didn't care, and we weren't intrigued by the book's heroin smuggling subplot either. Somehow Seran, aka Curt Allen, managed to publish at least ten books. Based on this effort we find that surprising.
Edit: We've just learned that the cover, uncredited by Bee-Line Books, is repurposed Paul Rader art from the 1962 Midwood Books sleazer The Sex Game, written by Mike Skinner.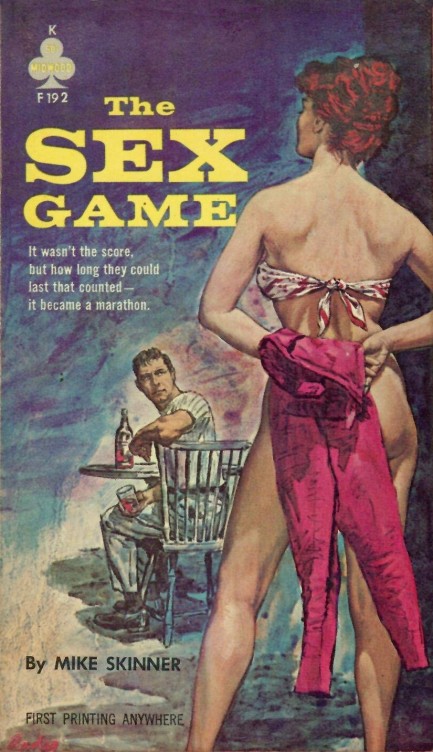 ---
The classification system isn't the only thing that's dewey around this library.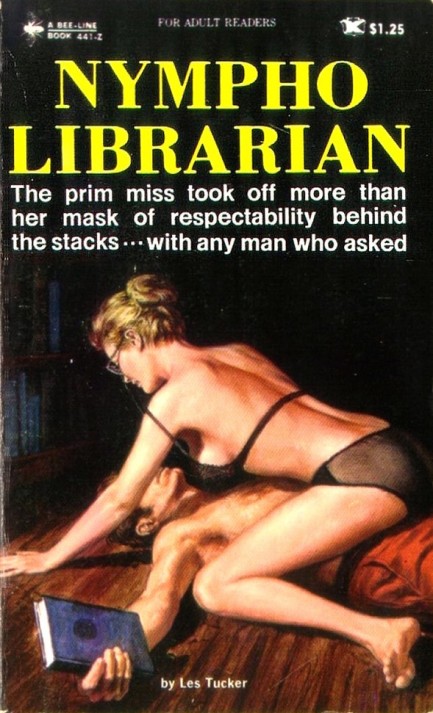 This is a cover we've seen around the internet more than once, but we don't mind that it's been used a bit. Nympho Librarian was written by Jake Moskovich under the pseudonym Les Tucker, and the copyright is 1970. The art was painted by Paul Rader, and we rate it a top effort from him, possibly even iconic, considering these days you can buy this cover as a refrigerator magnet. Quick question: do you go to the library? Well, you should, because with usage declining, doing the above without getting caught is probably easier today than ever. Give it a try. Nymphos are in the stacks right between nutrition and oceanography.
---
Mwah. Zat is ze height of eroticism in our country. Ze back kiss. Does it turn you on? Are you ready for ze sex now?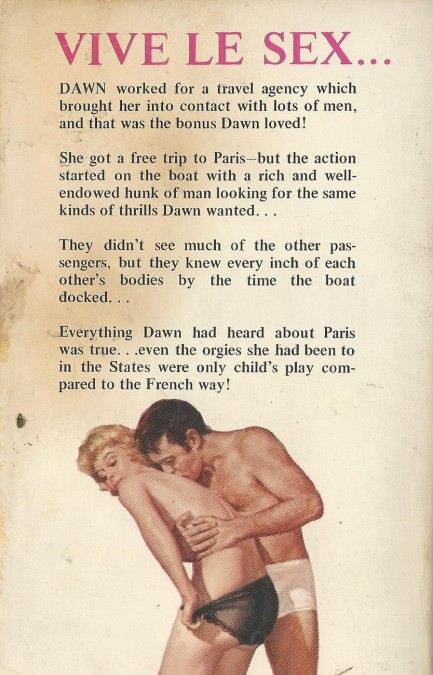 Searching for information on vintage books and authors sometimes brings unusual results online. In the case of Paris Sex Circus, plugging in the author's name Leaver French gave us seemingly every article published about Donald Trump abandoning the Paris climate accords. An unexpected outcome, to say the least. So we can't tell you anything about Leaver French, except that we're reasonably certain the name is a pseudonym. But as for the book, as the great French lovers say: the back tells you everything. Lovely Dawn's sexcapades begin on a transatlantic cruise, and continue once she hits French soil, but she's no naive ingénue, as evidenced by the line: "Even the orgies she had been to in the States were only child's play compared to the French way!" This is 1970 from Bee-Line Books, number 457 in their catalog. Yes, they churned out hundreds of these. And as far we can tell, all of their cover illustrations were uncredited, including this one.
---