Oh my freaking gaawd. Do you exfoliate or take milk baths or something? Your skin is so uhmazing...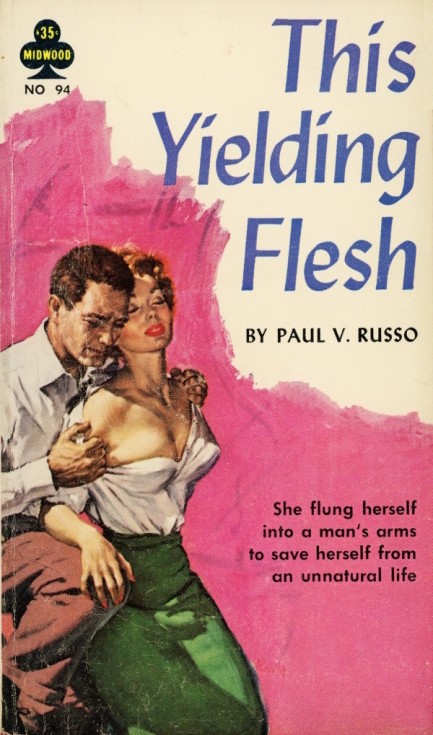 If hands could have erections this is what it would look like, because to us the guy on the front of Paul V. Russo's This Yielding Flesh seems about to lose it in a messy way. But the book is not actually about a guy with overly sensitive hands—it deals with a woman who runs into some shady characters at a music festival, and who then attracts a protector determined to save her from the evil counterculture and its rampant sexual deviancy. Drugs, lesbians, and hippies—but no hand orgasms—all under the umbrella of light sleaze. Paul V. Russo was a pseudonym used by Gilbert Fox, and this effort dates from 1961, with art from Paul Rader, who outdid himself.
---
I'm going to devour you like a rotisserie chicken and pick my teeth with your bones. I hope you don't find that too terribly forward.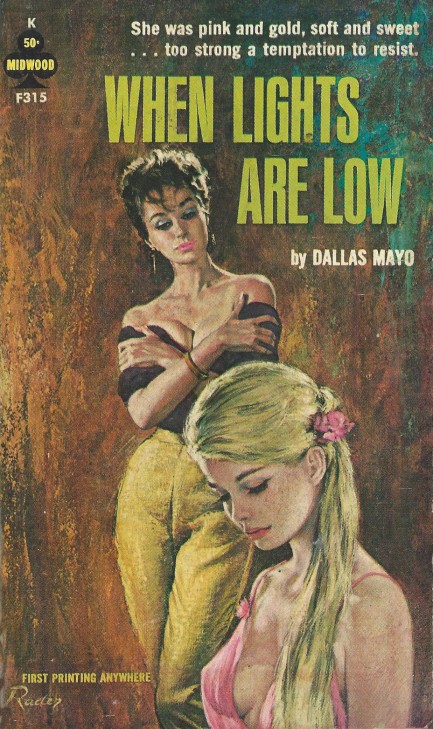 Here's another mid-century novel for the ever growing lesbian corruptor bin, When Lights Are Low, by sleaze maestro Dallas Mayo, 1963, for Midwood-Tower. Mayo was a pseudonym inhabited by Gilbert Fox, who apparently wrote this when Midwood honcho Harry Shorten conjured the title out of thin air at lunch and told Fox to produce a book to go with it. You can read that tale at paulrader.com. Fox was super prolific, writing many books as Mayo, as well as under the names Kimberly Kemp and Paul V. Russo. The cover art is yet another brilliant effort from Paul Rader. It's inspired us to go have a snack of our own.
---