You knew those Reese's Cups were mine but you ate them anyway! Was it worth it? Well? Was it worth it?
This is a rarity on mid-century paperbacks—the strangler on Edward Vebell's cover for the 1951 thriller The Candy Kid is the protagonist. We almost never see one like this where the aggressive male isn't the villain, but it happens. In this case, he thinks the femme fatale has murdered his cousin. But he gets ahold of himself after a few seconds and gives her a chance to convince him that he's wrong. Telling you that isn't a spoiler, because the rear cover text reveals the murder anyway, and the hero's reaction isn't a turning point within the plot. He's pissed. But he gets over it.
The Candy Kid was written by the respected Dorothy B. Hughes, and she sticks close to the American southwest she explored in books such as 1946's Ride the Pink Horse. Here her main character, José "the Strangler" Aragon, is randomly selected on the streets of El Paso by upper class beauty Dulcinda "Sore Neck" Farrar to do a shady favor—take an envelope to across the border to Ciudad Juarez and exchange it for a package to be returned to her. She's chosen him because he looks like an itinerant laborer, like someone who needs, "un poco dinero."
Actually, though, Aragon is a well-to-do rancher. He'd just gotten back from cowpunching when Dulcinda saw him, and he was sweaty and covered in grime. The whole thing was a joke to him. Based on her assumption, he'd pretended to be an immigrant day laborer, planning to reveal himself as a man of means to the pretty gringa later. But he takes more and more interest in this package business, and ends up performing the errand. Then the package is stolen from him.
What follows is a mystery involving a Greek crime kingpin, murder and revenge, twists and surprises, and unsolved crimes across the border. The odd title of the book comes from Dulcinda's name. Everyone calls her Dulcy, which in Spanish sounds like "dulce," which means "sweet," which causes one of the Mexican characters trying to remember her name to say, "that candy kid." It's an involved journey. But then so is the tale.
We'll just come out and say it isn't Hughes' best, but she's always a fascinating author, particularly here, where she deftly captures the border atmosphere and attempts to portray a Mexican-American character who speaks Spanish and is comfortable on either side of the Rio Grande, yet is culturally distinct from his cousins down south. Some of those interactions have subtle class tensions that make them among the most interesting in the book. Other areas of the story are less successful. The biggest flaw is character motivation—Aragon has no compelling reason to get involved in Dulcy's troubles until his cousin dies, at the halfway mark. Following through on a prank just isn't enough.
But you can't fault the level of technical skill on display, although Hughes writes in an unusual style filled with comma splices: It would have been funny, he was always the one who delayed the crowd, he knew everyone from Chihuahua to Mesa Verde. It works fine, which proves that if done just right an author can break any rule they want. Well, almost any rule. A crucial one for genre fiction is: make sure your protagonist really wants something. Even Hughes wasn't able to break that one and get away with it.


---
Robert Montgomery rides into town and trouble soon follows.
We'd seen the movie adaptation of Dorothy B. Hughes' novel Ride the Pink Horse before, more than once, but decided to watch it again because its premiere date was today in 1947. It differs from the book, of course—it's more streamlined, the real life town of Santa Fe becomes fictional San Pablo, the villains are more proactive, the heartless anti-hero Sailor becomes the not-so-bad Lucky Gagin, and the Mexican girl Pila is an adult instead of a fourteen-year-old. All these changes work fine. The most striking addition is the movie's use of Spanish dialogue, five or six lines worth, untranslated and unsubtitled. It adds authenticity, plus a touch of bonus material for Spanish speakers. Robert Montgomery directs and stars, handling the dual chores solidly. In the end Ride the Pink Horse is a good film noir that has increased in stature over the years. It's always been one of our favorites, but we admit that after seeing so many rote entries it's the quirky ones that tend to stand out. We wouldn't recommend this to novices as their first noir, but if you've seen many and are looking for something that surprises, Ride the Pink Horse will do the job. You can learn more about the movie by reading our detailed write-up about the novel here.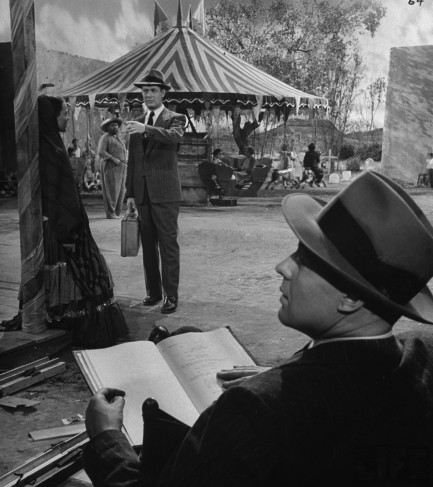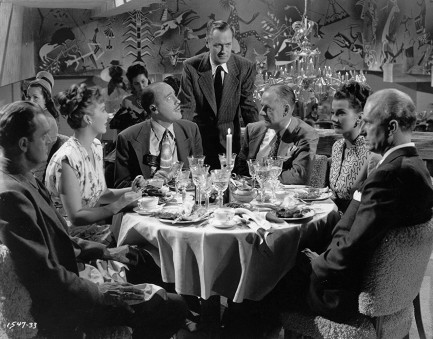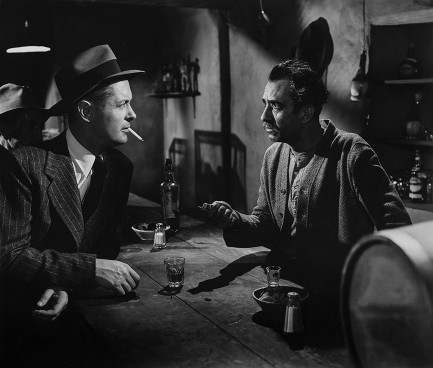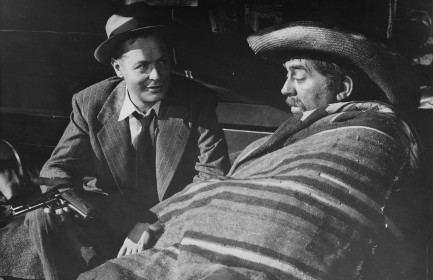 ---
Hallucinatory southwestern noir takes readers to a land of saints and sinners.
It's said that a good book teaches you how to read it. The author instructs while building the story. Dorothy B. Hughes' 1946 crime novel Ride the Pink Horse, which was the source material for the 1947 film noir starring Robert Montgomery, falls into that category. In the story a man wanders around the southwestern U.S. town of Santa Fe, New Mexico, searching for someone he calls the Sen, which is short for the Senator. We suspect the shortening of his title is designed to make it a heterograph with "sin," because this Illinois senator-turned-crime boss rather sinfully hired out the murder of his wife then shorted the murderer part of his fee. That's why the main character, named Sailor, is adrift in this town. He's followed the Sen there from Chicago to get his money. He plans to find him, confront him, collect payment, then scurry away to Mexico.
But this comes out in trickles. Initially Sailor merely criss-crosses the town, unable to find a hotel room because it's fiesta weekend, with crowds everywhere and processions filling the streets. He sleeps under the canopy of a merry-go-round which features a pink horse. As he keeps going in circles around town more characters emerge—the cop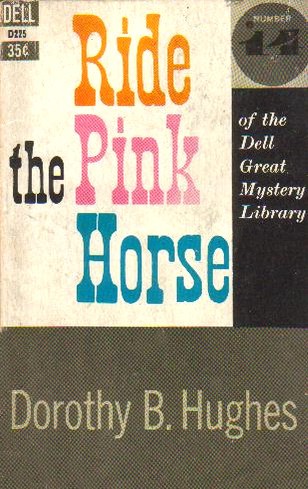 who's trying to solve murder of the senator's wife, the carousel owner who appeals to Sailor's sense of honor, the girl who recalls an innocence he can barely remember, and the beautiful Iris Towers, the focus of his wishes for a better life.
Hughes loves symbolic names: there's the Sen, as we already mentioned; there's Iris Towers, dressed in ivory colors and pale of skin; and there's the girl Pila, whose name is the Spanish word for a laundry trough, a place of cleansing. The book is composed of encounters rather than events, hallucinatory meanderings punctuated by tense verbal standoffs. Each tête-à-tête clarifies matters a bit more for the reader. Did Sailor really kill the Sen's wife? Did he ever intend to? Was she ever to be the actual target? Were others involved?

When Sailor goes from seeing the town's Mexican and Native American inhabitants as something other than sub-human, maybe, we think, he isn't irredeemable. But even if he grows in some ways his hatred continues to drive him. He thinks the Sen is vermin. He wonders how such an abomination can even walk upon the Earth. When he follows the Sen into the cathedral this thought passes through his mind: He didn't know why the dim perfumed cathedral didn't belch the Sen out of its holy portals.

Hughes is a good writer, a unique stylist, and she gives Ride the Pink Horse the disorienting feeling of taking place in purgatory. It's a fever dream, an acid trip across a constantly shifting landscape, literary rather than pulp in approach, as much Faulkner as it is Chandler, with nothing quite solid or real apart from Sailor's hatred, which is so intense it seems as if it will consume him and leave nothing behind but a cinder. Sailor's racism is appalling, but he's not supposed to be a good man. This town filled with people that frighten and confuse him could be his salvation or his doom. He's the one who has to decide whether to step back from the precipice. Every wise character sees that he's headed for destruction. But the future isn't set. He has a chance for redemption—small, but real. Top marks for this one.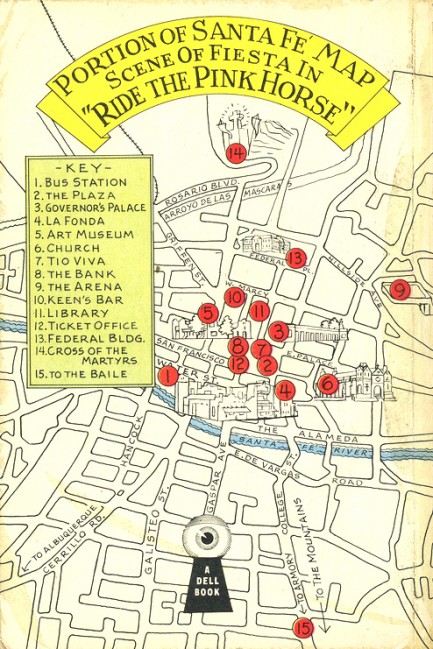 ---