Lines in the sand have a way of getting crossed.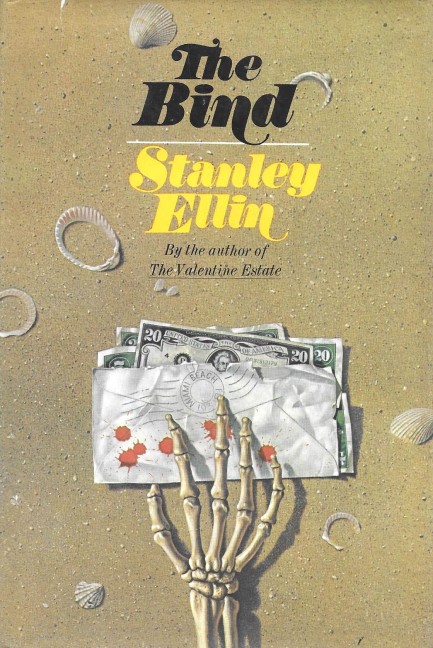 Considering our website's focus on beautiful art, you must be asking how we came to read Stanley Ellin's 1970 novel The Bind, with its beige post-GGA cover treatment by Joe Lombadero. What happened was we decided to watch the 1979 Farrah Fawcett movie Sunburn, but stopped during the opening credits when we saw that it was based on a novel. We'd decided to see the movie because it was helmed by cult director Richard C. Sarafian, and also because its premise interested us, but we figured that premise was probably more fully and interestingly developed in the source novel. We won't know for sure until we watch the film, but it's pretty much a given when you compare literature to cinema.
Here's the premise: insurance investigator Jake Dekker needs to get close to a secretive family to disprove a verdict of accidental death and save his employers a $200,000 payout, so he rents a house in their tony Miami enclave and hires an actress to pose as his wife. The family would be suspicious of a single man, but not a married couple. He's carried out similar scams and worked with the same actress over and over, but when she can't make the gig she instead sends down-on-her-luck colleague Elinor Majeski as a replacement. The fake wife aspect of Jake's scheme immediately gets complicated, both because this new actress is smarter and more curious than is convenient, and because she's unusually lovely. Uh oh. Professional comportment—out the window.
Ellin pushes his ripe premise for all it's worth. Jake insists on realism, which involves he and Elinor getting comfortable around each other, whatever intimate circumstances might arise. The only line they aren't to cross is sleeping in the same bed. Heh. How long do you think that lasts? Actually, it lasts a long while. Jake's shell is hard. He's borderline mean to Elinor, and therein lies the balancing act in the narrative. He's mean, but occasionally charming. Ellin's writing treads that crucial line well, but the book is overlong and its climax goes in a direction we didn't like. But we'd read him again. In any case, now we'll have to see what the filmmakers did with Farrah in the role of Elinor. Charles Grodin co-stars, so we expect the movie to be a bit silly, but who can resist Farrah?
---