Land ho! Shiver me timbers! Spring break ahoy! Pieces of eighteen year olds!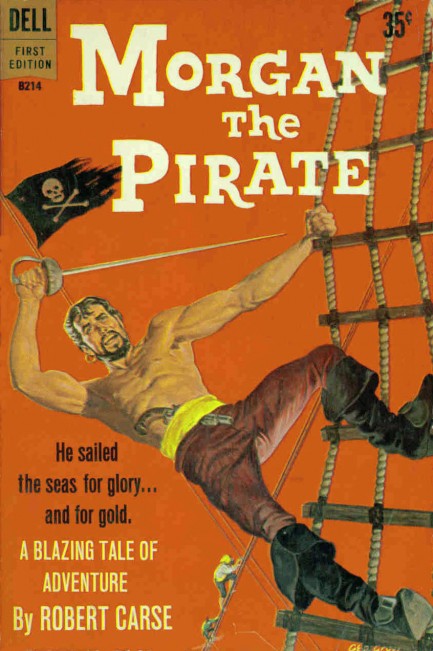 We've shown you many George Gross covers, all brilliant. This one is a little different for him. Morgan the Pirate was published by Dell in 1961 as a tie-in for the Italian adventure film Morgan il pirata, starring Steve Reeves, that indispensable icon of the sword and sandal era of the '50s and '60s. We haven't seen the movie, but this illustration has tempted us to queue it up. More than that, it makes us want to go raise hell somewhere. Actually, we had this one ready to go last year around this time when we had a trip planned, but we cancelled the travel and warehoused the image, figuring, okay, spring 2021. But the gag still doesn't really work, because there aren't any spring breaks (for careful people). But we don't want to sit on the cover another year, so here it is. Come on vaccinators, get to innoculating, so we can get to vacationating. Wooo! Shots! Shots! Shots!


---
Watch and marvel as I escape this cage using the incredible power of my court appointed defense attorney.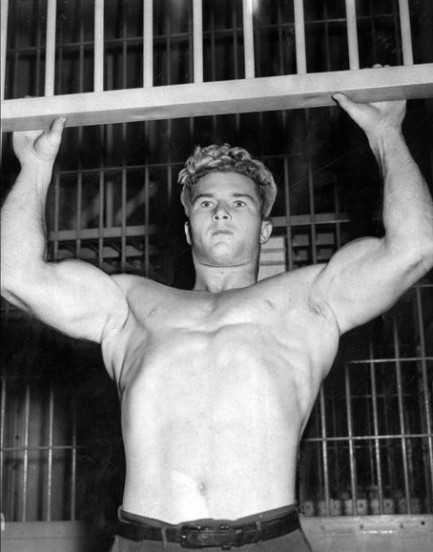 This odd photo shows Eric Pederson, whose real name was Charles E. Putnam, showing off for photographers after he had been arrested on suspicion of auto theft in Los Angeles today in 1947. He and a companion named Edward Sell were busted by cops inside a car belonging a third party, though both denied they were trying to steal it. Pederson is rock hard in this photo for a reason. He was the reigning Mr. California, a title he won at only eighteen years old. The win sent him onward to the Mr. America competition, but he was beaten for the national crown by future Superman Steve Reeves.

Pederson generated plenty of publicity off that and other bodybuilding competitions, which led to a Your Physique cover painted by none other than George Quaintance. Since Quaintance painted only about a dozen of these, this was quite an honor. From there Pederson was able to launch a long pro wrestling career,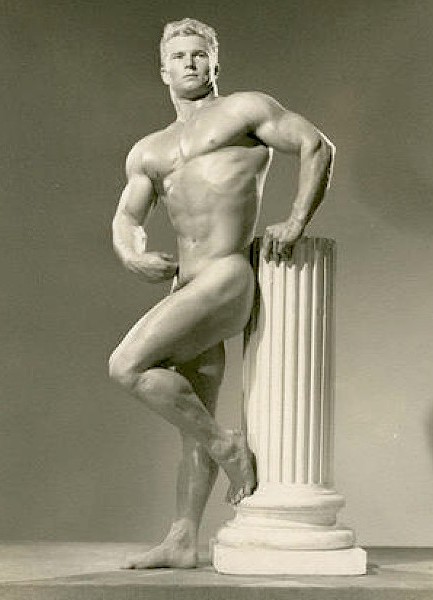 which is how he's mainly remembered today. At one time he had Hollywood aspirations, but ended up managing only one role—a bit part as a wrestler in 1951's Civilian Coast Guard, starring Brian Donlevy and Ella Raines.

We weren't able to find out how his auto theft arrest turned out, but considering his seemingly unbroken timeline from bodybuilding competitions to wrestling, it's safe to say the charges were pleaded down to a misdemeanor or dismissed altogether. Which just goes to show that even quasi celebrity is helpful in L.A. Or maybe the cops gave him a break in exchange for bodybuilding tips. In any case, Pederson retired from wrestling in 1961 and died in 1990, but the Quaintance painting guarantees he'll be remembered as long as people collect great magazine art. We have more from Quaintance here, here, and here.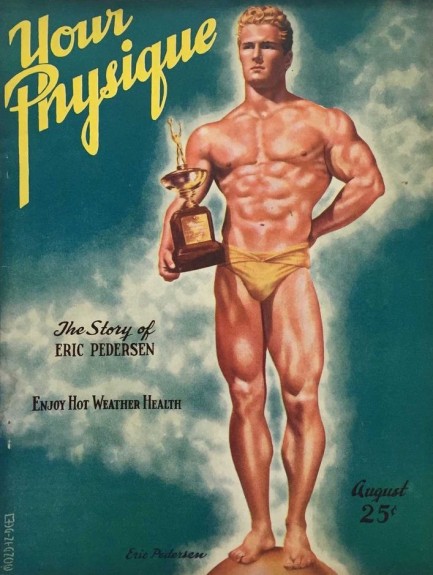 ---
We'd like to introduce you to some old Quaintances.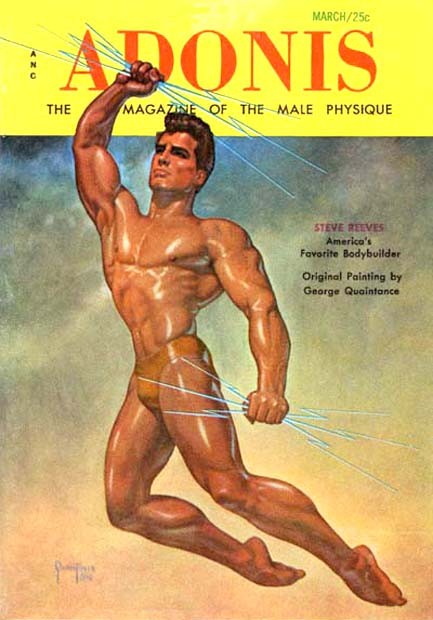 This stylized cover painting of bodybuilder and actor Steve Reeves, as well as the covers below, were painted by the late George Quaintance, who was a pioneer of male physique art during the 1950s. Quaintance's work was considered "beefcake" art, and appeared mainly on bodybuilding magazines. He never had an official gallery showing, for the obvious reason that mid-twentieth century America would not have tolerated public display of his Greek god figures with their prominent bulges. But he earned a measure of cult fame anyway, and undoubtedly must have gotten a real charge out of expressing his sexuality right under the noses of the establishment. You can see more of his stunning pieces here.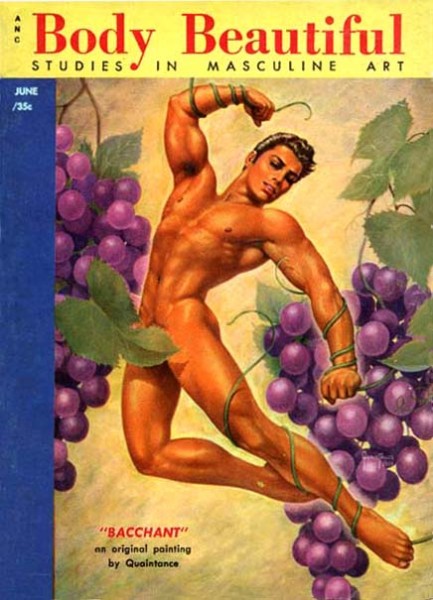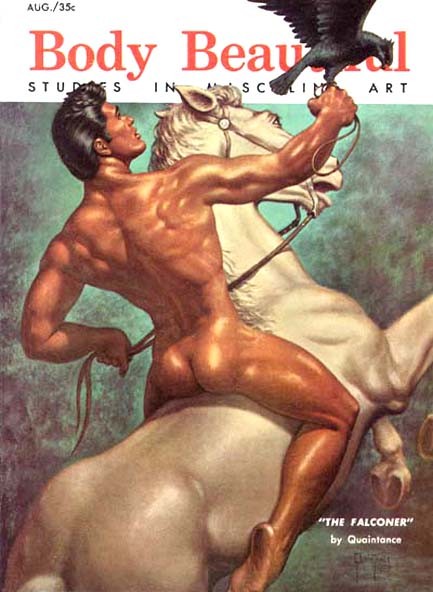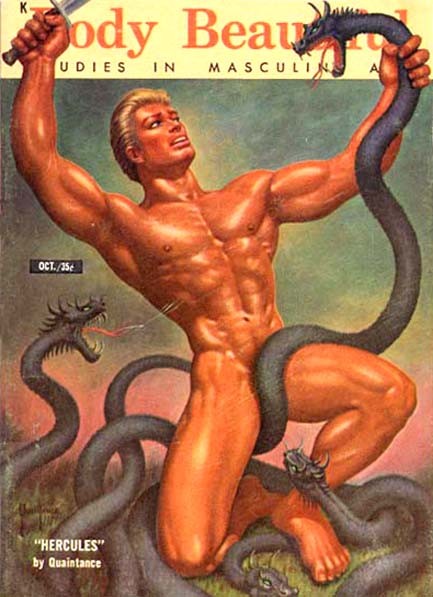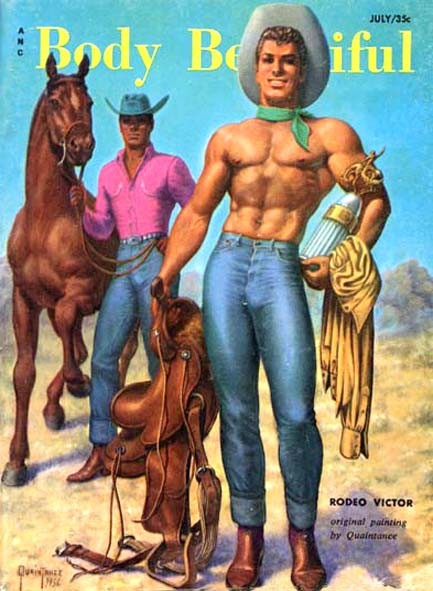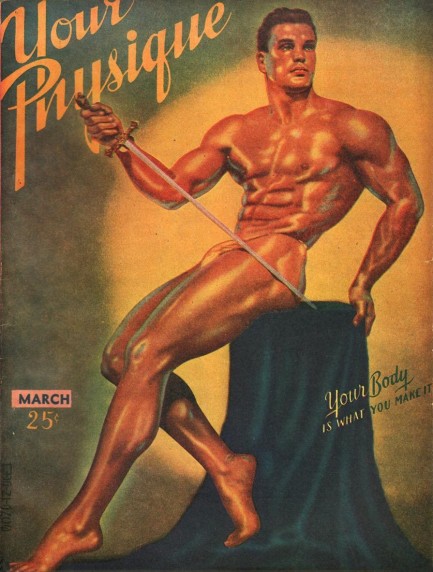 ---