A dirty picture is worth a thousand words.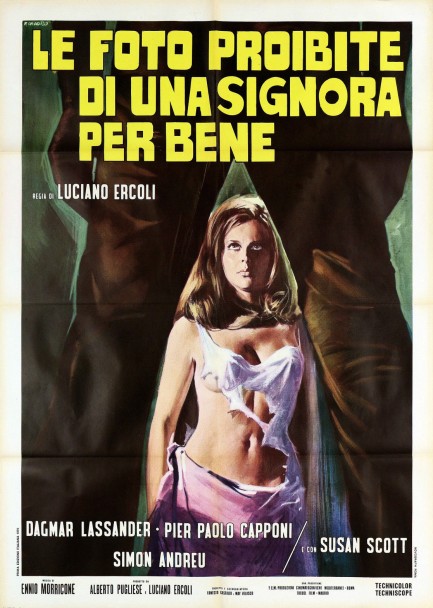 As long as we're on Italy today we might as well highlight this Renato Casaro poster for the giallo flick Le foto proibite di una signora per bene, aka The Forbidden Photos of a Lady Above Suspicion. We've dubbed the pose you see here the alpha, for both its theme of dominance and the A shape made by the legs of the foreground figure. Typically the figure is male, but not always. We put together a collection of paperbacks using this pose while ago.
In the film a bored housewife played by Dagmar Lassander is convinced by a sadistic stranger that her husband is a killer. In her desperation to protect her spouse she's manipulated into the stranger's bed, which results in him having explicit photographs with which to blackmail her. When Dagmar finally tells her husband and the police what's happening the evidence disappears, which makes Dagmar look mentally unstable. This seems to have been the plan all along, but who's behind it? Is the stranger working alone? Is Dagmar's husband or best friend involved?

With its leisurely pace and unconvoluted plot, the film lacks some giallo characteristics, but it's officially considered part of the genre. Because of its relative simplicity it avoids serious logical missteps, which is a worthy achievement considering how wacky these movies get. But while it's sure handed and reasonably entertaining, you can expend ninety minutes of life in better ways, which is why we don't recommend this except for giallo completists. Le foto proibite di una signora per bene premiered in Italy today in 1970.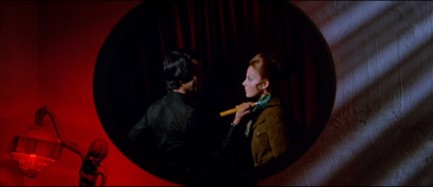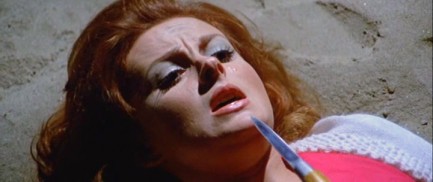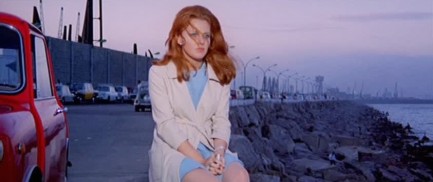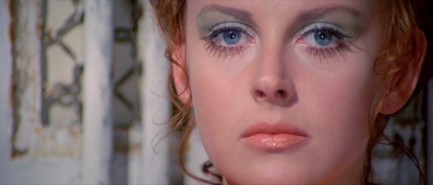 ---
She looks serene but she's about to erupt.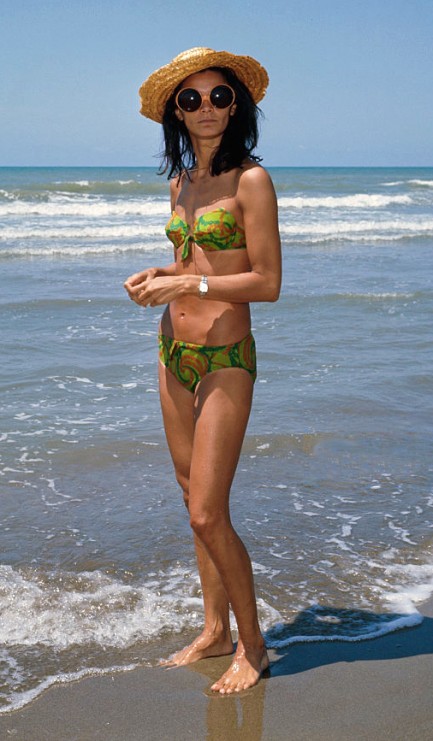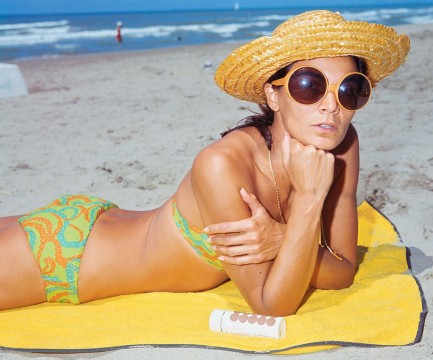 These shots of Brazilian model and actress Florinda Bolkan, née Florinda Bulcão, were made in 1968 when she was appearing in her first film Candy. Bolkan would leverage that role into a movie career in Europe by headlining such films as Una lucertola con la pelle di donna, aka A Lizard in Woman's Skin, Indagine su un cittadino al di sopra di ogni sospetto, aka Investigation of a Citizen Above Suspicion, and Non si sevizia un paperino, which we just talked about. For a time Bolkan was one of the hottest properties on the continent, and in Italy she was a virtual Vesuvius, with performances ranging from giallo to comedy garnering her acclaim that led to several international awards. All from humble beginnings on this beach. Read a bit more about her movie roles here and here.


---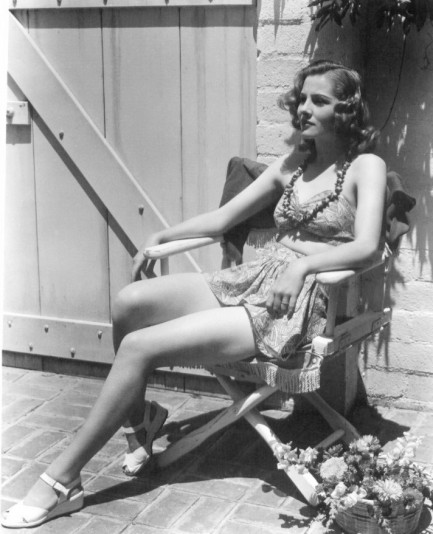 When Joan Fontaine decided to try her luck in Hollywood her mother reportedly refused to let her use the family's name—de Havilland, which was being used by her actress sister Olivia—so she chose Fontaine as her last name. After a slow start earning good roles she scored the coveted part of Mrs. De Winter in Alfred Hitchcock's 1940 Daphne du Maurier adaptation Rebecca

and was nominated for an Academy Award. She didn't win that one, but the next year took home the statuette for her role in

Suspicion, becoming the only performer to win an Oscar for acting in a Hitchcock film. From there her career took off, and she worked steadily through the 1940s, 1950s, and 1960s. Ironically, when her mother—a former actress—decided to rekindle her own career she did so under the stage name Lillian Fontaine. Of her famous sister, Joan Fontaine once said, "I married first, won the Oscar before Olivia did, and if I die first, she'll undoubtedly be livid because I beat her to it." The third part of that quip came true when Fontaine—née Joan de Beauvoir de Havilland—died of natural causes Sunday in Carmel-by-the-Sea, California.


---