From out of a clear blue sky.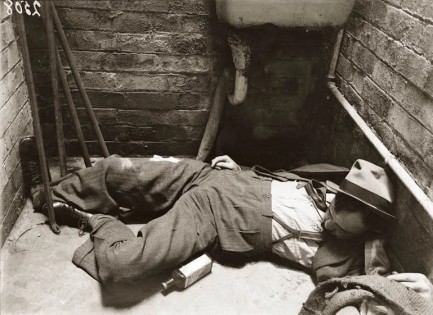 This photo is from an archive maintained by Sydney Living Museums and shows a dead man in a public toilet in Sydney, Australia. Police records are incomplete, but suggest he fell from a footpath atop a wall located above the enclosure. It was a brutal fall. The man's right leg snapped just above the ankle and spots of blood are on his shirt, indicating a possible cranial fracture. While the report is vague about the man, it's clear about his bottle—it's Waterbury's Compound, a tonic and cough remedy popular then and still in existence today. In contrast to the man, the bottle is intact. We wonder if he was reading the label and didn't watch where he was walking. Texters beware. The photo was shot around 1937 or 1938.


---
Crime pays with a series of beautiful mugshots.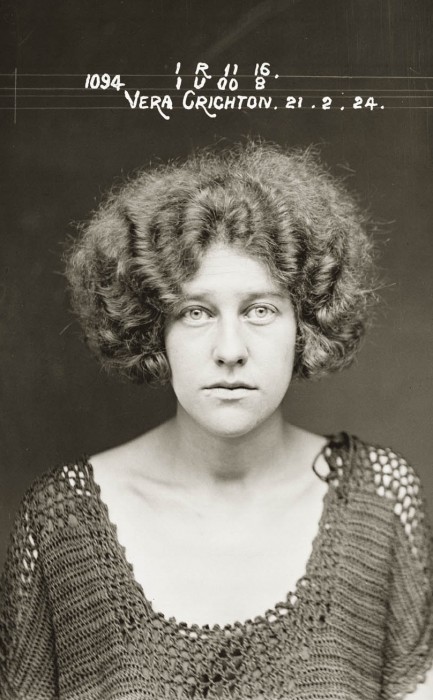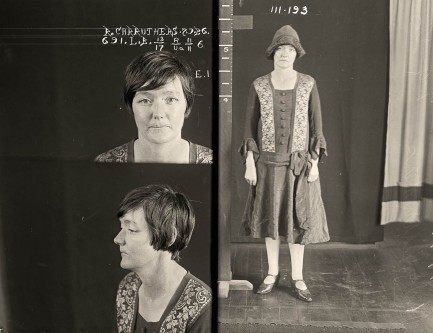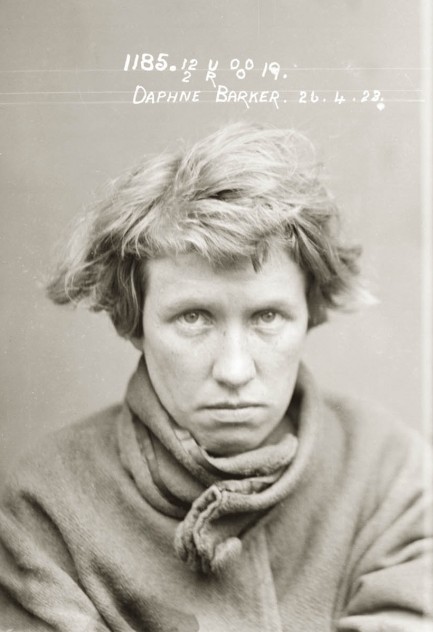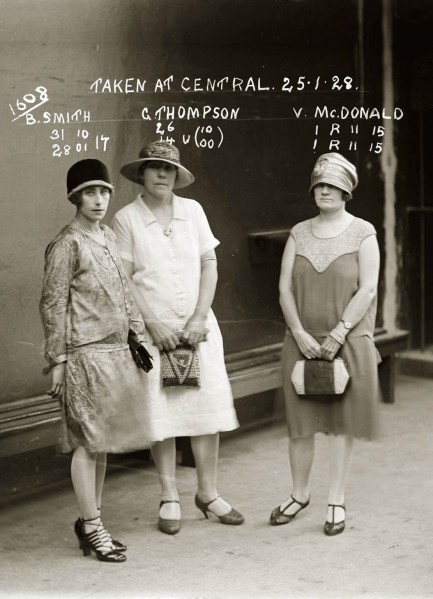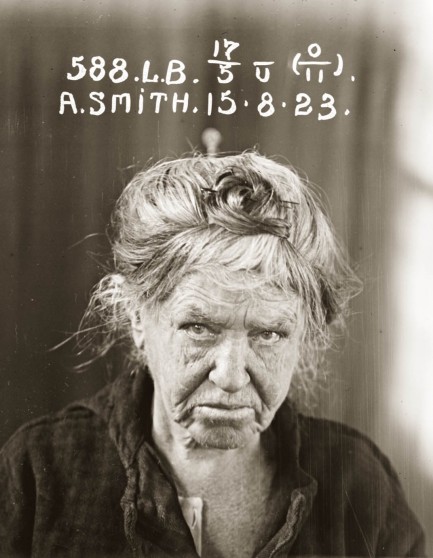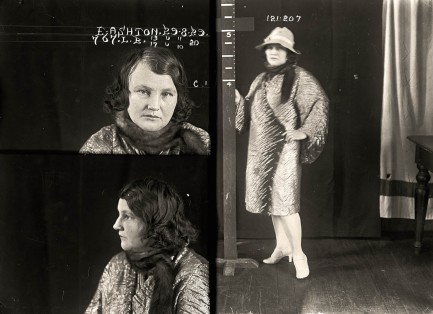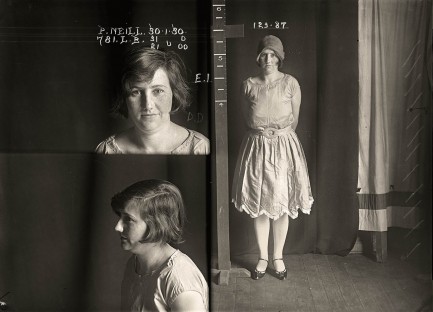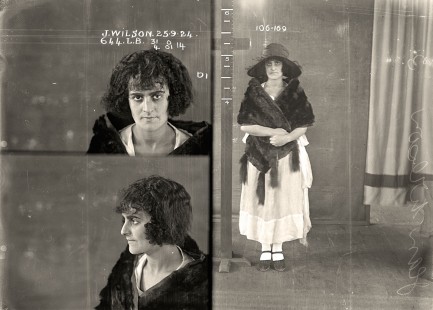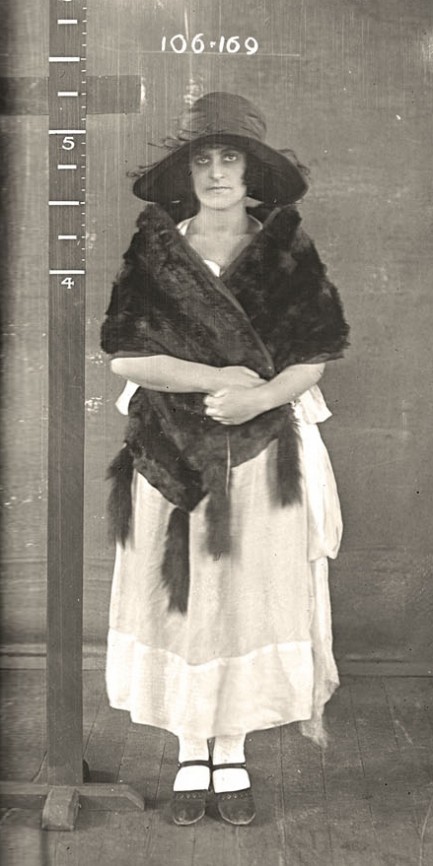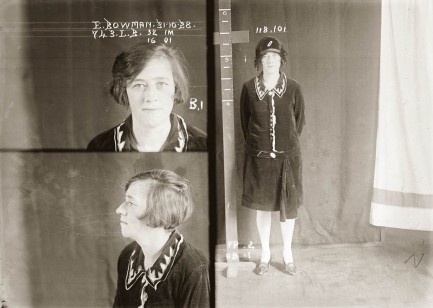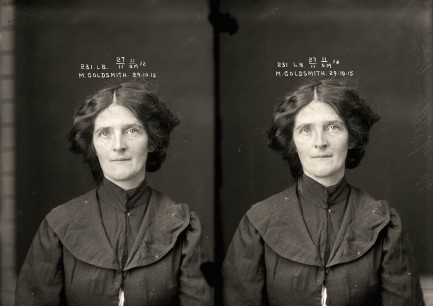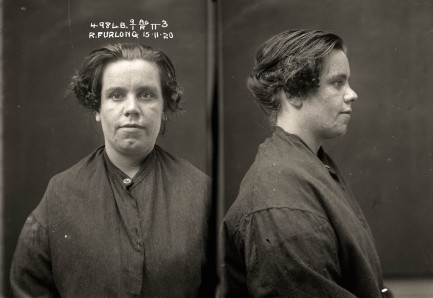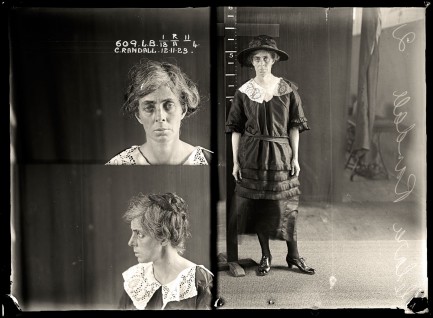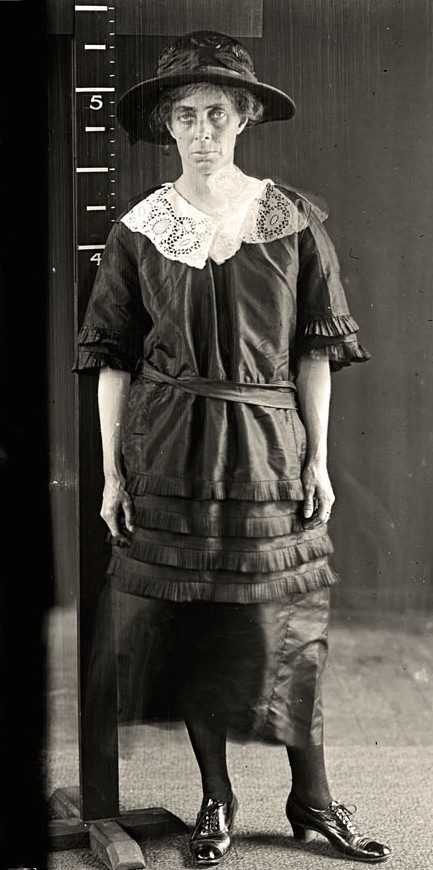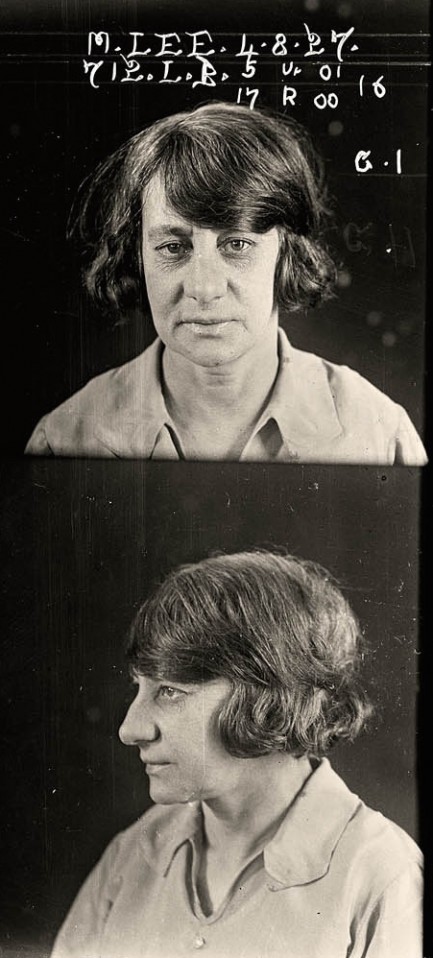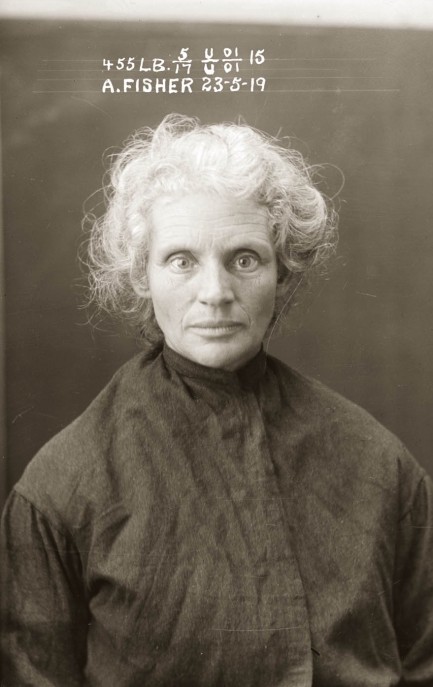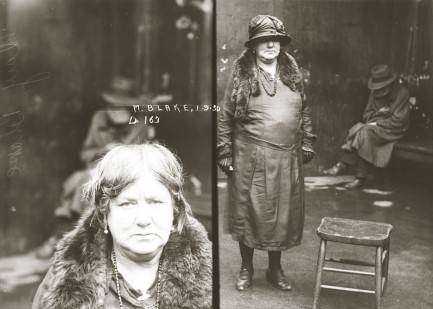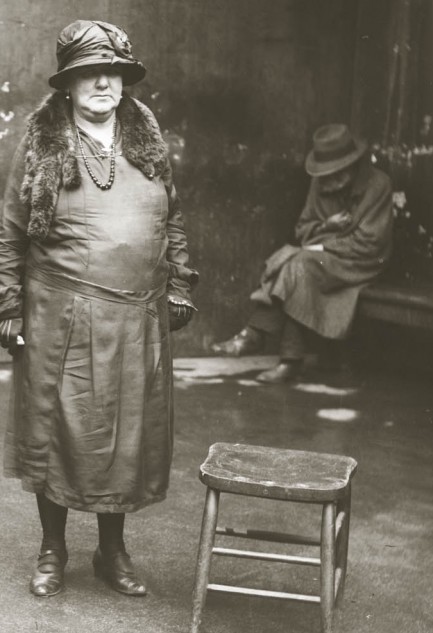 Above is a collection of police booking photos of women arrested in Sydney, Australia during the late 1910s to early 1930s. These were originally shot and developed using a dry glass plate process, warehoused for decades, unearthed several years back, and shared online by Sydney Living Museums. They weren't curated as a women-only group—we grabbed only women because we were struck by their remarkable faces. We also like the last shot, just above, which features a mystery figure in the background keeping her or his—looks like a dude to us—face lowered.
Charges on the group range from robbery, to "attempting to procure a miscarriage on behalf of a third party," to plain old murder. You notice a booking photo was a little different back then. Full body framing in open rooms was common. Because of the composition, shallow focus, and hyper-detailed glass plate process, these are (presumably accidental) art shots. They serve as a companion collection to the previous set of Australian mugshots we shared, which you can se
e here. You'll notice we've repeated a couple, which means you can learn specifically what they did to get arrested.


---
Australian trust uploads vast collection of early twentieth century mugshots.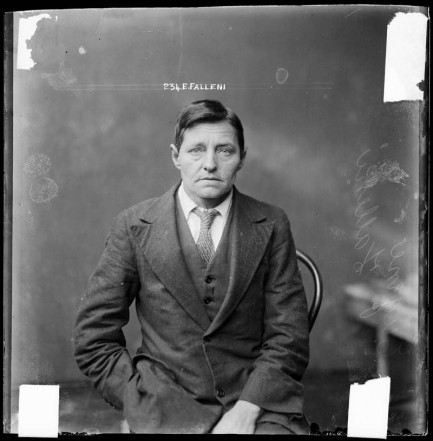 One of Pulp Intl.'s sharp-eyed readers sent us a link yesterday to a collection of early twentieth century mugshots compiled by Australia-based Historic Houses Trust. The photos are glass plate negatives from New South Wales police stations and were mostly taken between 1920 and 1930. Above you see a typical mugshot, this one of Eugenia Falleni, who was arrested in Sydney in 1920. Her crime is detailed as follows: When Harry Leon Crawford, hotel cleaner of Stanmore, was arrested and charged with wife murder he was revealed to be in fact Eugenia Falleni, a woman and mother, who had been passing as a man since 1899. In 1914, as Harry Crawford, Falleni had married the widow Annie Birkett. Three years later, shortly after she announced to a relative that she had found out "something amazing about Harry," Birkett disappeared. Crawford told neighbors that she had run off with a plumber. In 1919 Birkett's young son, who had remained in Crawford's custody, told an aunt of attempts made on his life by his drunken stepfather. The aunt contacted police. A charred body which had been found in Lane Cove in 1917 was belatedly identified as Birkett's. Crawford's astonished second wife, when finally convinced of Falleni's true gender remarked, "I always wondered why he was so painfully shy..."
More examples with descriptions of the perpetrators' crimes appear below. You'll notice the compositions are often quite nice. That's partly because of the glass plate photography, but also because the subjects were allowed to compose themselves however they pleased. There's more at the Sydney Living Museums website. Because it isn't very user-friendly, we've linked you past the home page and directly to the mugshot archive, but the rest of the site is worth visiting as well.
Vera Purcell, 7 September 1926, aged 25, stole a large quantity of clothing from a house in Darlinghurst and was sentenced to six months hard labor at the State Reformatory for Women at Long Bay.
Mrs. Osborne, circa 1919, details unknown.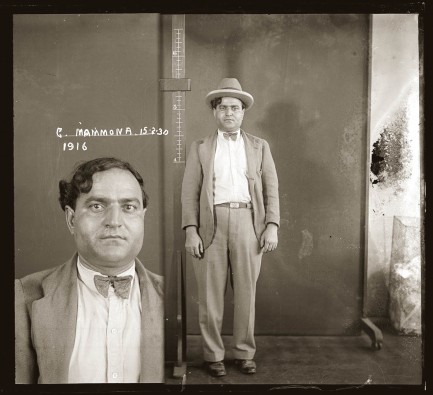 Giuseppe Mammone, aka G. Mammona, 15 February 1930, arrested for suspicion of the murder of Domenico Belle. Mammone ran a barbershop in Leichhardt and owed Belle money. Despite police suspicions, Mammone was never charged with the crime.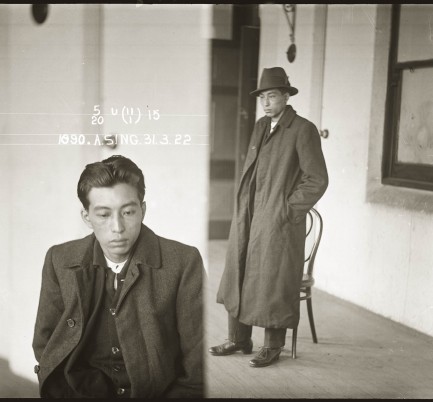 Albert Sing, 31 March 1922, received stolen goods, including fountain pens, cutlery and clothing, and was sentenced to eighteen months hard labor.
Barbara Turner, aka Tierney, Tiernan, Taylor, Florence Gillespie, Jessi Turner, et. al., 10 October 1921, Central Police Station, Sydney, was a confidence woman who operated widely across Australia and was arrested for defrauding a man named Henry Placings of 106 pounds by borrowing against a forged check. She served a year in prison.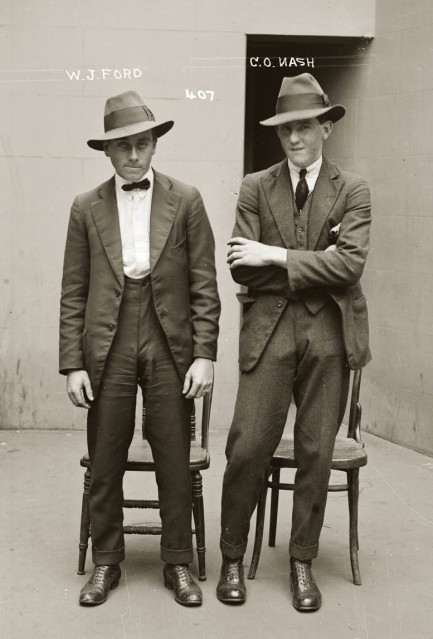 John Walter Ford and Oswald Clive Nash, June 1921, both aged sixteen, were arrested for breaking and entering.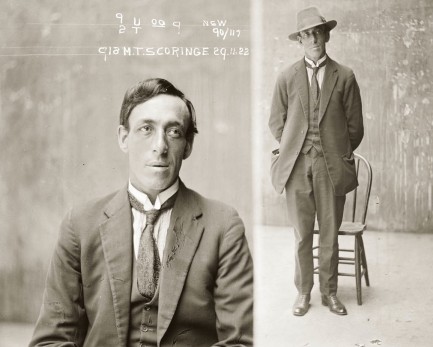 Masterman Thomas Scoringe, 29 November 1922, Central Police Station, Sydney, was a house thief who specialized in robbing the residences of Chinese people.
May Blake, 1 September 1930, Central Police Station, Sydney, charged with cocaine possession and sentenced to one year in jail.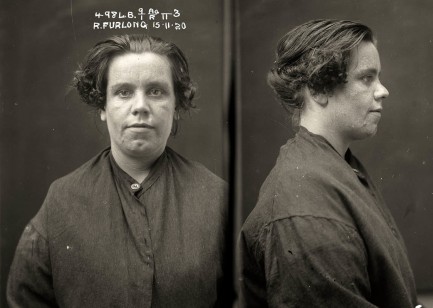 Ruby Furlong, 15 November 1920, State Reformatory for Women, Long Bay, arrested for malicious wounding. Furlong was a feared criminal, and during an argument with a Newtown man she pulled a razor and cut his face open.
---