Always get out while the getting is good.
Jim Thompson's thriller The Getaway was made into a movie twice, the first time in 1972 with Steve McQueen and Ali McGraw, and the second time in 1994 with Alec Baldwin and Kim Basinger. Both versions opted to change the thrust of Thompson's tale, so if you've seen either movie reading the novel might provide an interesting experience. It's a crime novel with several deeper themes. For example, Thompson expresses social isolation in the starkest terms, such as here, when writing about a group of poor country folk:

Their existence was centered around existing. They had no hope of anything more, no comprehension that there might be anything more. In a sense they were an autonomous body, functioning within a society which was organized to grind them down. The law did not protect them; for them it was merely an instrument of harassment, a means of moving them on when it was against their interest to move, or detaining them when it was to their disadvantage to stay.


Against this hostile backdrop the two main characters, Doc and Carol, are—unlike in the movies—unambiguously amoral people, a couple who are certain only that the world is institutionally corrupt, and that their only hope for survival is each other. What starts as a standard heist-and-flight tale becomes an allegorical descent into hell, complete with images borrowed from various religious myths. This makes the latter third of the novel something far weirder than expected going in, but the ultimate idea of crime as a soul-killer comes across crystal clear.

You really can't go wrong with Thompson. While The Getaway is perhaps not as top flight as
Pop. 1280
or some of his other books, it's still one to fit into your reading schedule at some point. It was originally published in 1958, and the above edition came from Signet in 1959 and features a nice orange cover from the incomparable Bob Abbett. If you're interested in seeing him at his best, check the small cover collection we put together
here
.


---
Have shotgun, will travel.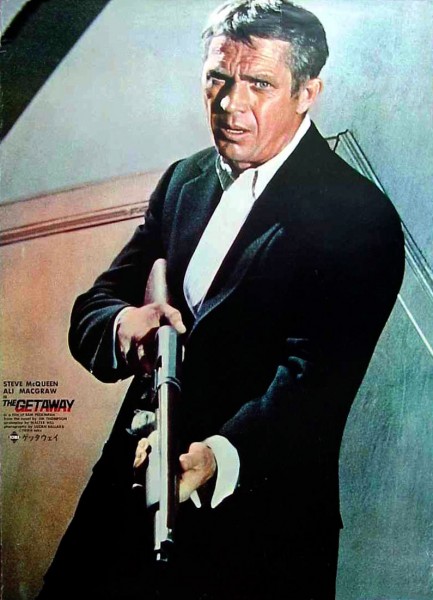 This rare promo piece for Steve McQueen's 1972 thriller The Getaway was produced for the film's run in Japan in 1973. Based on a novel by Jim Thompson, co-starring Ali McGraw, directed by Sam Peckinpah, written for the screen by Walter Hill, and scored by Quincy Jones, The Getaway delivers on multiple levels, as does this poster.
---