Life on the edge of a razor.
Above is a Japanese poster for the 1972 blaxploitation film Come Back Charleston Blue, starring Godfrey Cambridge and Raymond St. Jacques as the Harlem detectives Gravedigger Jones and Coffin Ed Johnson. It was the sequel to the highly successful Cotton Comes to Harlem. The plot deals with the return of a legendary vigilante named Charleston Blue, who killed with a blue steel straight razor and is believed by some to be responsible for a series of recent slayings aimed at the local drug trade. He's supposed to be dead, but his casket is empty and his collection of razors has gone missing. Is he really back from beyond? You'll have to watch the movie to find out. Reviews were mixed, but there are some thrills and laughs, there's good location filming around Harlem and environs pre-gentrification, and the soundtrack by Quincy Jones and Donny Hathaway is a nice bonus. All-in-all, a middling effort, but certainly not a waste of time. Come Back Charleston Blue first played in Japan today in 1973.
---
Have shotgun, will travel.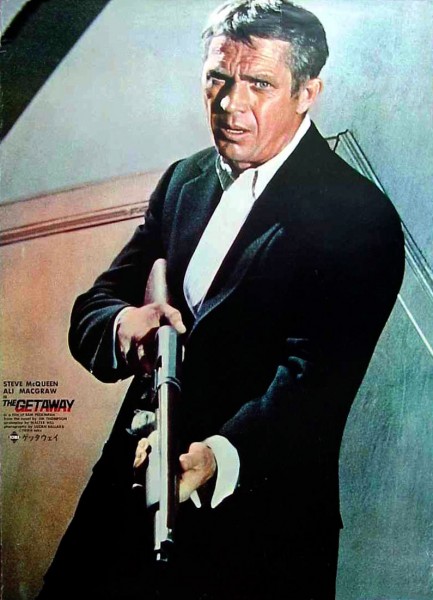 This rare promo piece for Steve McQueen's 1972 thriller The Getaway was produced for the film's run in Japan in 1973. Based on a novel by Jim Thompson, co-starring Ali McGraw, directed by Sam Peckinpah, written for the screen by Walter Hill, and scored by Quincy Jones, The Getaway delivers on multiple levels, as does this poster.
---