I'm glad you boys are so eager. To start off, I'm going to watch you do it with each other for an hour or so.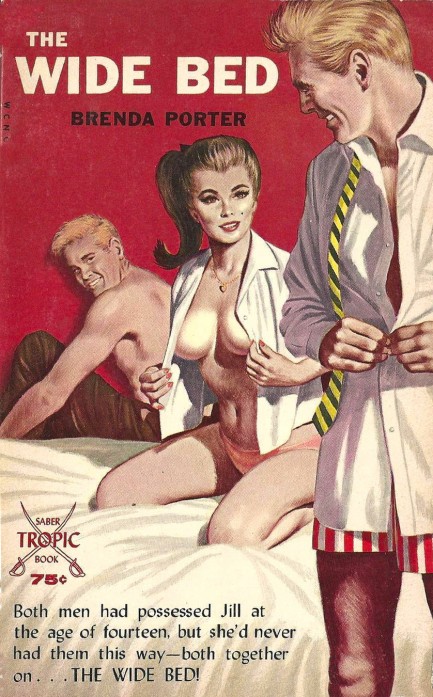 Above, a cover for The Wide Bed by Brenda Porter, a sleaze novel about a girl who loves her father as both as a provider and as someone central to her nascent sexual desires, and who, when daddy dies, finds she needs two men to take his place. We just... what can you say about these sleaze authors, other than that any idea would suffice? This one caught our eye thanks to the Bill Edwards art, identifiable both by style and by the beauty mark on his female figure. 1965, from Saber Tropic. See more Bill here.


---
Don't let him get away girls! He's handsome, he's got money, and his digital history is squeaky clean!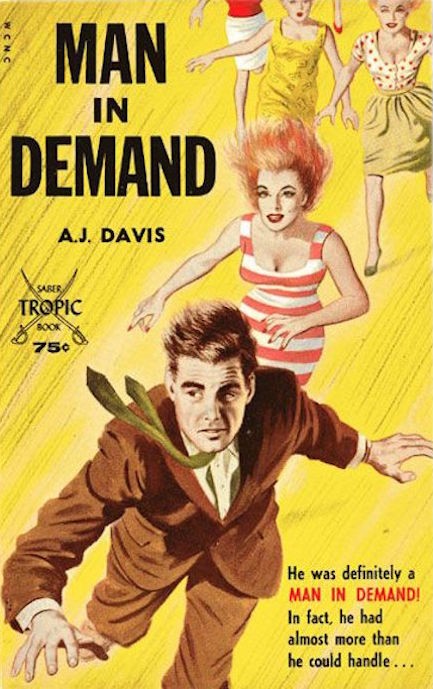 This is a rather funny cover for A.J. Davis's sleazer Man in Demand. These days, only a digital history that can't come back to cause major embarrassment could get women this hot. We're talking no porn memberships, zero Facebook pix in problematic Halloween costumes, and no late night Twitter gaffes. Good thing we already have girlfriends, because the crazy searches we do for Pulp Intl. alone would be enough to sink us. Some of the movie and book titles are astonishing. Top five all-time searches in Pulp Intl. history that have garnered crazy results:
4: Prostitute Torture Hell
Just do an image search on any of those terms with your filters off and you may need therapy—and a new computer. A.J. Davis obviously had something more mundane in mind in 1967, when he published Man in Demand, but even that title brings up some very interesting stuff. Davis was a pseudonym for James Burgin Dockery, Jr., and as usual, the art on this Saber-Tropic paperback is uncredited, but the trademark mole on pursuer no. 1's face indicates that the cover is by good old Bill Edwards. See more from him here. And here. And what the hell, here too.


---
Cuban program to clone Fidel Castro goes horribly wrong. Multiple Castros result—all are rampaging capitalists.
The lead character in Dave Patrick's 1965 novel Patterns of Sin is a college professor and ex-CIA operative named Thomas Keith who happens to be a millionaire. Only in sleaze fiction, right? When his latest girlfriend is almost kidnapped by rogue Cubans, he suspects there's more to her than meets the eye, and there is—she fled to the U.S. after some particularly sticky island dealings involving a long lost twin brother/incestuous lover who was a famed counter-revolutionary. Sadly, there are no clones, but who needs 'em? The incest angle is weird enough: "Tom had so reminded her of her brother that she'd almost called him by her brother's name as they made love." She actually tells Thomas about her brother, and he's fine with it.
"Are you sure, Tom?" she whispered.


"Do the other women I've had bother you?"


"No, but men are supposed to be different. They're supposed to want virgins."


"Every girl's a virgin to me, until I've made love to her."
The government is interested in Tom's girlfriend and her Cuban connection, so he's brought back into the CIA, given a hot partner and—this being a sleaze novel—the partner is a woman with whom he has a steamy history. But they don't get together—the partner is gay now, prefers the Cuban girlfriend, and gets her. Thomas's reaction? "It's a waste of a beautiful woman as far as I'm concerned, but it's your life." You may be wondering if there's any actual plot here. Not enough to matter. The anti-commie aspect is a mere placeholder between love scenes. The book was bad. We knew it would be bad. But we had to find out what it was about. It wasn't about clones the way the cover art might make you think, but maybe it should have been. That art, by the way, is by Bill Edwards—the mole on his female figures always gives it away.


---