Don't let her name fool you—she wreaks Havoc all year round.
Above, a very nice promo photo of Vancouver born actress June Havoc from her 1949 drama The Story of Molly X. Also among her long list of films were Gentleman's Agreement, Once a Thief, Lady Possessed, and The Iron Curtain. Though her real name obviously wasn't Havoc, it was close—she was originally Ellen June Hovick. Molly X looks interesting, so we'll see if we can track that down and report back.


---
Bad dog! Drop it! Daddy doesn't wanna play! Stay the hell back!
We've had a couple of found body parts stories on Pulp Intl., such as the Ohio heart and the Michigan heart. Today we have the Vancouver foot. Earlier this month Canadian hiker Mike Johns was walking along the southern coast of Vancouver Island when his dog became highly interested in something tangled up in a patch of sea kelp. Everyone who owns a dog dreads these finds, which nearly always turn out to be something no right-minded human would ever normally touch, but which dogs—loveable creatures that they are—immediately want to play fetch with. In this case the discovery was especially unpleasant, as it turned out to be a human foot. The subsequent game of fetch would have looked a lot like a man running desperately away, with his dog in eager pursuit. At least if it had been us.
But what makes the story extra curious is that the foot is the thirteenth found in British Columbia in ten years. Speculation online has of course focused on the sinister, such as serial killers, but medical experts say simply that when bodies in the water decompose, a sneaker will prevent rot and provide buoyancy, allowing easterly currents to reunite foot with terra firma in western Canada. Investigators ruled out foul play in the other foot cases, and results are pending on unlucky thirteen. Every good story needs art, and Johns provided that above, snapping a photo after taking the leg/foot home with him because he feared the tide might claim it before police arrived. We're just hoping he made the dog carry it for him. It's the least the hound could do after screwing up a perfectly good walk.


---
If they aren't in your city already, they'll be there soon.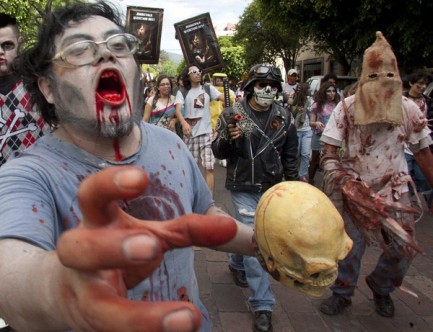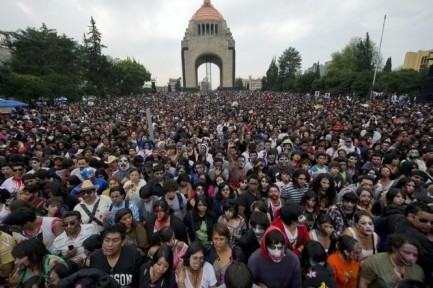 We would love to have been part of this. Yesterday Mexico City had their annual La Marcha Zombie, or Zombie Walk, with the goal of setting a new record for the number of zombies (held by Buenos Aires, which had assembled 25,000 shambling undead just a few days earlier). As you might deduce, zombie walks are growing more popular globally, and have been staged in places as far flung as Vancouver, Pittsburgh, Mar de Plata, Exeter, Santiago, and Singapore. According to Wikipedia, the first walk was held in Sacramento, California in 2001, and now hundreds of cities have them. Perhaps in a decade or two, social scientists will tell us the complex reasons behind the rise of zombie walks, i.e., the trampling of individuality in the modern world, the rise of ravenous greed and the death of caring, etc., and that, ironically, one day sooner than most people think, the masses will rise up and destroy the elite few that have enslaved them. Okay, maybe that last part is just what we think. But complex reasons aside, from our non-scientific perspective, we'd do a zombie walk just because it looks fun. And do you think there's any zombie sex going on afterward? Why of corpse there is.

---