And if you're not careful he's likely to Walker all over you.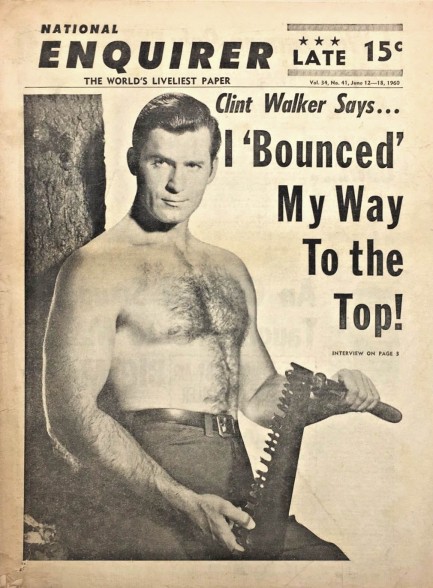 National Enquirer hits pause on its usual cheesecake, and on this cover from today in 1960 opts for some hairy hunkery in the form of U.S. actor Clint Walker. Walker was one of the early cowboy stars on television, headlining the hit series Cheyenne—named not for the city in Wyoming but for the character Cheyenne Bodie. There was a double entendre there, because the character was raised by Cheyenne Indians. In any case Walker manages to strike a nice penile pose with a lumberjack's crosscut saw. But as studly as he may appear, within the ranks of phallic cowboys he doesn't even come close to first place.
---
It's a wall world after all.
Above are three covers by realist illustrator James Bama, featuring figures leaning against walls. Bama also loves the crossed leg pose you see on two of these pieces and used it on his famous cover for Midnight Cowboy. Bama was born and raised in Manhattan, and you can see his keen eye for urban detail in these pieces, but interestingly, he moved to Wyoming and became a leading painter of western-themed art. In fact, he was inducted into the Illustrator's Hall of Fame because of his western art. But we prefer the citified Bama. The realism and immediacy of his early paintings is unmatchable. These are three of the best examples.
---