The shots heard round America.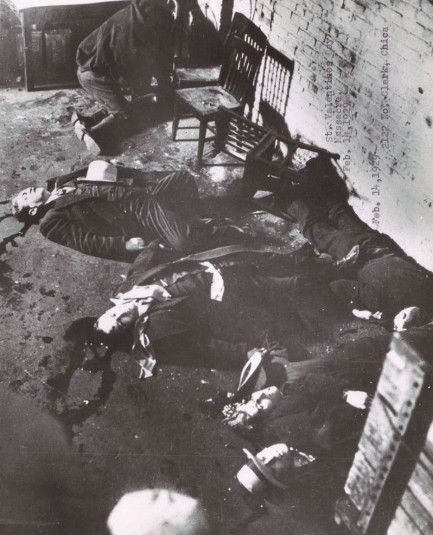 We suspect most Americans know of the St. Valentine's Day Massacre, which occurred today in 1929, but somewhat fewer have seen its actual result. If you're one of them—Happy Valentine's Day!—you can now cross that off your list, as above are pictured six unfortunates who learned that the gangster life often ends bloody. Albert Kachellek, Adam Heyer, Albert Weinshank, Reinhardt Schwimmer, John May, and Frank and Peter Gusenberg were in the SMC Cartage Company warehouse on Chicago's north side when they were corralled by four rival gangsters, two of whom were wearing police uniforms and sporting fake badges, and blasted into oblivion with Thompson submachine guns and shotguns. May, who was probably there only because he was repairing a truck, lost the left side of his skull to a round of buckshot.

The murders stemmed from a turf war between the North Siders, who were headed by Bugs Moran, and the Chicago Outfit, led by Al Capone. It's Moran's men who got ventilated. Capone, in true gangster style, was away in Florida at the time. The photos show only six victims because Frank Gusenberg miraculously survived the shooting and was rushed to a hospital, where a few hours later he died of his fourteen bullet wounds while refusing to identify his killers. Even to this day their identities are not conclusively known, though ballistics evidence later suggested one was veteran hood Fred Burke. The massacre may not have resulted in murder convictions, but it drew the attention of Washington, D.C. authorities, led to broad new efforts to tackle organized crime, and eventually led to Capone's imprisonment for federal tax evasion in 1931. Please enjoy this romantic day.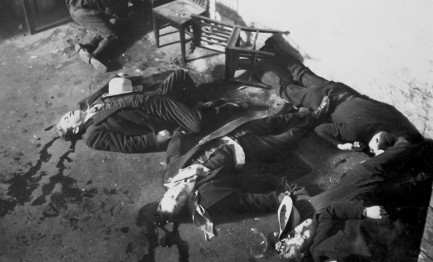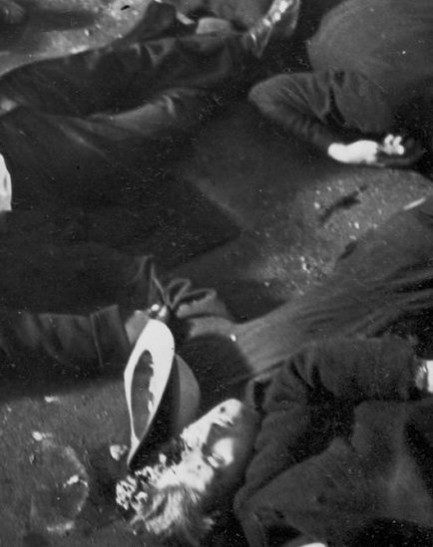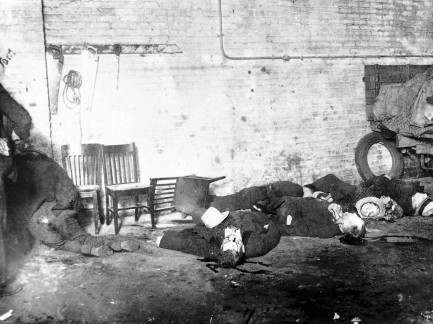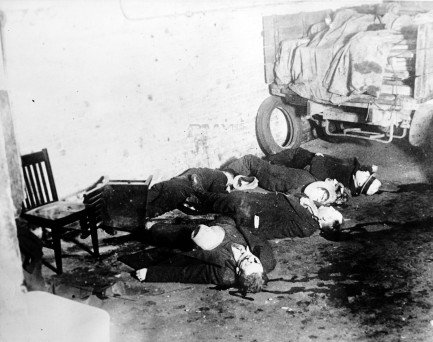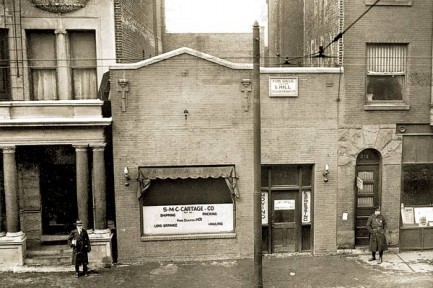 ---
His looks might have been ruined but his reputation was assured.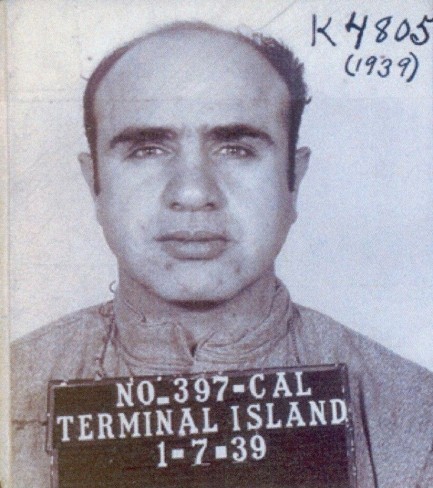 These mugshots show mobster Al Capone the day he entered Terminal Island Prison in California today in 1939, having been sent up for eleven months for tax evasion. The photos caught our eye because Capone generally tried to hide his scars, but in the second shot you see them clearly, three parallel slashes along his cheek, jaw, and neck. Capone told various stories about how he acquired these marks, but in truth he got them by being a little too familiar with fellow thug Frank Galluccio's kid sister Lena. It happened in 1917 in Frankie Yale's Harvard Inn, a bar and brothel in Coney Island, New York. After numerous insinuating comments to young Lena, Capone finally told her, "You got a nice ass, honey, and I mean that as a compliment. Believe me." At as result of that overture Frank Galluccio went at Capone with a knife—aiming for a fatal wound to the jugular but missing three times.

Capone had a notoriously short temper accompanied by a long memory, but even though he'd been disfigured for life during this incident he never sought revenge, even after he became basically the most powerful mobster in the U.S. Again, there are different stories about this, but the consensus seems to be that Capone had violated mob rules by messing with Galluccio's sister, and seeking revenge over what had been his own breach of ethics would have caused him no end of trouble. Galluccio worried about possible revenge, but never regretted what he'd done, saying in an interview many years later, "Fuck him. He deserved it." Ultimately, maybe Capone should have thanked Galluccio for both his gruesome appearance that made many a rival wither, and his nickname that was fearfully whispered coast to coast—Scarface.


---
There came a crooked man.
Photo of the aftermath of a gangland hit on Edwin Harmening, who was a crooked Chicago cop, and "Dynamite" Joe Brooks, who was a member of the Ralph Sheldon Gang, which was a main liquor supplier to Al Capone. You'll notice the killers shot their victims in the face. Standard practice for mob assassins. Harmening and Brooks were rubbed out today in 1925.
---