A rage to love? Right now I'd welcome a mild interest in cleaning up after yourself.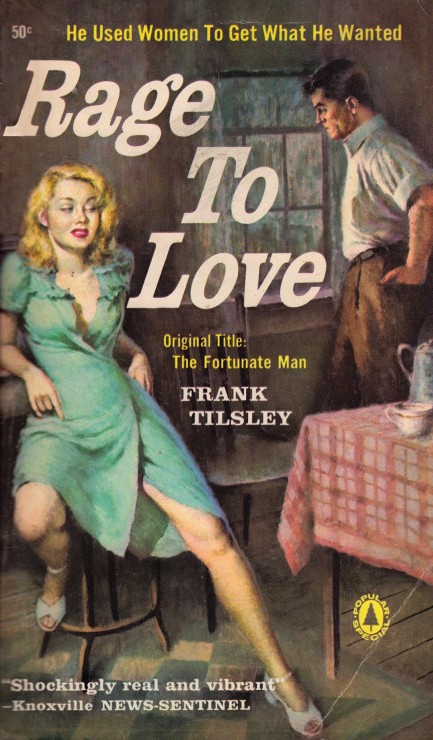 This is a nice piece of uncredited art fronting Frank Tilsley's A Rage Love, his second of numerous novels, this one dealing with a cruel and ambitious man named Jimmy Magnall, who's fresh out of the army in 1919 and eager to pluck the world's plump fruit for his enjoyment, and who uses women in his climb from slummy Birmingham roots to the top of the London class pyramid. He rides high for some years, but of course eventually loses all he has, including the women, and enlists right back in the army at the beginning of World War II. These are especially interesting bookends for the character because the author Tilsley was bothered by having been too young to fight in World War I and too old to enlist for combat in World War II, so engineering Jimmy Magnall into both wars may be a case of living vicariously. The book was originally published in 1953 as The Fortunate Man and was well reviewed in most quarters. We would love to know who painted the cover art, but no such luck. 1959 copyright on this Popular Library edition.


---
Aslan art makes unlikely appearance on Cure album sleeve.
A couple of weeks ago we said we'd get back to more Alain Gourdon, aka Aslan album sleeves, so above is a rather eye-catching one for a collection of Cure songs entitled The Spell's Unbroken. It's a live release that was recorded in Birmingham, England in 1985 and pressed in Germany in 1986, and it's got such Cure goodies as "Kyoto Song," "Let's Go to Bed," and the excellent "In Between Days," as well some more obscure tracks. The album is unofficial—or a bootleg, if you prefer that term—so in theory it was pressed and sold without the band's participation. We also assume Gourdon hadn't a clue about the art. And wouldn't you know it—the record sells for exorbitant amounts of money, routinely over a hundred dollars. We don't know about you, but that's enough to cure us of any urge to buy it.
---