Oh, I need the gun, trust me. You'd be surprised how people react when I deny their coverage.
There are more than a few gun toting insurance investigators in mid-century literature, and they tend to be as tough as any regular private eye or cop. In Cleve F. Adams' thriller What Price Murder insurance stud Steve McCloud is tasked with recovering a fortune in stolen diamonds insured by his company West Coast Indemnity. Along the way he deals with crooks, cops, and assorted women, including one named Kay Mercedes—which we think is one of the better handles for a femme fatale. Originally published in 1942, Popular Library issued this paperback version in 1952 with highly effective cover art by Sam Cherry.
---
Go completely unnoticed in any setting with the amazing new Undercover Operative Trench Coat.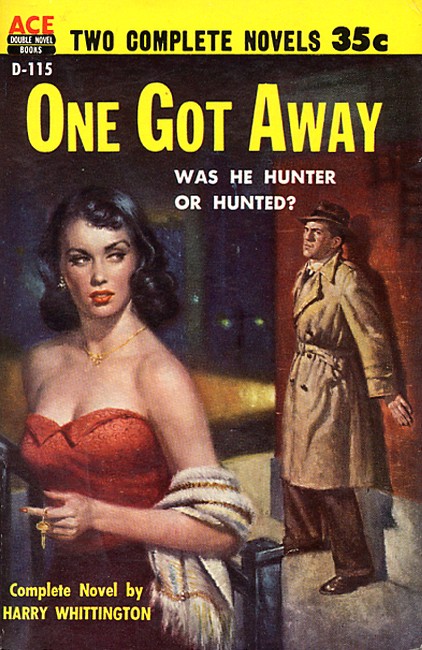 Well, some products don't work as advertised. We weren't going to buy it, but then we learned it came with a complimentary limited edition newspaper with two eye holes cut in it. But when we wore the coat we got spotted immediately and now we have a restraining order. 1955 copyright on this Ace Double of Harry Whittington's One Got Away (Robert Schulz cover art), bound with Cleve F. Adams' Shady Lady (Harry Barton on the art chores). We'll see you after our probation hearing.
---