Go completely unnoticed in any setting with the amazing new Undercover Operative Trench Coat.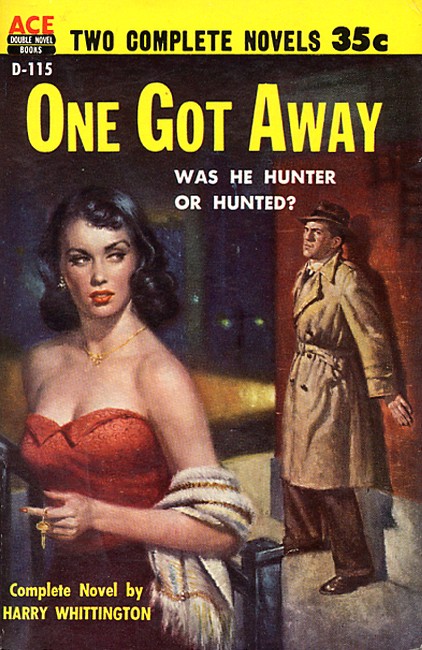 Well, some products don't work as advertised. We weren't going to buy it, but then we learned it came with a complimentary limited edition newspaper with two eye holes cut in it. But when we wore the coat we got spotted immediately and now we have a restraining order. 1955 copyright on this Ace Double of Harry Whittington's One Got Away (Robert Schulz cover art), bound with Cleve F. Adams' Shady Lady (Harry Barton on the art chores). We'll see you after our probation hearing.
---
Part angel, part goddess, and part alley cat.
Seems like one good Midwood deserves another, so here's another effort from them—Don Rico's Nikki

, published in 1963. After years writing for comics, this was Rico's first novel, and he would later publish other books as Dan Rico, Donella St. Michaels, Donna Richards, Joseph Milton, et al. The back cover text for

Nikki

is unusually entertaining, so we've got that below as well. The excellent art is the work of Robert Schulz.
---