That's a great pumpkin, Ellen Drew.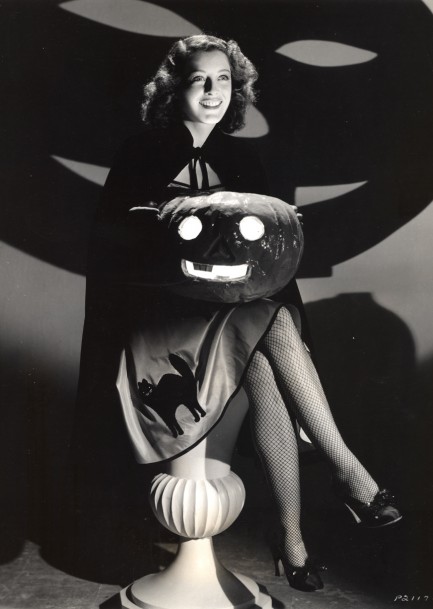 This cool 1941 photo shows U.S. actress Ellen Drew, who appeared in the film noir Johnny O'Clock, as well as the titles Strange Confession, Night Plane from Chungking, The Crooked Way, and dozens of other films between 1936 and 1957. Here she has all the Halloween accoutrements—black cat, jack-o'-lantern, and a witchy cape, as she awaits the arrival of the Great Pumpkin. Psst—he's behind you.
---
She made a resolution to look at things from a fresh perspective.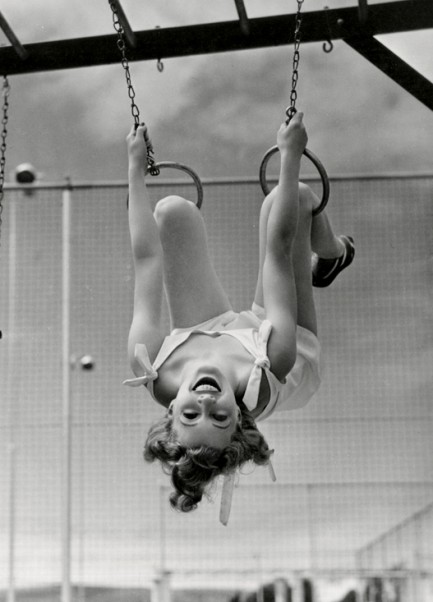 Ellen Drew, née Esther Loretta Ray, was only 5'3", which means she probably needed help getting onto and off of these rings, but she looks pretty comfy up there, and joins other gymnastic femmes fatales we've featured. Drew debuted onscreen in 1936 and made scores of movies, including Johnny O'Clock and The Crooked Way. She actually acted under her birth name for twenty-five films, but switched to Ellen Drew in 1938 and sustained her career into the early 1960s. This shot of her risking a broken head or tailbone was made around 1940. If you want to see other classic celebs performing aerial gymnastics, check here for Danielle Darrieux, here for Sophie Hardy, and here for the goddess Joey Heatherton.


---