That's a great pumpkin, Ellen Drew.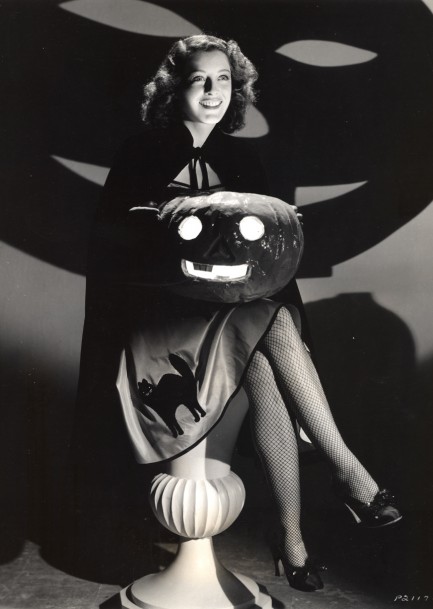 This cool 1941 photo shows U.S. actress Ellen Drew, who appeared in the film noir Johnny O'Clock, as well as the titles Strange Confession, Night Plane from Chungking, The Crooked Way, and dozens of other films between 1936 and 1957. Here she has all the Halloween accoutrements—black cat, jack-o'-lantern, and a witchy cape, as she awaits the arrival of the Great Pumpkin. Psst—he's behind you.
---
When the sun's away the crooks will slay.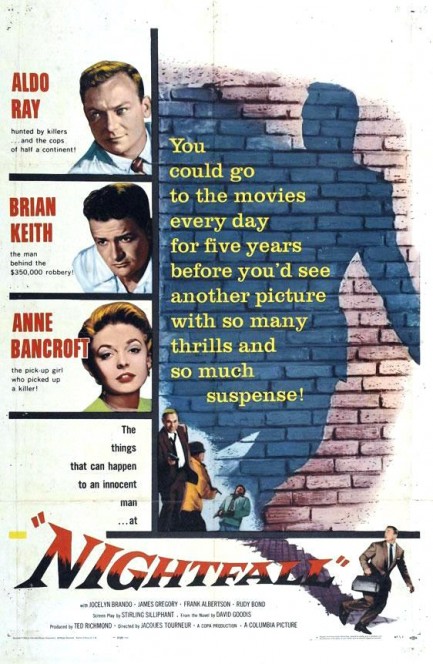 And speaking of the film noir starring Aldo Ray and Anne Bancroft, we watched it right after finishing the book, and though the novel was pretty dark, the filmmakers decided a little upbeat mood music was on order, so they got the immortal jazz crooner Al Hibbler to sing a theme song. Everybody knows this one. Join right in: Nightfaaaaaaall... and youuuuuuuuuuu... lovely you... underneath the wreath of heaven's pale blue... you are poetry (possibly haiku)... you are melody (maybe in d minor, the saddest of keys)... You get the idea. Don't let us turn you off this film. The theme song is nothing the mute button won't fix.
As we mentioned in the post above, Nightfall was directed by Jacques Tourneur, the heavyweight talent behind the film noir monument Out of the Past, and he has the kind of skills that make an early shot of co-star James Gregory getting on a bus an artistic achievement. Gregory plays an insurance investigator on the trail of $350,000 of missing heist loot, and, as in the novel, the innocent schmuck who accidentally got stuck with it lost it and doesn't remember how or where. That person is played by Ray, who's great in this, as he relates his dilemma in flashbacks and desperately tries to deal with the two murderous robbers who originally stole the cash.
Nightfall is no Out of the Past, but it's a solid film noir entry, well worth watching. Besides Ray and Gregory, the two robbers Brian Keith and Rudy Bond are good, and honey-voiced Bancroft as the femme fatale handles her pivotal role nicely. Credit here also goes to Burnett Guffey, who photographed the movie, and added to his long list of beautiful film noir achievements—Johnny O'Clock, Night Editor, In a Lonely Place, The Sniper, Private Hell 36, Screaming Mimi, and a portfolio of other films. Put Nightfall in your queue. It'll be worth it—once the theme song is over. It premiered in the U.S. today in 1956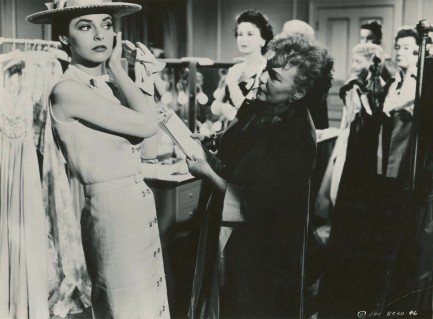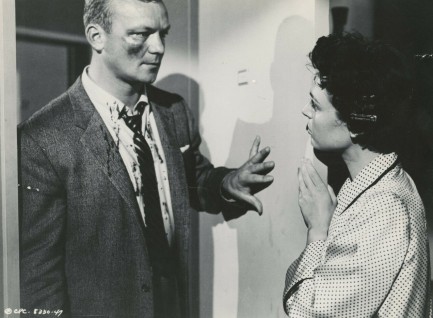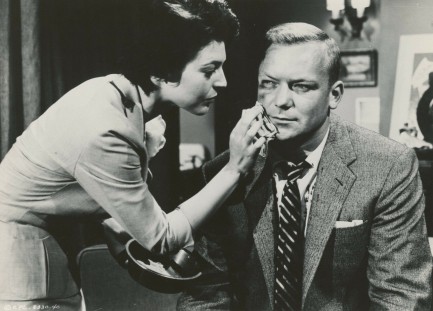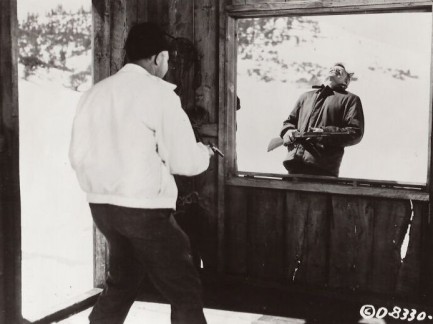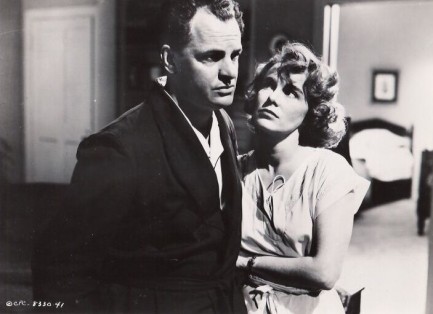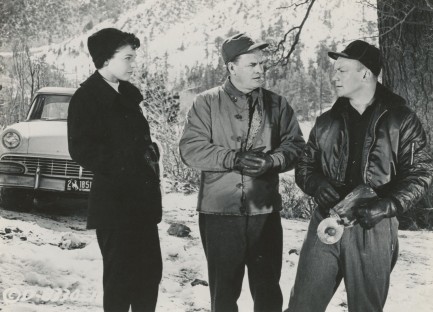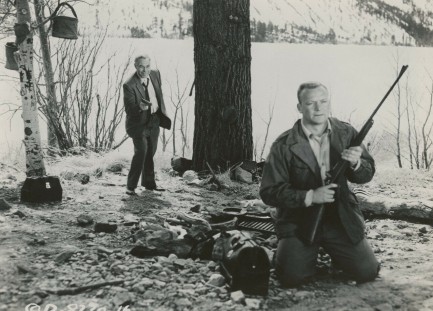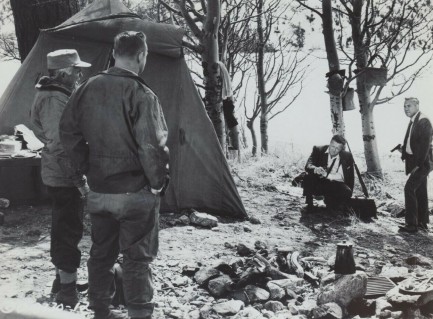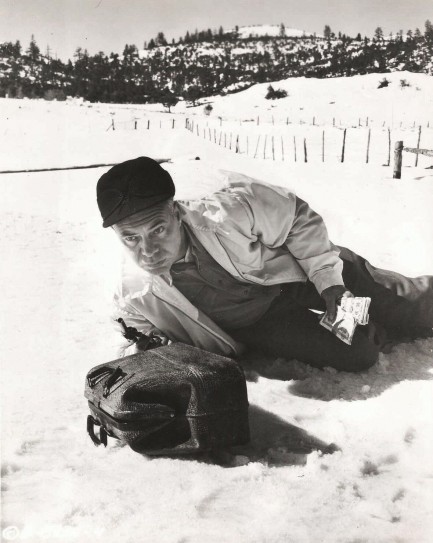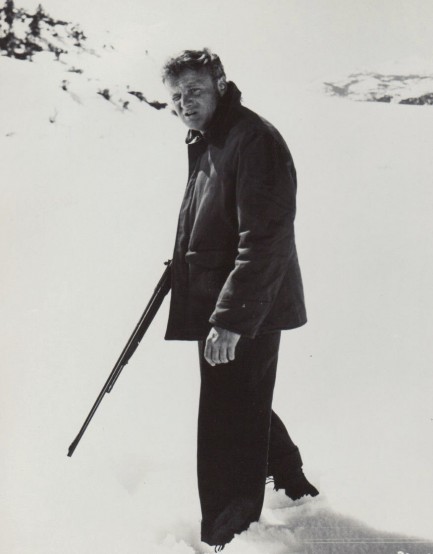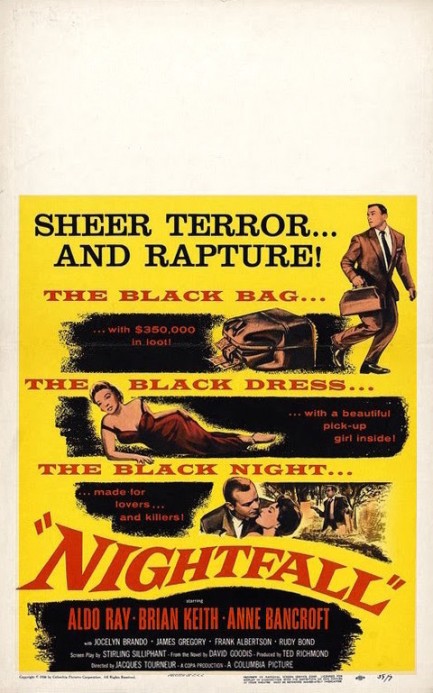 ---
She made a resolution to look at things from a fresh perspective.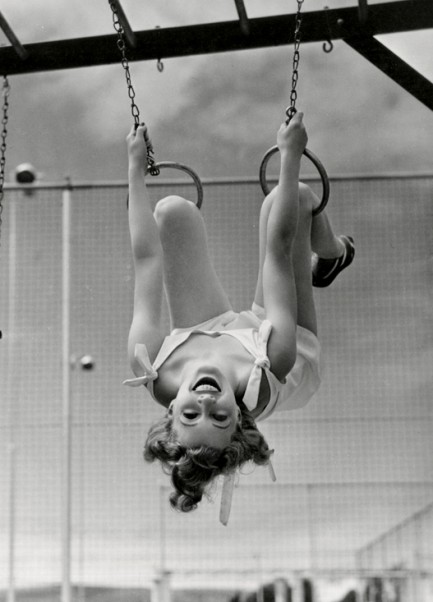 Ellen Drew, née Esther Loretta Ray, was only 5'3", which means she probably needed help getting onto and off of these rings, but she looks pretty comfy up there, and joins other gymnastic femmes fatales we've featured. Drew debuted onscreen in 1936 and made scores of movies, including Johnny O'Clock and The Crooked Way. She actually acted under her birth name for twenty-five films, but switched to Ellen Drew in 1938 and sustained her career into the early 1960s. This shot of her risking a broken head or tailbone was made around 1940. If you want to see other classic celebs performing aerial gymnastics, check here for Danielle Darrieux, here for Sophie Hardy, and here for the goddess Joey Heatherton.


---