Boxing Illustrated chronicled the sweet science for thirty-eight years.
We found this weathered but legible Boxing Illustrated/Wrestling News, a magazine founded by Stanley Weston in 1958, and decided to post it because the cover features Floyd Patterson and Ingo Johansson, two interesting guys we profiled back in December. This issue is from July 1960, and in 1967, Boxing Illustrated/Wrestling News jettisoned its wrestling coverage and went on to become one of the important sports publications of its time. Boxing had been known as the sweet science for nearly two centuries, but during the 1970s larger than life personalities like Muhammad Ali, Howard Cosell, Norman Mailer and George Plimpton gave weight to that nickname, imbuing the sport with both emotional impact and intellectual veneer. Ali and Cosell were nothing less than the yin and yang of the sport, two men who seemed to orbit each other like binary stars. Meanwhile, guys like Mailer and Plimpton were the scribes, using their pens to describe unbridled savagery in terms more suited for the Bolshoi ballet. Boxing Illustrated finally folded in 1995, which is more or less when boxing itself began to lose relevance with the world public as the dynamism inside the ring and the intellectualism outside it both withered. The sport still hasn't recovered, and with the rise of mixed martial arts, many think it never will. More Boxing Illustrated covers and info here.
---
The two guys Top Secret tried to portray as enemies actually kinda liked each other.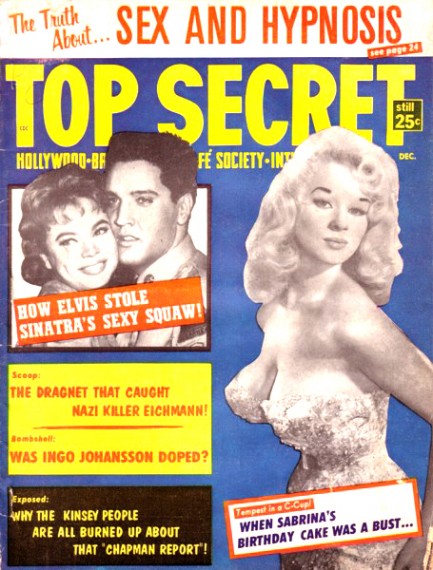 As usual, there is an array of interesting teasers on the cover of Top Secret. The squaw in question at left is Jeanne Carmen, who was a famous blonde pin-up, but who was naturally brunette, and had played the role of a Native American girl named Yellow Moon in the cheesy western War Drums. So that's the source of the squaw reference. Whether Elvis actually stole her from Sinatra, we can't say. It's possible any woman in Hollywood would have to be stolen from Sinatra, the guy got around so much. And as if to prove the point, he would later have a fling with the cover star here, Sabrina, aka Norma Sykes. We talked about their tryst in this post from earlier this year.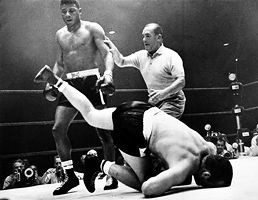 Anyway, the bit that really caught our attention was not the alleged Elvis-Carmen-Sinatra triangle, but the story about Ingo Johansson being doped. Ingemar "Ingo" Johansson was a world champion boxer who had won the heavyweight crown from Floyd Patterson a year earlier. In the March 1960 rematch, Patterson put Johansson's lights out with a blow so vicious that Johansson was left twitching on the canvas. It was a definitive victory, just as Johansson's earlier win over Patterson had been, but in 1960 white-black boxing matches were overtly racially divisive, and so Top Secret took advantage by suggesting that perhaps Patterson's camp managed to slip the Swede a mickey. That question was answered in the March 1961 third match between the two, when Patterson again knocked Johansson out.


After their careers were over, Johansson and Patterson became good friends and even flew to visit each other in their native countries every year. Top Secret could well have done a story on that, but of course harmony doesn't sell magazines. So while in the U.S. civil rights strife raged through the rest of the sixties and into the seventies, two guys who once made a living beating the living shit out of each other quietly proved that, given a chance to see each other's similarities rather than differences, people tend to get along just fine.


---