You know why I'm great at my job? Because I'm sweating like a racehorse in this get-up and you can't tell.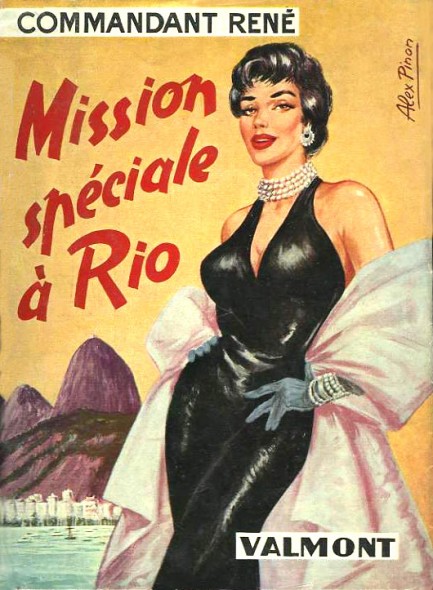 French artist Alex Pinon knocks this cover for the spy thriller Mission spéciale à Rio out of the park with his black clad femme fatale and backdrop of Guanabara Bay and its famed Sugarloaf Mountain. Since Rio's average daily temperature never drops below 80 Fahrenheit, no Brazilian would actually dress like this, at least not during daytime, but the art is great. The book was published by Société des Éditions Nouvelles Valmont and its author called himself Commandant René. You're probably assuming that's a pseudonym, and you're right. It was used by Jacques Dubessy, Guy de Wargny, Henri Certigny, and other authors. Between them they wrote more than thirty books as this Commandant person, with the above coming in 1959. We have a lot of French art in the website, so poke around if it interests you. We'll have more soon.


---
Look out! The phallic symbol is about to blow!
Slim Harrisson, whose Chute Libre was published in 1963 by Éditions Atlantic for their Top Secret series, was in reality a French writer named Jacques Dubessy. He had many other pseudonyms as well, and under those and his own name he wrote an absolute pile of books, but today we're not going down the rabbit hole of pen names and publication dates. Mainly we wanted to show you the cool cover from Jef de Wulf, one of the more interesting French illustrators from the period, who we imagine must have smirked all the way through painting this one. Of course, the French do, after all, have the world's most famous phallic symbol overlooking their capitol. That has to affect the thoughts. It affected ours last time we were there. You can see more Jef de Wulf here.
---