I won! I knew I would once they restricted track and field to beautiful French actresses! Eat my dust Anouk Aimée!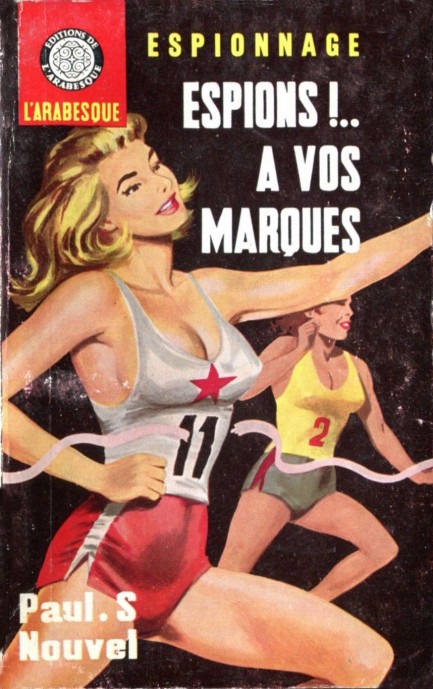 Catherine Deneuve absolutely flew in this race. It wasn't nearly as close as the art makes it look. Espions!.. à vos marques was written by Paul S. Nouvel, aka Jean-Michel Sorel, and published in 1964 by Éditions de l'Araesque. The cover is unsigned, but it's probably by Jef de Wulf. If we get more info we'll update this. We can't wait for the triple jump. Hopefully, Catherine will win that too.


---
Sing? Are you serious? I can barely breathe in this outfit.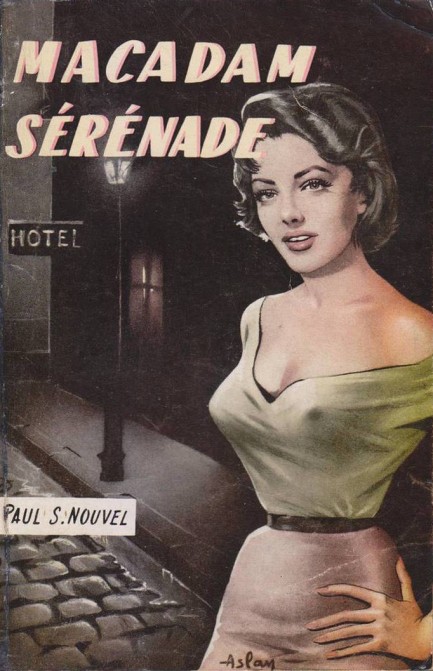 We never want to go too long without an offering from the great French pin-up and paperback artist Alain Gourdon, aka Aslan, so above we have his cover for Macadam Sérénade, a thriller written by Paul S. Nouvel for Éditions de l'Arabesque. Nouvel was a pseudonym. The man behind it was French journalist/author/translator/editor Jean-Michel Sorel, who also wrote as Larry Layne, Arnold Rodin, Silvio Sereno, Tugdual Marech, Jan Mychel, Jean-Michel, Yvon Brozonech, Swani Abdul Hamid (we love that one), and many other identities. In all he produced more than one-hundred forty novels—and probably could have squeezed in a couple more if he hadn't been so busy thinking of pen names. 1955 on this.
---
Keeping his eyes on the objective.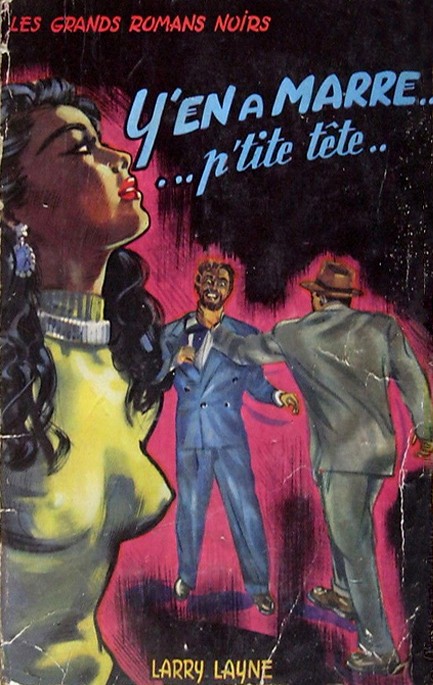 We love this cover. It looks very much to us like the man who's being choked was staring at a woman's breasts and can't take his eyes off them—even while being choked. That's dedication. Y'en a marre… p'tite tête, by the way, means something like "fed up… little head." Presumably that's another of those French terms you have to be French to really understand. We'll await illumination via e-mail.
Update: Jo B. comes to the rescue again: "Petite tête" means that you have no brain, that you forget everything you've got to do or that you've been told. It means also that you're absent minded. On the contrary, "forte tête" which means "strong head" is used to design a person with a rough character, who doesn't like rules, who contests everything, doesn't like discipline and is always against the law. In roman noir, he's a bad boy, quite a gangster, the guy who doesn't tell anything to the police even if he's tortured or beaten. As the expression is used on a roman noir cover, I would say that the "petite tête" is used to design a bad guy who ain't got any future in gangster life, who will never be a "forte tête," who will be a loser and say everything to the police if he's arrested. It's pejorative and insulting.
Thank you again, Jo. You've been a great help, and thanks so much for continuing to visit the site.
---