Never let them see you sweat.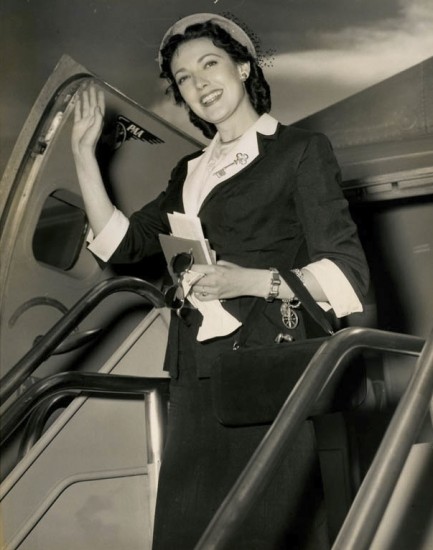 Here's a little something we scored a while back. It's a promo photo from fifty-one years ago today of American
stunner
Linda Darnell at Wilcox Field in Miami. She had just arrived—in the middle of a 90 degree day, but wearing at least two layers of clothing—on a Pan Am flight from Ocho Rios, Jamaica (via Kingston), where she had been filming the World War II adventure-romance Saturday Island.

The hurricane referred to in the press info below was Hurricane Charlie, which had struck in mid-August. And her flight left as Hurricane Dog was arriving. Apropos, actually—

Saturday Island,

aka

Island of Desire,

was a dog at the box office.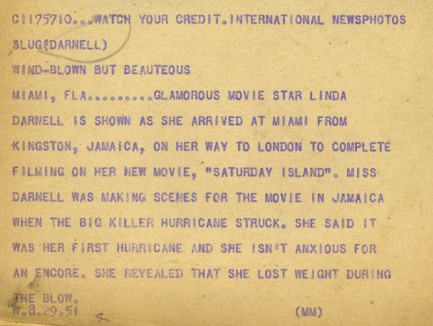 ---
If you go, you have to stay gone.
Above is a photo of American heavyweight boxing champ Joe Frazier between rounds of an early 1970s sparring session, and at right is a 1971 shot of Frazier having a training run along with his dog. Frazier won the heavyweight title by defeating WBA champ Jimmy Ellis in 1970. Little known fact about Frazier: in 1967 when then-champ Muhammad Ali was stripped of his title for refusing to be inducted into the armed forces during the Vietnam War, the WBA held a tournament for Ali's vacated belt. Frazier refused to take part in that tournament though he quite possibly could have won. Whether he refused to fight as a gesture of solidarity with Ali, or only with his anti-war stance, we don't know.
Anyway, Ellis had won that tournament, and in their 1970 bout Frazier pounded him mercilessly, knocking him down for the first two times in his career. Frazier held the belt through several title defenses until 1973, when he faced a colossal figure named George Foreman in Kingston, Jamaica. Foreman destroyed the tough, gritty Frazier, knocking him down six times in two rounds to win the title by TKO. It was a devastating beating, and the imagery of knockdowns number two and four are indelible. Still though, during an era that included several rare boxing talents, Frazier showed that he more than belonged. Another little known fact, at least to casual boxing fans: Frazier was a singer as well as a fighter, releasing several singles during the 1970s, including "If You Go, Stay Gone" and the very good "Try It Again." Frazier died yesterday in Philadelphia, U.S.A.
---